- Advertisement -
SEO is constantly changing and the only way to adapt to these changes is by using the right tools.
Search engines release new updates every now and then, and whenever there is a new update a lot of websites are affected.
Webmasters are also doing what they can to outrank their competition. It's a never-ending race.
This means you have to keep your eyes on two things; search engine updates and competitor's websites.
One important tool you don't want to miss in order to keep eyes on your competitors and search engine updates is SpyFu.
When you look at the name of the tool you know it's designed to spy on any URL or website.
We'll discuss the major features of SpyFu and how to use the tool to your advantage in order to improve your search engine rankings.
SpyFu Review
What is SpyFu?
This is an effective SEO and Marketing tool that helps webmasters to perform different online marketing tasks such as keyword research (for both organic search and Pay Per Click), link building research, influencer marketing and other tasks that are beneficial to any webmaster.
In simple terms SpyFu is a SEO tool designed to spy on your competitors.
With this tool you can track and analyze their PPC and SEO campaigns.
This tool can give you historical data for up to 12 years including SERP analysis, keywords report, SEO overview and Pay Per Click.
SpyFu has been around for years and has earned a lot of positive reviews from its users.
SpyFu has a user friendly interface that combined multiple SEO tools.
Unlike many other SEO tools out there that can be installed on your desktop, SpyFu is a cloud-based app.
You have to register through their website to get access to the tool.
But this is a big advantage as you can login and use SpyFu with any pc with an internet connection.
Any SEO or PPC user can benefit from the cutting edge technology that equipped in SpyFu.
Let's take a look at the features that come with SpyFu.
SEO Research
The SEO research tool provides a detailed analysis of any domain, there are different SEO tools in your dashboard that will help you perform an SEO audit of any website. Let's take a look at them;
SEO Overview
When you select this option you'll get an overview of the input domain ranking, keywords optimized, and view your competitors.
You can view estimated monthly clicks for the keywords on your page.
Most tools out there will show you the ranking of top 10 results but SpyFu will show keywords ranking of up to 50 search results.
Competitors' Report
With this option, you can see your competitors and the keywords they're ranking for.
You'll get a complete list that has the URLs of your competitors, the monthly visitors they get, and keywords that give them the most traffic.
Kombat Tool
This option reveals your top competitors for the chosen website.
This info is displayed in a Venn diagram that shows core keywords and exclusive keywords.
Grouper Tool
This tool will group your keyword searches so that you can view the list of keywords in any group.
When you click on any group you can get a list of keywords that are within the category.
SEO Keywords Report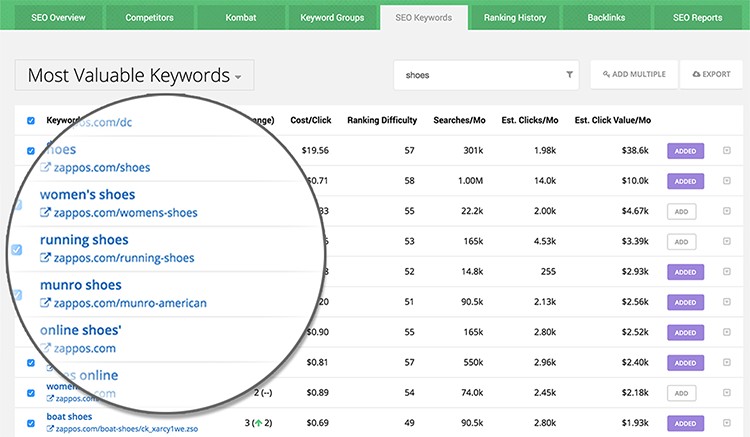 With the keyword report tool, you'll a complete list of all the keywords a website is ranking for.
You'll view the rank, monthly search volume, level of difficulty and more details.
Rank History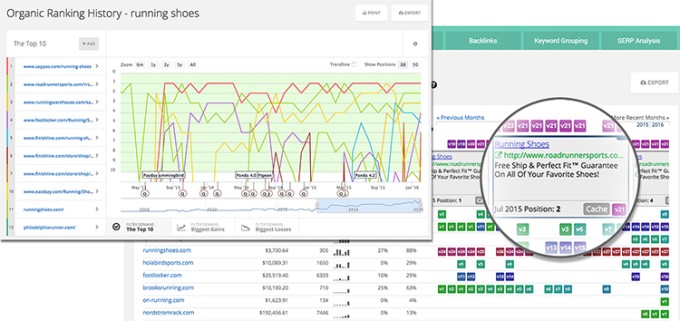 This feature can hardly be found in other SEO tools as they only show the current ranking of a website or keywords.
The Rank History tool in SpyFu will show you the ranking history of top 10 keywords from your website.
You can see the ranking history over time.
Backlink Data
This will reveal all the Backlink sources of a website. You can view the Backlink type and distribution.
This will be helpful if you want to generate Backlinks from your competitor's link sources.
SEO Report
And finally within the SEO research collection tools is the SEO report tool which gives you a full SEO audit of your website.
This report is important to SEO agencies that deal with clients. They can present this report to their clients pointing areas on their website that need improvement.
SpyFu PPC Research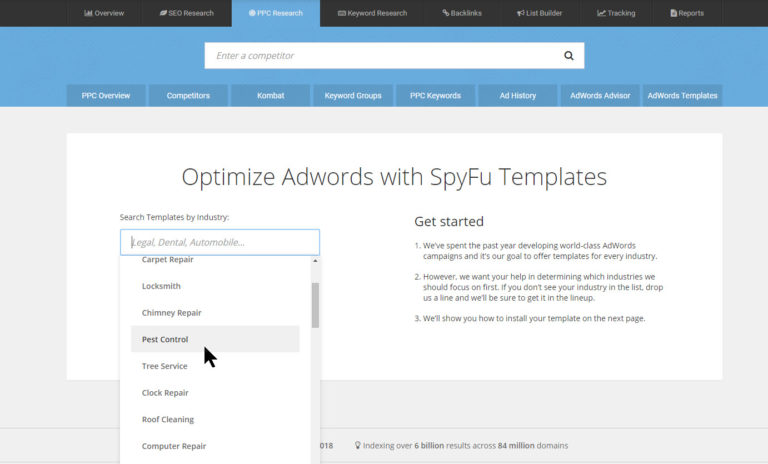 SpyFu will help you extract a lot of information regarding pay per click ad campaigns of your competitors.
Just like the SEO research overview tool, here are also different tools under PPC overview and here are they;
Competitors
This will reveal the top competitors of any given domain name, you can view the complete list with their monthly ad budget.
You can also view the ads they're running so that you can create better ones.
Kombat
Kombat tool will give you a list of paid keywords and will group them so that it's easier to discover similar keywords that will fit your marketing budget.
PPC Keywords
This gives a list of keywords a website is using for their ad display in search engines.
You can discover the monthly paid clicks and the whole monthly budget they're spending for the keyword.
Ad History
This feature is a time and money saver because you can view ad performance over a long period of time.
Your competitors have done all the work for you by testing and tweaking keywords and ad copy before coming up with an effective ad that works.
This is a golden feature that will save you a lot of money and time when it comes to setting up Pay Per Click campaigns.
You can discover ad history of a domain; cost per click, clicks generated every month and targeted location.
This will reveal everything your competitors are doing including when they changed the ad and so on.
Adwords Advisor
This tool will make suggestions to your Adwords campaigns.
And for each suggestion, you'll get full data on the performance of the keyword including cost per click, monthly impressions, and monthly budget and spending,
You'll get an estimate for the clicks you're likely to get when you use such keywords within your ad campaigns.
Keyword Research Tool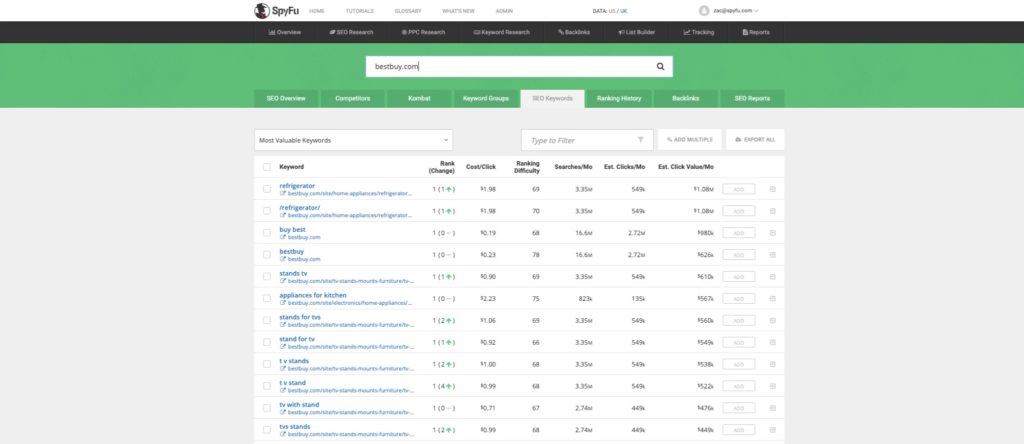 The next feature is the keyword research tool that comes with a lot of tools under it and will take a look at them also.
Keyword overview
This gives an overview of the monthly search volume for any keyword and other data like difficulty level, the number of advertisers using such keyword, cost per click and other details.
The keyword tool can perform most of the tasks done by the PPC and SEO tools we've talked about previously.
Keyword Suggestions
SpyFu will give you related keywords that are similar to your query.
This tool will help you find similar keywords in your niche that are easier to rank and reveal the level of their difficulty.
Ranking History
You can view the top 10 websites that are ranking for any given keyword.
You can view ranking history over a period of time so that you view the top performing sites.
Spying For Backlinks
This is the next powerful feature of SpyFu. Discovering the Backlink sources of any website or URL. Once you enter a website you'll get a list of the Backlink sources for that website.
The tool doesn't only reveal the Backlinks of a website, it also recommends powerful Backlink sources that will help you build quality links back to your website.
You can also extract contact information of any website so that you contact them to see if they can accept your website links.
List Building
SpyFu allows you to collect leads and create a list based on your chosen keywords.
This feature is helpful to offline marketers that want to reach out to local businesses. This will simplify the entire process because when you analyze a website and there are errors that need to be fixed you have their contact details to follow up easily.
Tracking
We've already mentioned you can find the ranking of any given keyword; another feature is that you can track your keywords or URLs and get an update for their rankings.
You get weekly updates regarding the performance of any keyword in search engines and its performance in PPC.
You'll know when things go wrong with a given keyword so that you can fix the problem fast.
Report
Nothing is more important than SEO report when it comes to organic traffic and PPC campaign.
Whether you want to generate a report for your website or for your clients you'll find SpyFu report to be helpful.
You have the option to set the parameters you want to include in your reports.
You'll get a report of not only your website but also for your competitors so that you can make comparison and see how you can improve your website.
SpyFu reports are detailed and well oriented; anyone can comprehend the result and graphs displayed.
Pros Of Using Spyfu
Comes with a different set of tools on one platform
You get an in-depth analysis of any website; it's a powerful tool for both SEO and PPC analysis.
One of the best tools you can use to spy on your competitors.
It brings out data in the form of beautifully designed graphs.
SpyFu uses a different approach to show only relevant data for any given keyword or website.
Spyfu Cons
SpyFu interface looks cluttered to most people and that's because they show a lot of info that concerned the given keyword.
To access some of the powerful features of SpyFu you have to upgrade your account higher plans.
Spyfu Plans And Pricing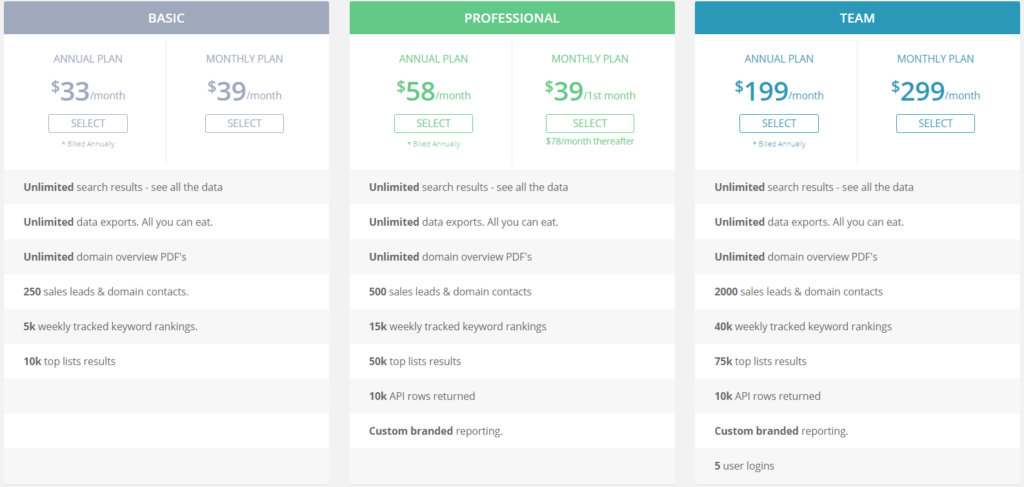 Basic Plan
The first plan is the basic plan which costs $33/Month if you decide to pay annually, but if you're paying monthly you'll pay $39/Month.
With this plan there isn't any limit to the number of searches you can make.
You can check Backlinks, keywords, and can monitor what your competitors are doing and export your data in Excel or CSV file.
The limitation that comes with this plan is that you can track up to 5000 keywords per week and you get only twenty-five sales leads.
You also get only 10 reports for Pay Per Click analysis.
This plan is ideal for small businesses that aren't involved in much SEO and PPC task.
In other words this plan is ideal for personal use, for SEO agencies or someone with tons of websites and keywords to track you need to upgrade higher plans.
Professional
This plan will cost you $74/Month if you pay annually and if you're paying every single month it costs $99/Month.
This option will give you up to 500 sales leads and can track up to 15,000 keywords every week.
With this plan you can access API and can create your own custom reports.
The Team Plan
This plan will take things to another level. It's the most expensive plan costing you $199/Month if paying annually and $299/Month if paying monthly.
This plan is designed for SEO firms that deal with multiple clients and have a team working for them.
You can collect sales leads of up to 2000 and can track 40,000 keywords.
You can also give your team members access to the tool, five people can login and access the account, plus you get a money back guarantee to protect your purchase since you're paying higher than other plans.
Verdict On SpyFu SEO Tool
Now you have seen the features of SpyFu, its pros, and cons. The question now is: is it worth it to invest in this SEO tool?
Well, SEO tool is a must if you really want to succeed in search engine marketing and I strongly suggest you invest in SpyFu, it will help you a lot as a webmaster or an SEO expert.
This tool is perfect for both beginners and SEO experts.
Instead of throwing money away in trying to set up effective Pay Per Click campaigns, you should consider using SpyFu to spy on your competition to find the best strategies that work.
Don't hesitate to invest in SpyFu if you're running PPC campaigns, the tool is really helpful in PPC research and you'll be amazed at the results.
- Advertisement -