- Advertisement -
Why would I write about a VPN service on an Online Marketing blog?
I'm a blogger and an online marketer. Each day there are multiple occasions when I use a VPN.
Often times I use a VPN to check Google results in different countries. Mostly it helps in my SEO game.
Another super-useful thing is being able to change my IP address on the spot. I need it to create multiple accounts on various social media, forums, and websites.
When I get an IP banned from a website, I use a VPN to connect to it. Reddit for an example.
I use it when traveling. Since most of my work is online, access to the internet is a top priority for me, so I use a VPN in countries where there is government censorship of the internet.
Alright, so now when that's settled, let's dive into the world of VPNs.
What is a VPN?
Before we move on to review NordVPN there is the need as a web user to understand how a VPN works and why you need it.
The internet provides so much information, but we know that a lot of web pages make no effort to ensure the safety of our identity and data online. You need to take all possible measures to protect yourself and your data.
This is exactly what a VPN does and its function is to create an encrypted tunnel between a server and your computer so that any information you share won't be accessible by any third party.
When you connect to a VPN service all your traffic will be routed through the encrypted tunnel.
With a good VPN service, even if you're on a shared network, the other parties on the network can't access the information you're sending through that network.
VPN ensures that you're protected from malicious operators when they're trying to trick you by forcing you to visit phishing pages.
If you really want to stay protected online you need a trusted and reliable VPN service that provides full security to your PC and the web pages that you visit.
If this large chunk of text doesn't make it clear, maybe this video will simplify it for you:
Using a VPN service will hide your real ISP provider. This means your identity is invisible.
We're living in a world where every action you do is monitored and if you can hide your IP address and encrypt your information then you know that you're fully protected.
For those countries that are restricted to use certain websites, they can change their IP address to any acceptable country and use the website.
Now that you know how VPN works and what it can do for you let's talk about one VPN service that guarantees your security (and not only that) when surfing the web.
NordVPN Review – All You Need To Know
When it comes to VPN services there are countless options out there that promise to protect your online activities but very few of them deliver what they promise.
One exceptional VPN service that holds to its promise is NordVPN.
Based on customer reviews (check the video below!) this VPN service is truly the best.
It has distinguished features like no other service out there. It's not 100% perfect, it does have some downsides too and the purpose of this review is to go in-depth and uncover all the features of this VPN service.
Both the Pros and the Cons will be discussed and it's up to you to decide whether it's a good VPN or not.
First of all, when it comes to choosing a VPN service you want to make sure that they have sufficient servers. Without enough servers you'll end up getting a slow network service.
NordVPN has an estimate of around 5,200 servers worldwide and this makes it offer the best speed to its users.
NordVPN will protect you from all the disturbing ads and pop-ups that come along your way when surfing the web and has earned a 5-star rating from PCMag Editor's choice.
Their service has been around for almost 10 years and they deliver what they promise. They don't only offer the best service, their service is also affordable (if you get the right deal; more on that check the Pricing section!).
One of the powerful features of NordVPN is the double VPN protection they offer. This is like a double filter and the dedicated IP address given to you is unique and customized for you. This means you don't need to worry about server load.
Not only that you'll also get high performance and strong support when it comes to encryption. They have a DNS leak and a kill switch protection to ensure that your identity is safe.
Another major advantage of using NordVPN is that they don't keep any logs of your activities. This means even if someone tries to track your activities when you're disconnected from the app or tries to locate you they won't be able to do so because all logs have been cleared.
Let's look at the features NordVPN has so that you can understand in detail what this tool can do for you.
Privacy
Like I've said earlier the protection you get with this VPN tool is incomparable with others because of the technology that's equipped on their servers.
They achieved this with their 2048-bit Diffie-Hellman key and the AES-256-CBC support. This encryption is enough to protect you in any situation you find yourself in online.
The strong IKeve2/IPsec support is another powerful feature that allows them to give you all the privacy you need. This feature gives the user AES-256-GCM encryption and will make sure that you're changing keys regularly so that even if a hacker or malicious program tries to penetrate for just one session, the next time you connect they'll be blocked.
This is an excellent feature you hardly find in any other VPN software.
The moment you get connected the software employs various tricks to protect your identity online. 
You first have the Onion over VPN that routes your internet traffic through their servers and then forward this traffic to the Onion network and to the final destination. Their double layer of obfuscation makes it difficult for any hacker to track your activities because the service will slow down to block all external threats.
All these privacy features I mentioned don't require any technical experience on your own part in order to set up, this happens automatically the moment you connect the software.
The double protection feature of the device works in a way that your internet traffic is sent to one of their VPN servers and then will be encrypted again to another second server on their network. From there it will then be forwarded to the final destination.
This feature isn't even necessary when you look at how your data is encrypted in the first place, but just to give you the confidence that you're 100% safe they decided to offer this double protection feature.
By using this feature you might experience a little change of speed. If for instance when connecting to the NordVPN software your download speed is 65Mbps, when you connect you'll have something like 48Mbps when using the double VPN.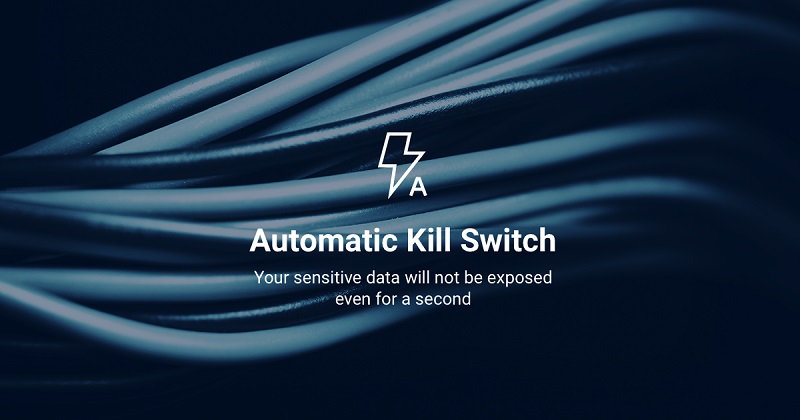 When it comes to the kill switch feature it also has two kill switches. This helps block any data leakage when your VPN connection drops.
NordVPN doesn't allow any DNS and leaks. You can confirm this with sites like ipleak.net or dnsleaktest.com. 
Your IP address will be the same as your DNS without any WebRTC, DNS or any other leaks you might think of.
Logging
The next feature of NordVPN is the no-logs policy.
Almost all VPN services boast about a no logs policy but they don't truly mean it. NordVPN has stated clearly on their website that they don't keep any records of user's activity, they also don't keep logs of your IP addresses on their servers or the files you download online.
Even the IP address they allocate to you isn't recorded. By "no logs policy" NordVPN does not in any form store information regarding any of your online activities.
This is a must feature for anyone that wants to stay protected online and if you're looking for the perfect no logs policy NordVPN is your best option out there.
If you still don't believe you can use other services out there and find out for yourself. Even though other services claim no logs when you search the IP address you're allocated to you realize that some information about you is related to the IP address given to you.
The only details NordVPN has about you is the email address you registered and the payment information you used to order the software (which itself is fully protected on their network). 
If you, however, decide not to provide such information you can use a separate email during sign-up and then pay with Bitcoin.
The "no logs policy" isn't comparable to any other service out there. They mentioned that they're ready to hire the best professional services in the world to run an audit that will prove whether their "no logs policy" is true or not. Only NordVPN offers that guarantee.
Most people are afraid of logs and that's why they're not using VPN services. If you're one of such people then I can confidently say that NordVPN keeps its promises when it comes to "no logs policy".
Performance
Since now you understand that privacy isn't an issue when using NordVPN, now it's time to uncover the performance of the NordVPN software.
Since the software comes with untraceable encryption you should expect to experience a reduction of speed with your network, especially, if you're using double encryption.
You might also realize that NordVPN can have some connection problems at times. All this is so because the software has a series of processes so as to protect you at all costs.
When their servers were tested on various video-streaming websites at 72Mbps the results were good, even better when compared with other VPN services.
Every VPN service out there has to slow down your network in one way or another, but with the NordVPN you should expect to experience only a speed reduction of 10%-20%.
The software is a perfect option for unblocking YouTube. All their servers can bypass YouTube, and this is really amazing.
Other websites like the BBC iPlayer are very difficult to bypass with proxies and VPN, but they have been passed successfully with the NordVPN software.
Overall I can say that the performance of NordVPN was very impressive to most users who've tested the tool.
Torrents
Most VPN providers out there to boast about P2P support.
NordVPN, on the other hand, doesn't really emphasize this feature. You'll hardly notice where they said it on their page because it's written in small print "p2p allowed". This means you shouldn't expect much when it comes to torrenting.
Torrents are supported but not on all servers but they also don't restrict you from doing so. It's just that some servers are capable of supporting torrents while others do not.
If you want better torrent support you should use servers close to you.
The NordVPN doesn't have any restrictions on bandwidth. You can download whatever you want online.
In summary, I can say that you can use torrents effectively provided you choose the right servers. If the server you choose doesn't support torrenting you should change to another one. Keep doing this until you find the right server that support torrents.
Malware Protection
The moment you connect the software you'll start benefiting from their CyberSec Feature, all ads will be blocked, malware and phishing websites will also be blocked, and any malware will be blocked from accessing control and command servers.
I didn't believe them even though they claim to offer such protection.
A test was run to find out whether their malware protection holds true on any website or not. Some URL's that are suspected of malware programs were used when the NordVPN software was running to see if it can block such phishing websites. These sites were also tested on other antivirus software and they were blocked on them. And then when I did the same with the NordVPN software it also blocked all the URLs that have been used.
So what does this mean? It means they're updating their database regularly with phishing websites and that's exactly what I wanted to find out.
This suggests that we can use NordVPN as an antivirus software when surfing the web without any problems. Almost all the features they claim when it comes to malware protection have proven to be true for all the tests that were made.
Set-Up
Understanding the setup of any device is important because you don't want a tool with a tedious process before starting to work.
Installation of the NordVPN is a three-step process:
Sign up
Install the software
and then start using it right away.
There is nothing complex about setting up the NordVPN software.
Anytime you want to use the app, just tap the app link and it will open so that you can connect easily.
Some of the VPN providers I've tested make the process a tedious one – you have to change your PC settings and a lot of other configurations on their app.
Within a few minutes, you're ready to start using the NordVPN and the good part of it is that it's available on almost any client you can think of: Mac, Windows, IOS, Android, Android TV, and Linux.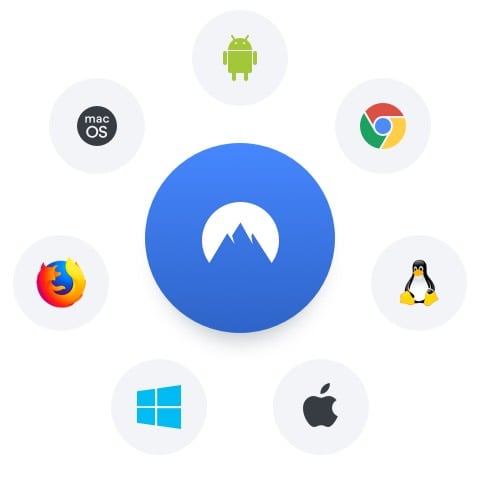 Even though the software is very easy to install and operate, they also offer more than 80 tutorials that will help you to get started with every feature you want to use with the software.
Other devices aren't excluded like Windows Phone, Chrome OS, NAS devices, Raspberry Pi and many more.
For Windows users, you'll get more than 11 tutorials that will guide you on software usage.
NordVPN On Windows Client
Since most people use the software on their Windows OS, I'll take a look at how it works on Windows.
When you'll visit the download page they'll automatically identify the client you're using so that you can get access to the appropriate setup files. You'll be presented with a Windows download link and once you click you can download within seconds and can be installed in under one minute.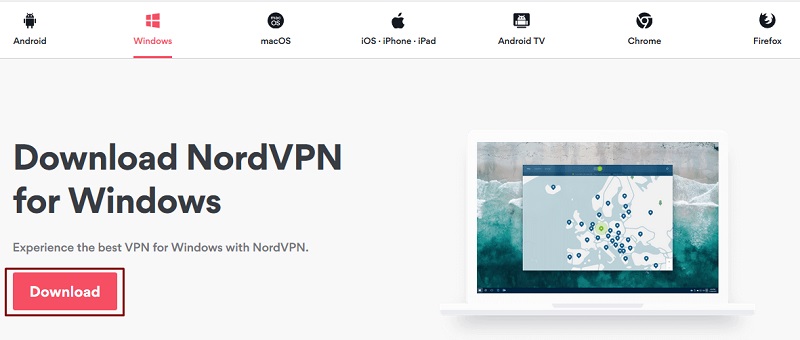 When you open the software it will display locations on the map. When you hover the mouse you can see the tooltip of the location name. Left click so that you drag to pan around the map. Whichever location you left click will connect you to that location.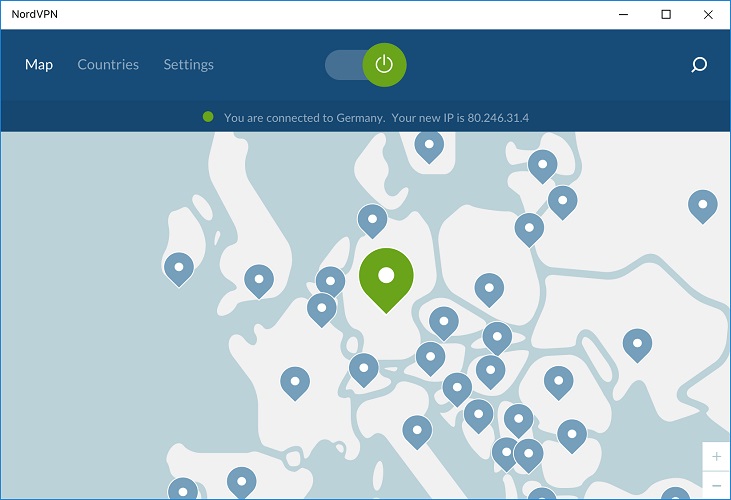 This feature looks good but some people still find it difficult to choose a location using the map because there are some complications.
If you don't want to use the map you can head over to the list of countries panel. The countries are listed in alphabetical order, point to any country and when you click you'll be automatically connected.
If you tap the more option you'll see a list of all the servers and cities that are available within a particular country. Larger countries have more servers and smaller countries have fewer server locations.
One of the downsides is that it doesn't always list cities in alphabetical order. This will make it somehow difficult to find the city servers you're looking for. Sometimes you'll have to scroll multiple times to locate a city.
I wish they have fixed this because I don't have all day to start looking over and over again. But the good news is that once you find a city you can add it to your Favourites list so that you don't need to search for it all over again when you need it. Once you make a list of the locations you want to be using consistently you're good to go with this software. Whenever you tap the server you'll be connected in seconds.
The software also will show you connection status and the location of the servers you're using, this will always remind you if you're mistakenly using a server that you didn't intend to use.
Switching between servers is easy. You can do this instantly without the need to close the current connection. When you click another different server it will automatically switch to your new location.
If you right click on the system tray you'll be able to see the list of recent connections. This means even if you haven't added a location to your favorite you can check your recent used connections and then connect again.
If you like you can set the software to connect automatically to your favorite locations so that you don't have to select a server every time you want to connect.
The NordVPN, however, can't connect automatically at windows startup, you have to launch the app manually, and I hope they'll provide this feature in the coming updates.
NordVPN also offers the option to use your preferred DNS for all your connections. If you're not a technical person you don't want to use this feature because you can mess up with your settings.
For those who know how to play around with the app, they can replace DNS so that they can experience high performance.
When you look at the NordVPN windows client you can see that it has shortfalls in some aspects, but once you get used to the software everything will work smoothly. It's a well presented app and very easy to use.
NordVPN on Android App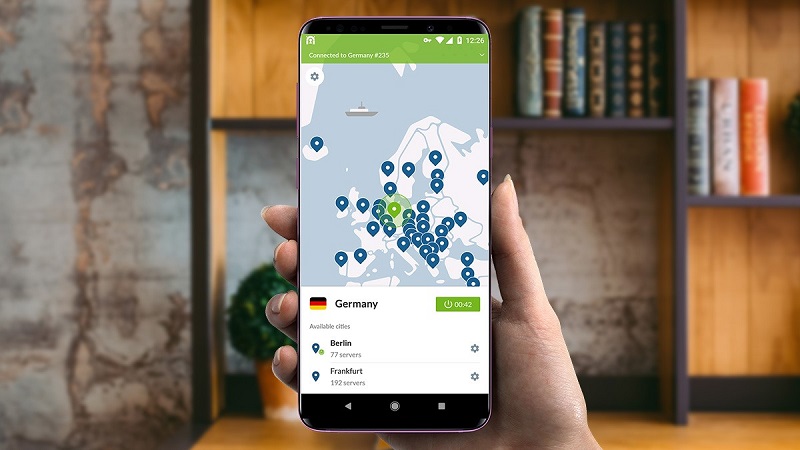 Now it's the time to check the performance of the NordVPN on Android devices.
The NordVPN app has more than 5 million downloads on Google Play and has earned a good rating of 4.3 out of five-star rating. Even though most people believe the ratings on Google app aren't accurate but still I pre-assume that it has a lot to offer, 4.3 on Google play is a good achievement for any app.
Let me dive in and see how it works on Android.
Setting up the device on Android is pretty much easier than on Windows. You just need to head over to Google play and search "NordVPN", just click install and it will be added to your app list in minutes.
When you launch the app a map will be displayed on the top screen so that you see the available locations, while the lower part of the app will display list of servers available, you can scroll down to view all of them.
Once you look at the app you can understand the basic operation principles including usage of the map. You can zoom in just like in the Windows client so that you can view server locations based on cities.
When you zoom in a location like Europe you'll be presented with around 40+ locations, the downside of the app is that it doesn't display the captions for cities. You have to know the location of any city on the world map before connecting to that location.
The good news is that just like the Windows software you can view and connect the app using the list of countries available. When you tap on any country you'll be connected automatically and you have the option to explore more servers from that particular country when you tap more on your favorite country.
You'll also have access to your most recent server connections so that you don't have to search for a particular city again. If you used a server that unblocks any website you can use it again within seconds.
Unlike the Windows software where you can view server load information, the Android app doesn't have such information. This means if you unknowingly connect to an overloaded server you can experience low network speed on your connection.
But if you want to avoid these you can skip selecting servers from particular cities, allow the app to select the best servers and it will connect you with the fastest servers available in the selected country.
The NordVPN Android app has a very simple user interface with some Windows client options and settings that aren't available like the kill switch and inability to change to your custom DNS servers.
Generally speaking the app isn't perfect, but its features and simple interface makes it standout from the competition.
NordVPN on iOS App
Setting up the app on IOS is very simple. Go to app store and install it. When you first open the app you need to login and you're ready to start using the app.
It works similarly to the Android app.
The upper screen shows you the map with available server locations, but in the IOS app, you're not allowed to zoom out like in the case of the Android app.
In all the NordVPN apps most users aren't happy with server selection using the map, but in all the apps including iOS, you have the option to choose by country.
One feature that makes the iOS app stand out from other NordVPN apps is the option to choose servers by region. You can, for instance, select a U.S server in Los Angeles or Denver. This is exactly how all the other NordVPN apps should be but it's only available on iOS.
The iOS is also basic but the good news is that the kill switch feature is available, this means if you're disconnected from the internet the VPN goes down, this is an added privacy for you.
There are some features that are missing on the iOS app and this is due to the fact that Apple restricts app developers on what their apps can do.
iPhone users might not like the app, but it still has a lot to offer when it comes to online privacy.
NordVPN Browser Extensions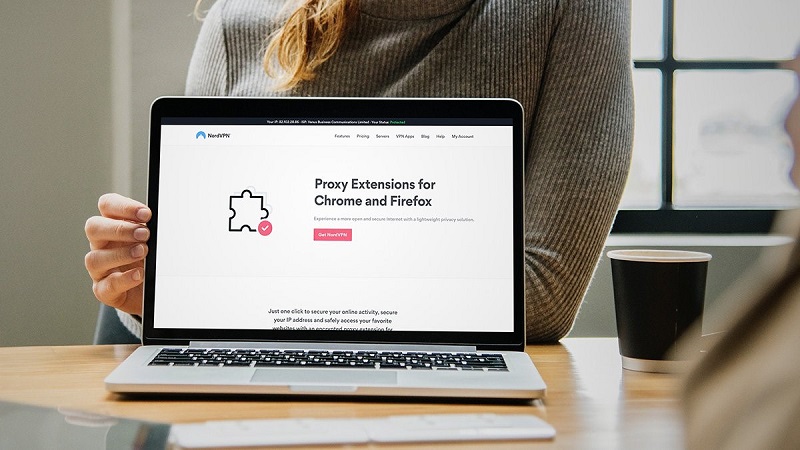 PC users that don't want to install the software, can use the browser extension which is very easy to use.
You just need to download the extension for your browser and you're set to go. The extension is available for Chrome and Firefox users.
All you have to do is to click on the extension icon and the list of countries will appear so that you can choose the server you want.
By opening the extension you'll be required to log in or register before you continue using the app.
The extension though limits you with some features. If you're just looking for basic encryption from your browser, the extension is more than enough for you.
NordVPN Pricing
Now it's time to look at the pricing of NordVPN and see whether it's affordable or not.
You can buy the apps at all the available app stores.
NordVPN comes with four pricing plans that will suit your budget.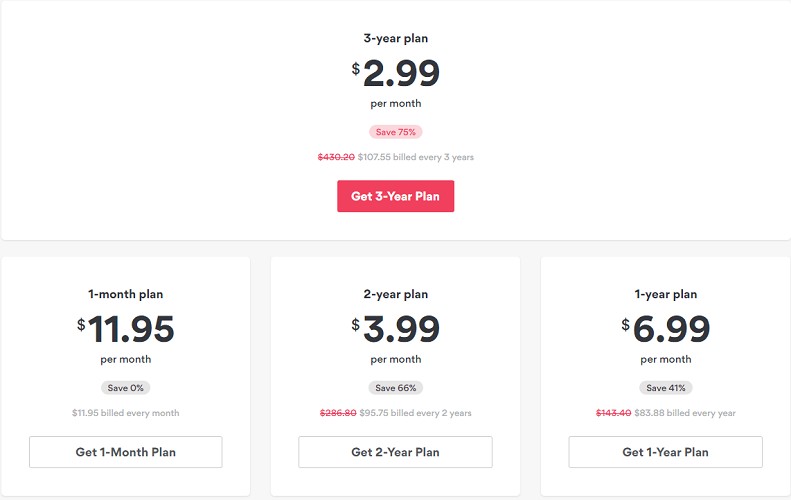 If you want to pay monthly you'll be billed $11.95.
If you want to pay annually it costs $83.88 or $6.99 a month (but you have to pay for a whole year).
If you're ordering for 2 years you'll pay $95.75 or $3.99 if divided in months.
And for three years it costs $107.55 or only $2.99 a month which is one of the cheapest options to be found on the internet.
My advice would be to order for the first month and see how things work for you.
Above all, they also offer 7 days free trial, but you need to enter your credit card information. The good part is that you can cancel the subscription during these 7 days if you don't like the app.
In my opinion, it's better to try the app for a full month and if that's what you're looking for you can order for 3 years to get the best discount.
When you order NordVPN you can use up to 6 devices simultaneously on the same server without any restrictions, this means you don't have to pay separately for all the devices you have.
Accepted Payment Methods

You have a lot of payment options to choose from including credit cards, PayPal, Cryptocurrencies and others like Alipay.
Just select your payment method and process the order as you usually do on other shopping websites.
Refund is available except for the Apple Store and when you're ordering with Bitcoin, so you have to keep this in mind.
So far we've discussed how NordVPN works on all the major devices. It's now time to wrap up all things together so that you can see what you're getting in this app.
I'll now talk about both the pros and cons of this app in general.
The Pros of using NordVPN
NordVPN offers a strict "no logs policy" that is better than most VPN services out there. This means there is a 100% privacy protection when you're using the app.
The NordVPN app comes with military grade encryption (AES-256-CBC) and you have a lot of protocols to choose from.
You have no bandwidth or data restriction when you subscribe.
You're protected with full thirty days money-back guarantee.
NordVPN has more than 5000 servers to choose in sixty different countries.
Their servers are fast and reliable.
Automatic kill switch that can disconnect your internet connection when connection from their server is lost.
Can be used in restricted countries like Middle East and China.
Double encryption feature is an added bonus to the app. This helps you get a top level security.
They have a great customer service. If you have any problem with the app you'll get a response very fast when you contact their customer support.
They have 24/7 customer support. You have access to live support through the help icon you'll notice at the bottom. When you use the live support you should expect to get a response in under one minute. You can resolve issues right away without the need to send an email but if you still prefer to contact them by email you can do so and you'll get a response fast either way.
NordVPN has earned a lot of recommendations from giant tech websites and has achieved the best rating compared to other VPN services out there.
NordVPN is the only VPN service to get a perfect rating at PCMag's website. It's considered as the best VPN service provider for 2019.
The Downsides of NordVPN
NordVPN isn't perfect. They have some issues to fix. Let's look at the cons of this app.
Not all servers support torrents. You have to try different servers until you find the one that supports torrents, but once you get a server that works well you can add it to your favorites so that you can always use that server when you're working with torrents. And you can set the app to connect automatically to a specified server.
Sometimes it can take some time to connect. If you're a Windows client user you might experience this problem. It can take a while before connecting to the server. But I'm not talking much time here, on average it can take somewhere from 15-30 seconds before connecting and this excludes the time it takes for the client to load.
The configuration isn't user-friendly. You might find the interface not friendly especially if you're using OpenVPN. If you're going to use OpenVPN instead of L2TP you have to go through a lot of protocols. You'll have to download a zip file that contains configurations for the servers and you must configure each and every one of them. This a very tiresome work. You'll find over 9,000 configuration files in the zip achieve.
With the exception of the iOS app, you won't be able to choose specific regions within the countries. You have to spend a lot of time in order to find your specific servers.
Should You Buy NordVPN?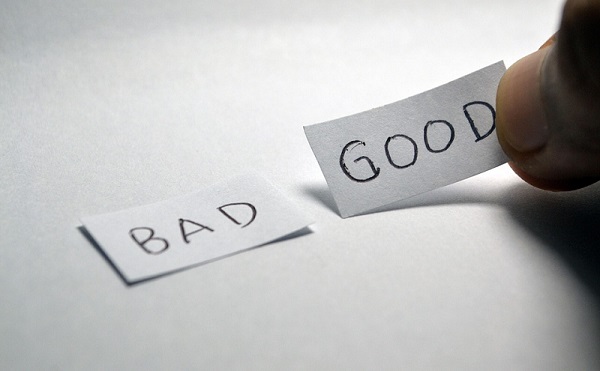 Well, when you compare the app with its competitors you can see clearly what set NordVPN sets itself apart from the rest.
It offers strong features like no other and hence on a personal basis this will be the best VPN provider you'll work with and I assure you that you'll be impressed with their service especially when it comes to security and privacy.
The speed is also good unless you're using the double encryption features.
If you're going to use a VPN, then choose one that is genuinely good!
NordVPN is my personal choice, and I've been using it for more than 5 years now.
Be smart, do your own due diligence, and choose a VPN that suits your needs!
- Advertisement -