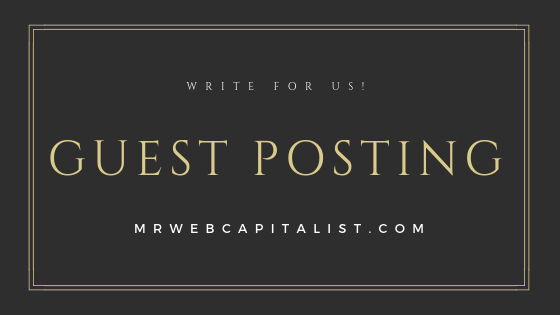 Write for MrWebCapitalist.com
Want to contribute an article to Mr. Web Capitalist? Before you submit a guest post here, read this guidelines post to ensure your post get approved.Mr. Web Capitalist is a blog for Online Marketers (both experienced and newbie). I always encourage upcoming bloggers to contribute an original article related to the topic of my blog and showcase in front of a wide audience.
Few things to remember before submitting your guest post:
Mr. Web Capitalist is a blog about Online Marketing, therefore I accept anything that is relevant to this niche, including subjects like: building websites, SEO, traffic sources, social media, making money online, and others.
Article Quality: Article should be a minimum of 1000 words and should cover the topic in detail. As higher quality helps the contributor to gain authority in the online world. The article must be well-formatted. Use proper headings and paragraphs.
Self-promotion: We allow genuine contribution and we do allow backlinks, but they have to be approved by me.
Images + Videos: A picture can tell a thousand words. Interactive images and videos are really important to attract the visitors and it increases the quality of the article. Pictures must be unique.
Copyright: I will not accept content that is not Unique or copied from another website.
How to Contribute your post to Mr. Web Capitalist?
If you have any unique content or a new idea of a post then feel free to contact me on 
martin@mrwebcapitalist.com
or use the
contact form
.