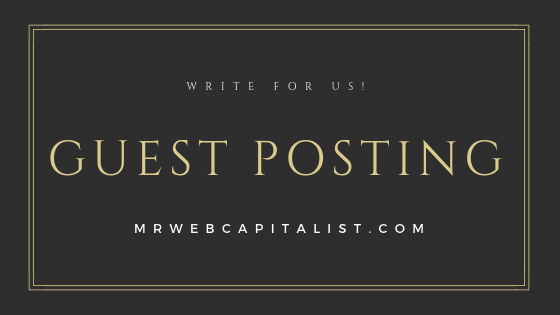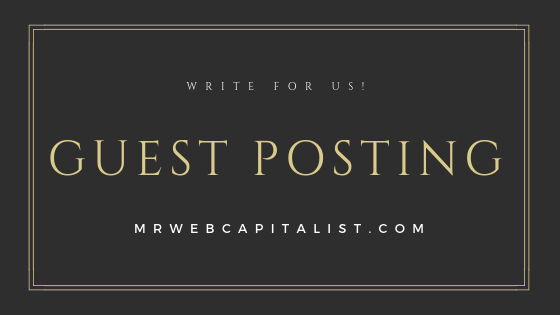 Write for mrwebcapitalist.com
Articles:
Want to contribute an article to Mr. Web Capitalist? Before you submit a guest post here, read this guidelines post to ensure your post gets approved.
Mr. Web Capitalist is a blog for Online Marketers (both experienced and newbie). I always encourage upcoming bloggers to contribute an original article related to the topic of my blog and showcase in front of a wide audience.
Case Studies:
If you got an interesting CASE STUDY of any kind (experiment, Journey, etc) that is related to online marketing then I will gladly submit your post for FREE no matter the length.
At Mr. Web Capitalist we prefer Case Studies!
Product reviews:
Got a product you'd want us to review?
For the review you must provide us with an access to the product as well as cover our expenses (time spent on an article).
Few things to remember before submitting your guest post:
Mr. Web Capitalist is a blog about Online Marketing, therefore I accept anything that is relevant to this niche, including subjects like: building websites, SEO, traffic sources, social media, making money online, and others.
Article Quality: Article should be a minimum of 1200 words and should cover the topic in detail. As higher quality helps the contributor to gain authority in the online world. The article must be well-formatted. Use proper headings and paragraphs.
Self-promotion: We allow genuine contribution and we do allow backlinks, but they have to be approved by me.
Images + Videos: A picture can tell a thousand words. Interactive images and videos are really important to attract the visitors and it increases the quality of the article. Pictures must be unique.
Copyright: I will not accept content that is not Unique or copied from another website.
How to Contribute your post to Mr. Web Capitalist?
If you have any unique content or a new idea of a post then feel free to contact me on martin@mrwebcapitalist.com