- Advertisement -
Introduction
Recently it has become increasingly more difficult to apply to Amazon U.S. Affiliate Program, especially for non-US citizens.
That's why I made this guide on How To Apply to Amazon U.S. Affiliate Program as a Non-US resident.
Let's dive right in.
Signing up for Amazon Associates
First, you should sign up for Amazon U.S. Associate Program.
If you are from US or Canada you won't have any problems with the application because you have the US/Canada mobile phone number for verification. For other countries, this might be a problem.
I suggest using the Dingtone app for US phone number.
Once you've installed the app on your phone, go to the section called "Numbers". Choose a United States number. It will cost you $1.99. Enter this number in the Amazon Associates application and you will receive a phone call to your phone with the instruction to enter the PIN that you see on your desktop.
Once you've entered the PIN on your mobile phone, you will be verified and your application will have concluded.
Website Used in Application
When deciding which website to use for the initial registration you should have at least one of the following:
1) Any website
2) Active social media pages, like: YouTube channel, Instagram page, Facebook page, Twitter account, Tumblr page, etc.
I suggest going for the website.
Make sure that you make your first 3 sales from your website because after the first 3 sales Amazon team is going to check your website for the ultimate approval.
Don't go spamming your affiliate links outside your website!
If you don't have a website, you can try your luck with social media pages.
If you don't have many followers, you should buy some fake followers to make it look more legit. I suggest using Instant Fans.
If you don't have those either and you don't want to spend any more money, you can make a free Blogger page or free WordPress blog. And apply with it.
Payment options
US citizens can get a direct deposit to the bank.
What should affiliates from other countries do?
Don't be like me and use the "Pay by check option". It has large commissions from Amazon and from the Bank that you're going to withdraw the money from. And it is going to take a lot of time. For example:
Amazon pays out money every month after 2 months from the moment you got the commission.
So when you start you would need to wait 2 months for the first check to be sent out.
The check is going to come to you by mail in 1 – 4 weeks (depending on where you live and how the post works). I've had both variants.
Then you would need to go to the bank, and cash in the check.
It would take the bank up to 45 days to actually give you the money since they would need to physically transfer the money from the US to your country. So, it takes a lot of time.
What's the alternative? Payoneer.
Payoneer is a service like Paypal that can be used to send & receive payment. What is unique about them is that Payoneer lets you have a U.S. & Euro bank routing number that can be used to receive payment from various services.
Once your account is activated or if you already have an active Payoneer account, login to the Payoneer dashboard.
Click on Receive -> Global payment service & the next page you will get USD receiving account (ACH) information. This is how the page would look like: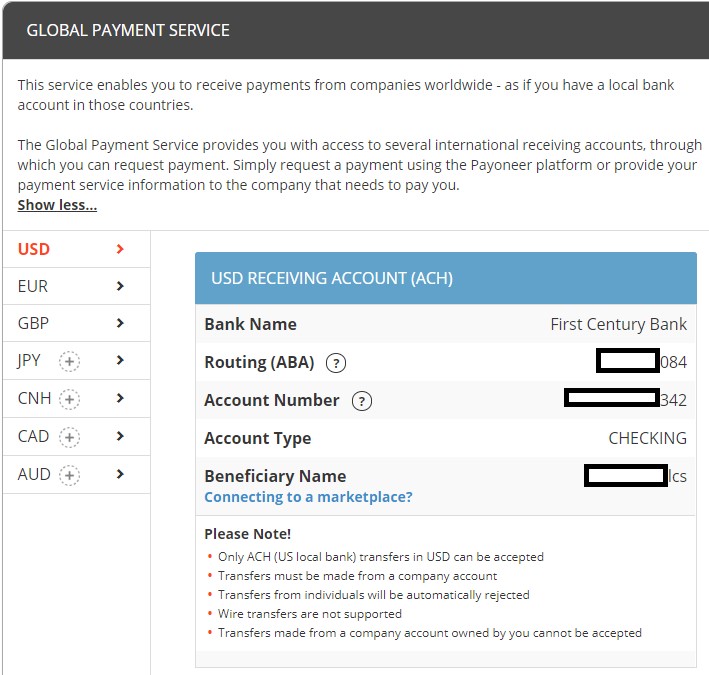 Now login to your Amazon U.S. affiliate dashboard & click on account settings > Change Payment Method & here you need to enter the details of your U.S. account from Payoneer.
Select the option which says "Pay me by direct deposit (United States Based Associates Only)" & enter the details. You can use below screenshot for the reference: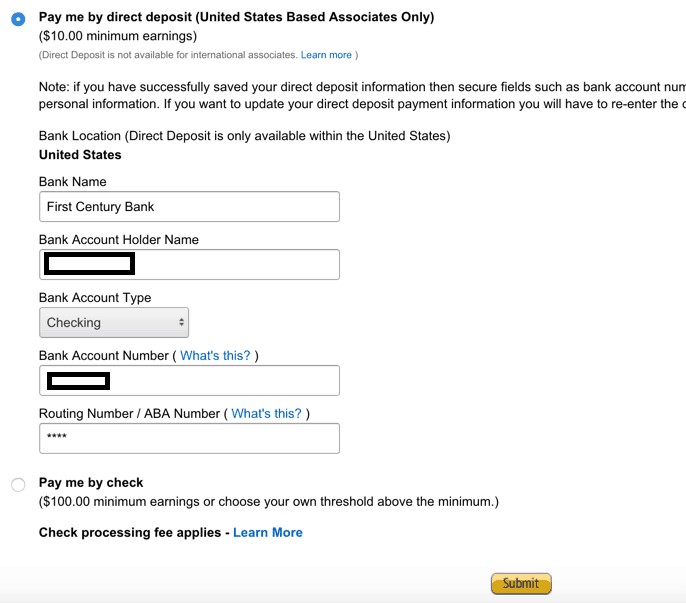 Click on Submit & that's it. You need to ensure that you have filled out tax information which is mandatory to receive payment.
Conclusion
I hope this guide helped you to create an Amazon affiliate account.
If you liked this article, read my other Case Studies here.
And now I'd like to hear from you:
Do you have any questions about this process?
Or maybe you have a cool tip that I didn't include here.
Either way, let me know by leaving a comment below right now.
- Advertisement -