- Advertisement -
SEO and Backlinks go together just like bread and butter.
The two most important factors that will determine whether you'll outrank your competition are keywords and Backlinks. If you know how to play around with these two elements you'll definitely succeed in any online business.
So why are Backlinks really important to SEO?
Let us share the importance of link building to your SEO campaigns before explaining to you how Rankd SEO Backlink database can help improve your website optimization.
Importance Of Backlinks To SEO
Google finds your new posts with the help of Backlinks.
Google spiders use Backlinks to crawl new posts on your blog or websites.
The best way to index your new pages is to build high quality Backlinks.
By high quality we mean Backlinks from authority websites.
There are powerful websites out there that will make Google index your website within a few minutes after creating Backlinks.
I've tried this method many times and it works.
It has worked far better than any method you can think of.
You just need to find authority website with high rankings and with lots of pages, and then find a way to drop your link.
So that when Google crawls these pages, your website or any other link on the page will get indexed.
It is an undeniable fact that Google measures the quality of your content and Backlinks to rank your website.
And the fun part is that Backlinks point to Google that you have quality content on your website and that's why other authority websites have linked to you.
Backlinks are votes telling the search engines that you offer a lot of value on your website.
Google Uses Backlinks To Determine Your Reputation
For obvious reasons Google or search engines in general don't manually review every website before determining their rank.
They use spiders to crawl all web pages and then rank them by the use of an algorithm. This algorithm is a set of instructions which are used to rank and display websites in the search results.
So the more quality Backlinks you have the more the search engines will understand your website is very popular and that increases your reputation.
The main aim for every search engine is to provide users with the information they're looking for.
Whenever you make a query the most popular websites are at the top search results.
If you have noticed, many times you make a query one of the first websites at the top of the search result is Wikipedia.
And that's so because Wikipedia is very popular and is known to be a trusted source for knowledge.
Backlinks Help Boost Your Credibility
That's another benefit of building Backlinks is to build credibility.
This means building Backlinks from trusted sources that are similar to your niche.
Let's assume you operate a computer repair website. If you build Backlinks from computer news and PC repair website, a lot of people will find you more credible than when you build your Backlinks from a pet website or blogs and forums.
And besides, such Backlinks carry little to no weight in the eyes of search engines.
An important element when it comes to Backlinks is relevancy; you have to generate Backlinks from websites similar to yours.
Backlinks Generate Traffic To Your Website
When you build Backlinks on other websites a lot of people will follow that link to land on your website.
But that's only possible if you added valuable information on the pages you drop your Backlinks.
And this is where relevancy again comes into play.
If you drop your website links on irrelevant blogs you'll hardly find anyone visiting your website from that source.
But if it's relevant, they're already looking for more information regarding that niche and they'll happily follow through your link to learn more about what you have to offer.
So you can see Backlinks are beyond fooling the search engines to rank your websites. You should build links for humans and you'll generate real visitors to your website.
Backlink Quantity Or Quality, Which Matters The Most?
Back in the olden days, quantity mattered the most.
But now everyone knows it's about quality. Having a few good Backlinks is better than having thousands of low-quality links.
Having a bunch of Backlinks will not only be useless, but it will also affect your SEO efforts in a negative way.
The more quality Backlinks you have for your website the better. If you're going to generate Backlinks from authority websites you can build as many links as you can, provided the websites are relevant to your niche.
And you should do that in a natural way, in the sense that Google won't detect you're trying to outsmart them.
Can Link Building Help You Business?
As you've previously learned in the previous section of the article Backlinks are important signals to the search engines especially Google.
But that doesn't end there; there are other useful benefits of Backlinks to your business.
It helps you build relationships
Nothing is important in any business as building relationships.
And link building helps you achieve so.
The more your drop your links on other authority websites the more you connect with people.
Take blog comments as example; whenever you comment on a post and you share a valuable comment especially when you argue with writer using valid points, most people that support your judgments will visit your avatar which will land them to your website or blog.
So you can see how blog comment can help you build relationship with other fellow webmasters.
The secret to achieving so is to make sure that you're not dropping links on other sites just for the sake of building the links.
Rankd SEO Review
Now it's time to review one of the best Backlink databases that's available online.
Almost every webmaster is aware of the importance of Backlinks.
Whenever someone approaches them for a link placement on their website they reject, especially when it comes to guest posts.
While most SEO services that sell Backlinks, sell low-quality Backlinks at an expensive rate.
If you're tired of buying Backlinks that cannot increase your website rankings it's time to give Rankd SEO a try!

This website lists down powerful websites that have a high domain authority which guarantees an increase to your website rankings.
You see the thing is most of the times you purchase Backlinks from SEO sellers, these sellers build your Backlinks on websites they own.
That's to say a bunch of websites under the same hosting account and that's why they don't work at all, you'll end up losing your rankings for using such services.
There are powerful websites out there that allow you to add your website link with ease.
When you search online for the list of high authority websites that allow a link back to a website, you'll find endless pages providing such list.
But the problem is most of the websites listed are not active anymore, some domains have even expired.
And secondly, even if you have managed to find websites that are working you'll be wondering how to build the Backlinks to your website.
You'll be searching for hours trying to find out how it's done and no guide online will show you how to go about it.
What if you can find a Backlinks database that contains high authority websites and will guide you step by step on how to build such Backlinks within few minutes?
It's really that simple, that's what Rankd SEO has done for you.
They've combined all the best Backlinks building websites that are available out there and have not been saturated or spammed by webmasters.
You'll have access to Backlinks database; this also includes a list of guest posting websites.
You already know how powerful guest posts are, but finding the right ones isn't easy.
Rankd SEO has simplified the entire task for you by listing over one thousand guest posting websites.
If you don't have the time to build these Backlinks you can give the task to your virtual assistant or hire one if you don't have any.
Rankd SEO is true game changer when it comes to building Backlinks.
Now you can build high quality Backlinks to your website with ease.
Benefits of using Rankd SEO Backlinks and Guest post database
No more struggling for days to find websites that allow website link placement. When you join you'll have access to a list of the best and trustworthy websites that allow link building which will help improve your website rankings.
You get instructions on how to set up the Backlinks from each site. They've saved you a lot of time by giving you all the details you need to start building Backlinks in a matter of minutes.
You can use Rankd SEO to build Backlinks for your clients. This means you can even make more money faster than ever.
You'll save a lot of money. Instead of buying expensive links that don't work, why not pay a small fee to get access to a large link building database that has the entire websites used by SEO experts to rank their websites?
The database is updated on a regular basis. They understand that link building is a continuous process and that's why the list will be updated on a consistent basis. This shows you'll never run out of websites to build Backlinks.
Rank your websites higher in Google. The main aim of any Backlink campaign is to increase your rankings. All the websites included in Rankd SEO have been well researched and are one of the best websites online you want to place your website Backlinks.
Who Should Use Rankd SEO Services?
Individuals that own personal websites and are struggling to rank them in search engines and don't have enough budget to buy expensive SEO Backlinks that can't guarantee to increase their rankings.
Webmasters that run multiple websites. Even if you think you can outsource Backlinks building, things are going to be different when you run multiple websites. It's going to be super costly for you, why not save tons of money with Rankd SEO!
SEO agencies that deal with lots of clients. No effective SEO campaign is complete without Backlinks. If you own an SEO agency you want to check out Rankd SEO Backlink database because they'll save you a lot of time and money for your client's work.
Anyone that's looking for reliable link building websites and doesn't want to spend countless hours searching. It took months to put together this list and also to outline the instructions for each site. Wouldn't you rather pay a few dollars to save yourself months of research!
There are a lot of benefits for having access to Rankd SEO Backlinks and Guest posting database.
You'll definitely find this list handy if you're involved in SEO.
So why not give them a try to see how this powerful list can improve SEO campaign. Join now and start building powerful Backlinks to your websites!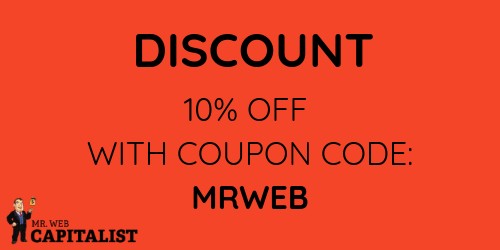 Check it out and if you feel like it's something you might like, then here's a 10% discount coupon just for readers of Mr. Web Capitalist.
Go to Rankd SEO and use coupon code MRWEB for any subscription plan!
- Advertisement -