- Advertisement -
Divi builder is one of the most powerful theme builders when it comes to WordPress.
Anyone can use Divi to create blog themes or landing pages that will suit their needs.
Divi builder offers more flexibility than any other theme builder you can think of and the best part is that most of the themes come with automatic updates.
Divi is easier to operate and requires no coding skills.
After watching Divi builder tutorials anyone can start building premium themes for their business or clients.
This article will cover all the important information you need to know about Divi Builder.
Why Should You Choose Divi?
I know there are a lot of options when it comes to WordPress since it's the most used blogging platform on the web. Research shows that 1/3 of all websites are hosted with WordPress.
There are a lot of theme builders in the market such as Elementor, Beaver builder, Avada and many more you can think of.
So the question now is what makes Divi different from other theme builders out there?
In order to answer this question, we'll take a look at some of the distinctive features Divi has that make it stand out from the crowd.
There are endless video tutorials out there that will show you to design beautiful websites with Divi, included in the member's area are all the video training you need to build your website.
Also when you head over to YouTube you'll find a lot of videos on how to make exceptional designs using the editor.
But still, let's talk about how the basic features of Divi Builder work.
As you've already know Divi is a theme but comes with a plug-in that allows you to edit any WordPress theme.
The first step to using the theme is to download all theme files and plugins in your WordPress dashboard.
There are important aspects you need to know when working with Divi Builder.
Section; this is the first option to select when working with Divi.
You have the option to choose between standard or full-width sections.
Row; the sections are made up of different rows and you have the option to choose up to 4 columns.
Module; the row also is divided into modules which are mostly referred to as elements.
The module consists of any element you can think of, this includes; sidebars, menus, sliders, images, menus, and videos.
You'll find details on how each element work in the visual editor.
Working With Divi Editor
Front end Vs. back end editor
You'll be able to create page layouts using the backend of your WordPress.
With Divi front-end editor you can customize your content by adding new layouts and select from multiple templates that are available.
You can clone any section of your design.
With the visual builder, you can preview everything to see how it looks on an actual browser.
Divi builder allows you to drag and drop any element to the specified position you want with ease.
Using customizer
You don't need any coding skills to use Divi builder.
You can choose any colors, fonts and can upload any image to your websites such as logos, banners, and more.
You have access to video tutorials that show how everything works right from scratch.
After buying a license, watch all the videos in the member's area to learn how to use the Divi builder effectively.
It's the best Drag and drop website builder when it comes to WordPress
You don't need any prior coding experience in order to use the Divi builder.
This simple drag and drop editor will allow you to create the website of your dreams or for your clients with ease.
Almost every web page element used by web developers is included in Divi, and all you have to do is to pick these elements and add to your current layouts.
So if you're the type that hates dealing with technical stuff, you don't need to worry about using Divi because it's easier to operate than you can imagine.
Divi Can Edit Any Theme
Most theme editors only allow you to edit built-in templates that come with their software, but Divi Builder allows you to edit any WordPress site you want to edit.
This means if you've purchased your theme from third party websites and you're not happy with the design, you can customize your theme with ease using Divi builder.
Different Content Modules
Divi comes with about 46 content modules, this allows you to create any type of website design you want.
The content modules are the building blocks of your website design as it allows you to create different layouts that fit your needs.
Create Beautiful Designs
It's important that every website should have a beautiful design that will grab visitor's attention to take some action on the web page.
Divi is truly ahead of the game when it comes to creating stunning landing pages or websites.
Before signing up you can view some of the beautiful designs that are available in the templates area.
If you want to grab your visitor's imagination, the Divi builder is the best tool you need.
Multiple Layout Possibilities
Any blogger wants the perfect layout for their blog. With Divi builder, you can choose from 3 section types and 20 row types to design your layouts.
We've also mentioned previously that you have more than 40 content modules within your toolbox.
And each of these elements can be further customized using the advanced settings option.
Everything Is Customizable Using Divi
Whichever option you find in Divi you can customize it to suit your needs.
This means you have full control over almost every feature that's available for your themes.
You can change the colors, typography, and spacing with only a few clicks.
You can add custom CSS and styles to make your theme look better.
Divi builder will not hold you back when trying to customize your theme.
Design Column Structures Fast
If you're tired of single-column posts on your blog it's time to embrace Divi because it's capable of creating advanced column structure within a few seconds.
You can use this feature to design creative layouts with few clicks.
Copy Or Duplicate Elements With One Click
If you want to use the same element in any section of your website you don't need to start over, with a single click you duplicate that element into any layout or area of your web pages.
This will save you a lot of time in your design process.
Unlimited Undo And Redo
This is also another powerful feature that allows you to clear any changes you've made without limitations.
You're not limited to the number of undo and redo that's saved; you can revert to any stage of your design process with a few clicks.
You can always move forward or backward with your work history.
These are some of the features of the Divi builder. There are "endless" features that come with Divi builder; these are just the tip of the iceberg.
When you start using this powerful tool you'll realize it's the best investment you've made when it comes to a website builder.
How Much Does Divi Builder Cost?
It's time to see what this powerful website builder costs.
When you bought any of the licenses that are available you'll get not only the Divi theme, you also get the plug-in that comes with it which can be used to customize every other theme you might have.
Most people purchase the Divi theme just to use the website builder that comes with it.
When you order Divi you can use it on an unlimited number of projects.
This means no limitations on usage.
So What Are The Different Licenses You Can Choose From?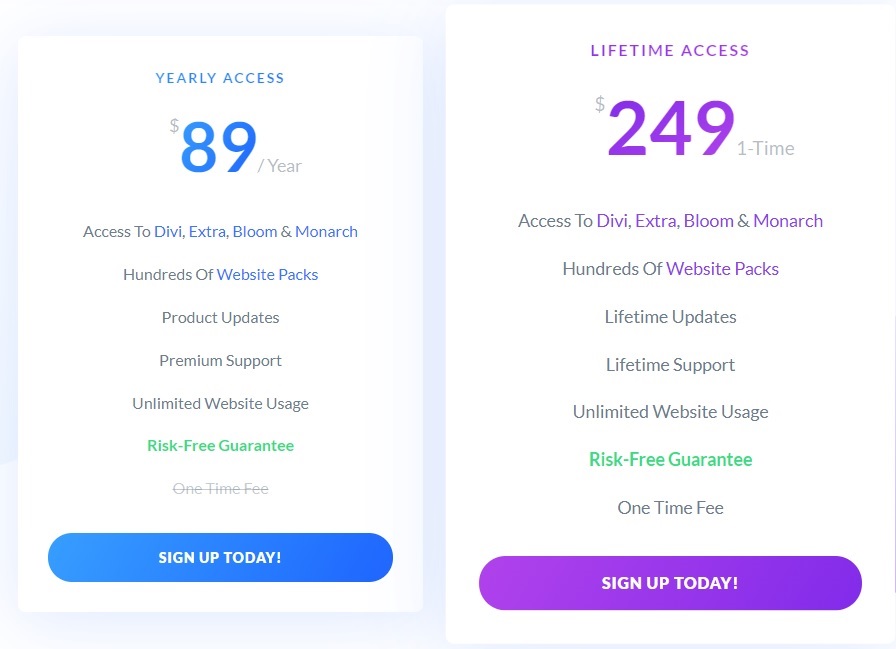 First, you have a yearly license that costs $89.
This means you have to renew your license every year.
This is the perfect option for someone that wants to design a couple of websites in the next coming months.
When your license expires, your themes and plugins won't update, you might have to do things the other way.
But as long as Divi is active you can install updates with one click.
Then there is the lifetime license which costs $249.
Everything that's included in the lifetime license is also included in the yearly license.
The only difference is that you pay once and for all when you subscribe for the lifetime license.
This license is the best option for web developers that design websites for clients.
This plan might be seen as expensive by most but you can recover your investments by designing only one website to a single client.
And when you look at the features of Divi you'll realize it's definitely worth it.
Just check out some of the user reviews: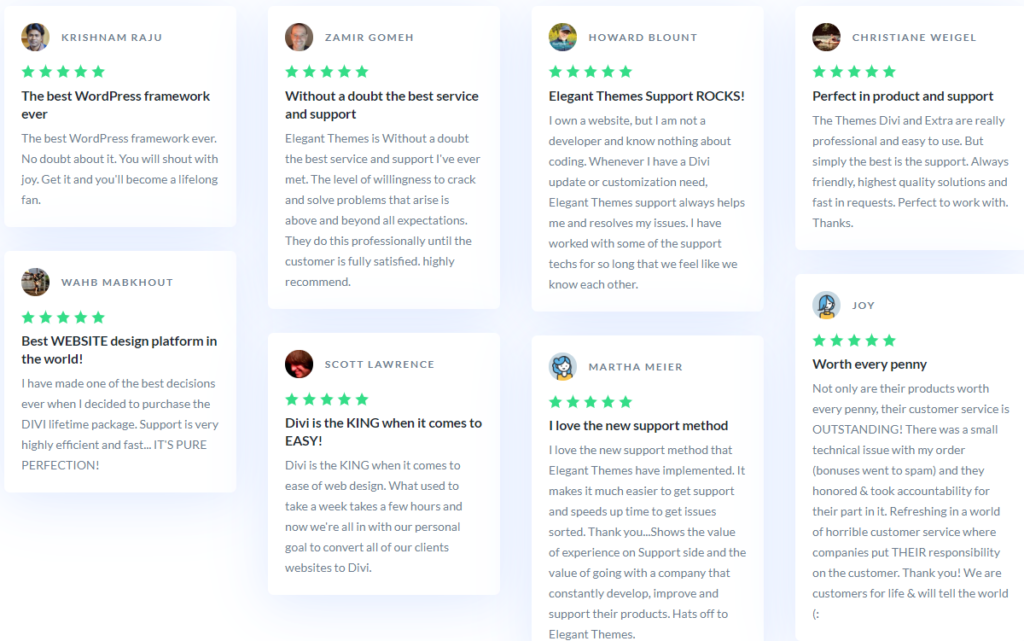 How To Install Divi Builder
Installing the plug-in is fast using your WordPress dashboard
After subscribing to one of the available licenses you'll have access to a page where you'll download the plug-in.
You then head over to the WordPress dashboard to locate the plug-in menu and then click on "add new", you'll be taken to a page where you can upload the Divi zip file named "divi-builder.zip.
Click the upload button and then select the location of the zip file on your PC.
When the upload finishes, you then hit the "Activate" button to start using Divi right away.
The process is pretty much like installing any other WordPress plugin.
When you're done with the installation Divi will appear on your WordPress menu and anytime you want to use it just click on it and you're ready to design and edit your pages.
If you'd like to know if Divi builder is worth the money I suggest you read our Elegant themes review!
- Advertisement -