- Advertisement -
As a webmaster, you've already spent hundreds or even thousands of dollars to set up a nice and good looking website.
But there is a saying "looks aren't everything"; the quality and worth of a website aren't tied to its good looking design only.
If there is one thing that determines the value of a website, then it is the ranking in search engines.
A lot of people are willing to pay thousands of dollars for a domain name only without the content of a website.
And the reason is that such domain name is well optimized in search engines and has gained authority, it has lots of high-quality Backlinks that aren't easy to get for the average internet rookie.
Any domain that gains powerful authority from search engines doesn't do things blindly. They put in much effort and have used the right tools to promote the website through various online channels.
Anyone can establish their website in any search engine provided they find the right tools and can put in the effort required for the proper optimization of their website.
So What Type Of Tools Do You Need To Optimize Your Website?
SEO tools are one of the most important tools you have to acquire if you're serious about ranking your website in any search engine.
SEO tools are like a mirror that allows you to see how good the website is.
Before getting out meeting that special person of yours, you'll groom yourself with the perfect dress but still, you have to look into the mirror and ensure everything is right.
And most of the times there is some extra touch you need to add to ensure you look great.
The same way with SEO, you've put in all the effort and have learned much about SEO optimization and you believe your posts are ready to conquer the search engines, but still you have to use SEO tools to scan through your pages in order find areas that need improvement and get suggestions that are needed to rank higher in any search engine.
Given the current competition in any search engine, SEO tools are a must if you want to succeed in ranking your websites in search engines especially Google since that's where most of the online traffic comes from.
How Do You Find The Best SEO Tool For Your Marketing Campaign?
You need All-In-One SEO tools that can perform various SEO Tasks.
You don't want to buy a keyword research tool separately, SEO auditing tool separately, Backlinks and competitor analysis too separately.
You need just one tool that has all the SEO tools that can do different SEO tasks in one place.
And if you want the best SEO tool suit you shouldn't look further because I am about to share with you an amazing tool that will improve your SEO campaigns and increase your website traffic with minimal effort.
This tool is none other SEOprofiler, it's a powerful tool every webmaster can benefit from.
What is SEOprofiler?
This tool has been around for the past two decades, almost before most search engines were born.
SEOprofiler started in the late nineties and its function at that time was to promote websites, but due to improvements over time, it has now become a full SEO suite for webmasters.
SEOprofiler has helped more than 158,000 companies to succeed in launching profitable search engine marketing campaigns.
This great tool has everything you're looking for in any SEO tool.
SEOprofiler puts you in the driver's seat allowing you to take charge of your SEO rankings.
It provides you with all the tools you need to analyze and execute important SEO activities that matter in website ranking.
You get a full report on your On-page SEO optimization and link building campaigns.
Let's look at the features in details and see how the tool can be helpful to you as a webmaster.
Website Audit
This is the first task every webmaster wants to run because it shows you areas of your website that need to be fixed; this is the first feature of the SEOprofiler dashboard.
SEOprofiler allows the user to generate a free audit report for their website.
After creating an account, log in to your dashboard and you can see the "website Audit" tab.
When the audit report is out you can download as PDF or export in other formats that are available.
Ranking Monitor
Another powerful feature and a good selling point of SEOprofiler is monitoring the rankings of keywords or URLs.
With this tool you can monitor the success of your SEO campaigns with ease using different metrics that include the following;
Ranked keywords; this will allow the user to track their website URLs for the specified keywords.
Ranked page; find and compare the best-performing pages on your website in different search engines.
Monitored URLs; this will let you monitor single page URLs, it will help you monitor competitors URLs with ease.
Ranked Tags; SEOprofiler allows the user to group keyword tags and later on can be analyzed and reviewed with the ranking checker tool.
Keyword suggestion; this will provide a list of suggested keywords based on the best-performing pages on the web.
Website Analytics
Website analytics is important for every SEO campaign, with SEOprofiler you can run this check.
And also you can integrate Google Analytics account in the dashboard so that you can view all Google analytics data and more importantly it will analyze and you give the best recommendations for your website.
You'll get a checklist of all the things you need to do in order to improve your site optimization in the search engines.
You get suggestions on things like title tags; keywords use recommendation, anchor text, and Backlinks.
Backlinks Report
If you're the type that gets stuck with building Backlink campaigns then you don't have to worry with this tool because it allows you to set up a powerful link profile for your web pages with little effort.
If can help you eliminate old and low-quality Backlinks from different sources.
All you have to do is to enter your URL in the "Link Disinfection" and SEOprofiler will find suspicious links that are affecting your website links in a negative way.
Get White Label Reports
There are a lot of customizations you can do with SEOprofiler.
If you're working with clients you can generate PDF reports based on the parameters you've set, you can add their company logo so that they can understand the results are specially designed for their company and that will present you as a professional.
Whatever your choices are you're guaranteed a professional and good looking report that will impress anyone that looking at it.
You can schedule a report on a timely basis so that the reports are generated automatically as long you're connected to internet connections.
Overall I can say their report presentation is excellent and you'd love it.
Since you've seen of the core feature it's now time to see the pros of SEOprofiler.
Here is a summary of an overview of SEOprofiler Feature:
Overview of SEOprofiler Features
Check daily rankings on Google.
Checking daily ranking on Bing.
Check daily rankings on Yahoo.
Checking rankings on mobile devices.
Keyword rank monitoring.
Run a deep search on any website or URL.
Check rankings worldwide.
Check ranking for a specified city.
Website management.
Monitor your competitors fast and easy.
Get weekly website audit or on a specified time interval.
Check for on-page optimization errors.
Backlink builder to conduct a search on any Backlink source.
Contact finder pro to help you find contacts of companies.
Link Disinfection tool to remove spam and low-quality links.
Exports links.
Hub finder export.
Backlink intelligence tool.
Adwords intelligence tool.
Keyword suggestion tools.
Monitor your social media inbox.
Social mentions checker.
Integrate Google Analytics.
Staff and project management.
Pros of using SEOprofiler
It's all-in-one SEO suite
SEOprofiler has everything you need when it comes to SEO, whether it's for your clients or for your own websites and business. You can do keyword research, run SEO Audit of your website, Monitor Web Analytics and much more.
You don't need to purchase separate research SEO tools when you have SEOprofiler, it can provide you all the SEO tools you need to outrank your competition.
User Friendly
SEOprofiler isn't like other complex tools that take time to understand; even beginner who's new to SEO can use this tool to their advantage and without going through any complex process.
When results are out you'll find tooltip that shows a brief description of what the features and data mean so that you can comprehend.
It also comes with a retractable menu that ensures that you're not lost when working on the platform.
Competitor analysis
With SEOprofiler you can run a full check on your competitor's websites and pages.
A lot of SEO tools out there have this feature of comparing your web pages against the top ten search results but they don't consider many factors when making this analysis, that's to say the data is inaccurate sometimes.
But with SEOprofiler you get analysis on your competition using all the major SEO ranking factors and will pull data from reliable sources such as Google Analytics in order to give you the best possible result.
Support Social media integrations
You can integrate all the major social platforms like Facebook, Twitter, and LinkedIn.
Social integration doesn't offer many features but it's a great deal as it will help you keep eyes on your social media accounts with ease and without the need to visit each separately to see the performance of your websites.
The Cons of using SEOprofiler
Every tool has its own downside and SEOprofiler isn't perfect either, let's take a look at them.
Customer support
Their support channels aren't good; you can't contact them via live chat.
You have to send a ticket which can take some time before getting a response.
But they do offer a wealth of training materials that cover almost every aspect of using the tool.
Slow system
SEOprofiler takes some time before processing, that's to say their system is slow.
And when navigating to a different section on their platform you'll experience some delay.
The tool, however, goes deep to find all the information you need to get better rankings for your websites.
If the slow system annoys you should let your pc run while you're doing other tasks, you should also schedule different tasks so that it can perform one after the other.
And also don't run bulk analysis at a time, if possible split your tasks into smaller parts so as to increase the speed of the process.
Pricing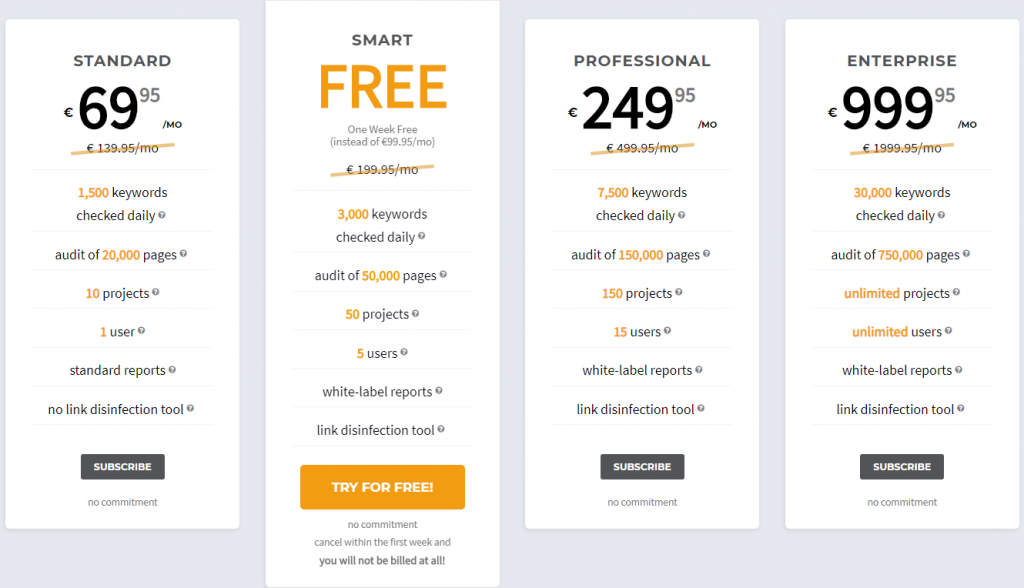 There are 4 different plans to choose from and as a rule of thumb, you want to make sure that you take a look at the limitations and features that come with each plan before opting.
Let's look at the options available:
Standard plan
The standard plan costs $69.95 per month and if you're paying for the entire year you pay only $46/month. This is a huge discount, it's better to pay annually than to roll in the monthly payment.
Here are the features of this plan;
500 keywords ranking check every day.
Get an audit of up to 20,000 pages.
Run ten projects.
Access to only one user.
You get standard reports.
Smart Plan
This will cost you $99.95 if paying every month and $65/month if paying annually.
Here are the features in this plan;
Track 1000 keywords every day for their ranking.
50,000 pages auditing.
Can run up to 50 projects.
5 users can access the account.
Link disinfection tool.
And white-label reports.
Professional plan
This plan costs $249 for the monthly payments and $164 per month for the annual payment.
The features in this plan include;
Track 2500 keywords ranking every day.
150,000-page auditing.
Run 150 projects.
Access to 15 users.
Link disinfection tool.
And white label report also.
Enterprise Plan
This plan costs $999.95 for the monthly payments and $659 per month for the annual payment.
And the features include;
10,000 keywords daily track.
750,000-page auditing.
You can run unlimited projects.
You can have unlimited users.
Link disinfection tool.
And white label report.
Free trial
They offer a free trial so that you can take a spin and test the entire features they have.
Conclusion
You can see what the tool is all about, so make sure to try the tool before rolling into any of the pricing options that are available.
SEOprofiler has all the basic SEO tools webmasters are looking for; you should take advantage of the free trial offer and discover what is inside.
- Advertisement -