- Advertisement -
Every business is rushing online to get more customers online and that's because online marketing is far more effective than traditional marketing channels as it allows businesses to engage with potential prospects effectively, and campaigns can be controlled easily using the right tools.
However, without proper tracking of your online campaigns, you will end up losing a lot of money with no positive results.
The online marketing industry is very competitive and one has to be careful in order to survive.
With the right tools, you can increase your chances of success dramatically.
The right marketing tools will show areas that need improvements and campaigns that need to be abandoned.
One of the tools you can use to improve your SEO and online marketing campaign is Xovi.
With this tool you can perform various online marketing and SEO tasks with ease, it will show areas on your website that need to be improved for maximum results.
In this review, we reveal the features of Xovi and how it can be used to improve the performance of your website and online marketing in general.
What Is Xovi?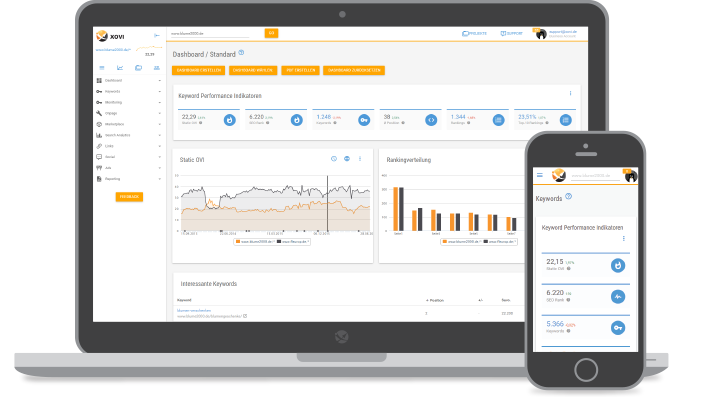 Like most SEO tools we've reviewed, Xovi is an all-in-one SEO suite that helps webmasters check the health of their website by running a complete SEO audit.
It also allows the user to make a competitor analysis with ease by finding an effective SEO strategy that works and help you outrank your competitors.
Xovi can monitor keywords, Backlinks, SEO on-page factors and other factors that influence your website ranking.
The tool can drive data and metrics from all the popular search engines we have like Google, Bing, and Yahoo.
Overall I can say Xovi is designed to help you increase your website traffic through the search engines.
Whether you're a webmaster, freelancer, or SEO agency you can take advantage of Xovi to help you improve your campaigns.
Let's dive in and look at the features of Xovi.
Keyword Tool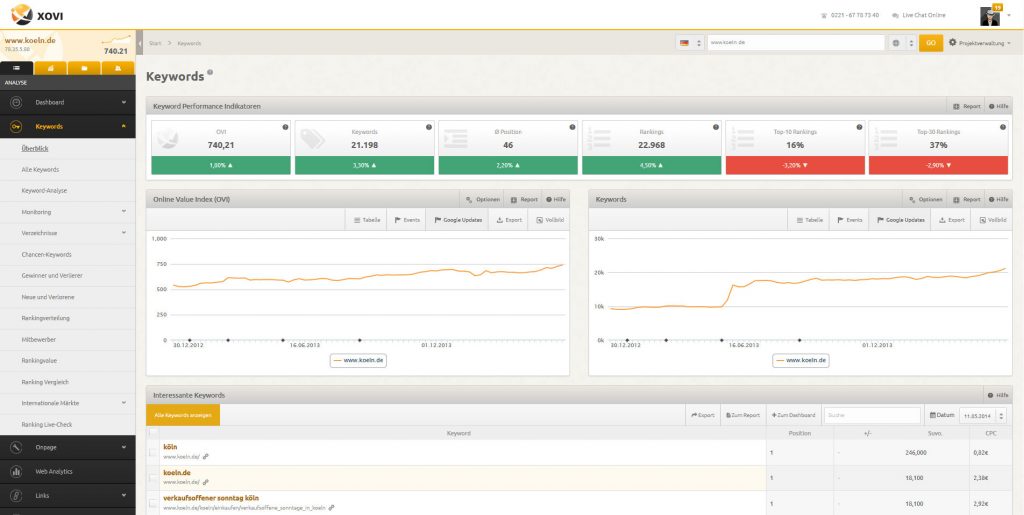 Search engines are all about keywords. When a user conducts a search he is presented with pages that contain the key phrases he is searching for.
As a webmaster, you can't just choose random keywords hoping to rank them overnight.
You have to choose carefully the keywords you use on your pages.
Xovi keyword tool provides suggestions that are easier to rank the first page with minimal efforts.
Keyword Monitoring
You will not only get keyword suggestions, but you can also keep an eye on all your keywords.
With time the performance of some keywords in your campaigns could drop, you can easily find that out with the help of Xovi Keyword Monitoring tool.
You'll be able to view the rank of each keyword for your website with a push of a button.
Site Audit
The next important feature of Xovi is Site Audit, after adding content to your website you want to check the overall health of the website, you should check for errors and important SEO ranking factors that are not added in your pages.
The Xovi Site Audit Tool will identify broken links which are present most of the times in your pages especially if you're linking to other sites that you don't own or control.
It will show you all the missing elements on any webpage and will make recommendations that help fix the problem.
Competitor Analysis
You have to analyze your competition if you want to succeed in search engine marketing.
You want to make sure you're following the trends. You should keep eyes on your competitor's keywords.
This will save you a lot of time and you can discover top-performing keywords and the strategy they use in promoting their content.
Xovi competitor analysis tool allows the user to analyze their competitor across different channels including social media profiles.
How To Conduct Competitor Analysis With Xovi
Do Your Research
Find the keywords your competitors are using, when you also enter a keyword it shows all your competitors that are ranking for such keyword.
You should create a list of keywords so that you can pull as much data from your competitor's websites.
Find Their Ranking Keywords
Find all the keywords they're ranking for and the category they're ranking for.
When you get such data you can then copy their strategy.
Find their advertising campaigns
Find out whether they run online ads or not, and if so what type of ads do they run.
Find the keywords they're using for their ads, this will give you new keyword ideas for your ad campaigns.
Find Who Is Promoting Their Business
If you're a business owner you want to know where your competitors promote their business including affiliate networks and joint ventures.
Find out the affiliates promoting their product and you contact them to promote your business as well.
With Xovi you'll be able to find all the affiliate links promoting a website, business or services.
Discover Their Social Media Profiles
You can find all the social media profiles of your competitors using Xovi.
Find out how they interact with their followers and if possible you can steal those followers by targeting them with your own ads.
Find Their Backlinks Sources
Xovi leaves no stone unturned when it comes to analyzing competitor's Backlinks.
If your competitor is using exclusive Backlinks you need to find that out and if possible you should be using the same sources for your link building campaigns.
With Xovi you can monitor competitor Backlinks over time.
Discover Their Site Structure
Use Xovi to find out your competitor's site structure.
Discover the type of content they're using and how it's optimized.
Find their website loading speed and other important on-page SEO factors they're using to rank on the first page.
No Limitations
Most SEO tools out there come with limitations even if you opting for the best and most expensive plan they have.
With Xovi you're not restricted to conduct site audits, competitor analysis, and domain analysis.
Content Planning
Use Xovi to find topics that bring in the most traffic to other webmasters.
Search engine marketing is all about content and the better content you have the more chance you have at getting first-page placement.
Xovi planner will help you plan your content marketing strategy by showing the top-performing content on the web for a given keyword or based on what your competitors are doing and are planning to generate traffic for their website.
Before you start writing a blog post you should use this tool to uncover top performing content and blog posts from other webmasters.
AdWords Planning
Running successful Adwords campaigns is difficult these days because everyone now understands how effective it is.
Most businesses hire a professional Adwords manager to monitor their Adwords campaign.
And the good part is you can monitor the campaigns of such experts without the need to spend much time or waste a lot of money trying to come up with the right ads that work.
With Xovi you can view ad performance of your competitors with few clicks.
You can find the keywords they're using to rank their ads and many more metrics.
Benefits Of Using Xovi
No need to install, it's a Saas software service.
You get the highest functionally when you subscribe to any of the plans available.
Good customer support through phone or email.
The user interface is very intuitive.
You get daily update on your chosen keywords, there is no need to manually check for keywords rankings every day.
Xovi has one of the best social media monitoring capabilities.
It comes with 14-day free trial and that too with full functionality.
When you subscribe you can cancel anytime, there are no obligations.
Pricing
Xovi offers a flexible pricing option to its customers and here they are in brief.
Xovi Pro
The features of this plan are:
It costs €99 per Month.
You can make unlimited keyword and competitor analysis.
Send up to 2500 weekly requests on keyword monitoring.
You get a weekly link update.
You can monitor keywords performance from 196 countries.
You also get one full-access account.
Xovi Business
The feature in this plan include;
It costs €149/Month.
This plan also offers unlimited site analysis.
You can monitor 3500 keywords every week.
You receive weekly link updates.
Monitor your campaigns across 196 countries.
You get three full access accounts.
Xovi Enterprise
The Xovi Enterprise is the most expensive pricing model and offers a lot of benefits to large businesses.
Here are some of the features that come with the enterprise:
It costs €499 Per Month.
You get unlimited competitor analysis.
Can track up to 10000 keywords per week.
Daily link update is available like in every other plan.
Monitoring from 196 countries.
And you get ten full access accounts.
These are the 3 pricing models that are available. It's up to you to choose a plan that suits your needs.
And the good part is that you can try the tool for free before subscribing for any plan.
When you're satisfied you then choose a plan that suits your needs, you can always upgrade to higher plans.
Who Should Use Xovi?
Newbies And Small Website Owners
Xovi is very simple to use even by a newbie.
Creating a project is simple from the user dashboard and you'll be presented with a quick tooltip tour that shows you the basic functions of the tools integrated into the dashboard.
Everything is explained using a text or short explainer videos so that you won't have any problem operating the tool.
SEO Professionals
Xovi is also an excellent tool for SEO professionals that have been in the SEO industry for long, they can take advantage of the advanced features that are equipped within the dashboard.
SEO Agencies and Companies
Xovi is one of those effective tools SEO Agencies can use to provide a full report to their clients with a few clicks.
As a company or agency owner, you should choose your plan carefully as there are some limitations on the number of accounts you can run.
Since most agencies deal with multiple clients they have higher requirements and they have to choose an advanced plan.
Anyone can benefit from Xovi due to the powerful features that are available within the dashboard; the tool can be used to improve any online marketing campaign.
Using Xovi
Dashboard
After you've run your first on-page analysis the dashboard will present to you an overview of your website performance in a clean table.
You'll view all data and errors that need improvement.
Navigation
The menu has different options to choose from in horizontal and vertical arrangements.
The horizontal menu mainly deals with performance indicators, users and projects, while the vertical menu has all the SEO tools that are integrated inside the Xovi.
Each menu item has submenu items that allow you to discover more options.
On-page analysis
The options menu has On-page analysis. Check all the on-page SEO with the analysis manager.
There is a short text and video to show how to check your On-page SEO with this tool.
Take a look at the guide if you need help.
Backlinks
Once you're done with checking On-page SEO it's time now to use the Backlink tool and discover Backlinks data for your website.
There is the Backlinks option from the menu and overview that will show a Backlink report for any given link.
There are also topics which when clicked will show the user how the options work.
You can remove the links you don't want to be displayed manually by using the DISAVOW tool.
Link Manager
Link Manager will keep track of the selected URLs from link partners and you have the option to edit all your link sources.
At the beginning the link manager will be empty; you can add new links by clicking on the "yellow chain symbol"
Monitoring Keywords
The next option available is keywords monitoring.
When you've finished with your research and Backlinks analysis you want to make sure that you're getting updated reports on your chosen keywords.
SEO ranking can change at any given minute; your keywords ranking can drop at any time, by keeping eye on your keywords you can have an idea on the best keywords that hold their rankings over a long period of time.
You'll discover a lot more when you start using this tool.
These are just some of the basic features you should know about before making a purchase.
Xovi has earned a lot of positive reviews and with a score of 96% you know it's a tool you can rely on for your online marketing campaigns.
- Advertisement -