- Advertisement -
I don't think anyone can do SEO right without the help of SEO tools.
Research is needed for any successful online campaign and you need the right tools to help you do things the way they're supposed to be.
You may decide to do things manually but if you take that path you'll spend months on research without actually implementing anything.
Using the right online marketing and SEO tools will help you conduct your research within minutes for a task that'll take months if it were to be done manually.
One important tool that is a must have for any online marketer is Netpeak Checker.
What Is Netpeak Checker?
Netpeak Checker is a multifunctional tool that allows the user to conduct a mass analysis of websites in order to perform various online marketing and SEO tasks.
Netpeak Checker will drive data from the most trusted websites in the world such as Google, Bing, Facebook, Whois, SEMrush, Majestic, Alexa, Moz, Serpstat, Twitter and more.
This is an effective multifunction desktop app that allows the user to compare large URLs in bulk, you can compare large list of URLs by using a lot of SEO parameters that include the following;
The most popular SEO services like SEMrush, Ahrefs, Serpstat, Moz, Alexa and more.
Get data from major search engines: Google, Bing, Yandex, and Yahoo.
Databases: whois, and Wayback Machine and more.
On page optimization factors.
Social media profiles like Facebook and Pinterest.
Netpeak Checker allow users to perform various tasks such as:
Website profile link analysis.
Analyze competitors in bulk.
In-depth SERP scraping.
Check social media activity for any URL
Checking the details about any domain.
Getting contact details of websites.
Netpeak Checker has multiple uses; it all depends on how you decide to use the tool.
Netpeak Checker 3.1 is now better than ever, it's very fast and more reliable than the previous releases.
It's a very useful tool that will help you perform complex tasks that can take forever to do if you were to do the tasks manually.
The new version of Netpeak Checker is definitely the best online marketing tool any webmaster could have.
Though there are some complaints from users with the previous versions which include:
Inability to save and load your project results effectively, there is of course the option to save a list of URLs but you have to save exactly as it is without making changes if you want to load them for feature use with the app.
You'll get a lot of empty cells when you finish your analysis; you'll choose all the required parameters but still, you'll get empty results in the cells using the older versions.
The older versions have complicated interface; you'll have a different tab for your parameters, editing URL list, and the tool settings are all at different positions.
When the connection is lost you'll have to start analysis all over again which can be time-consuming; your analysis is stopped when you lost internet connection, sometimes for massive URLs you'll have to run the tool overnight.
The color of the interface isn't appreciated by most people, though this isn't a technical part that needs to be discussed in older versions. It annoys a lot of people, older versions come with black color only.
Things have really improved in the new version of Netpeak Checker, all the problems we've mentioned have been solved in the new version of Netpeak Checker 3.1, and everything is clean and smooth.
So What Are The Unique Features That Come With Netpeak Checker 3.1?
New Clean Interface
Instead of working on multiple tabs in the previous versions you can now work with one single window.
Present Errors In A Better Way
If there is an error during your analysis, the color of the cell will change depending on the type of error status.
Yellow highlight indicates that you can fix the problem by yourself; if for instance, you see "proxy error" it means your proxy isn't working and you need to add a new proxy or fix the current one you're using.
Red color highlight shows an error you can't fix right away. You have to wait for some time, this includes "service Error" which means service is unavailable and there is nothing you can do about it.
Different Color Schemes
The previous versions only come with the dark color scheme but now you have the option to choose between 2 color schemes.
Saving Or Uploading Your Projects
Now you have the option to save your projects with the most effective way of storing data.
You should try to save your projects often and they're safe to upload whenever the need arises.
You should, however, understand your saved projects only store received data. You can switch off current parameters and replace with other ones if you want.
Improved Parameters
Now Netpeak Checker can analyze over 300 parameters.
You'll hardly find this feature in any tool out there.
Yahoo SERP; this means merge, indexation and other data that refers to Yahoo search results.
Bing SERP; this is also the same as Yahoo since the search engines have merged together.
Title and description, for all the major search engines, is included in this new version.
With this info, you can easily see how the search engines view your website in the search results.
You should use this feature to improve your page CTR.
Search For Specific Parameters
As we've mentioned earlier there are over 300 parameters in Netpeak Checker, it's not all the parameters we want to use.
You can select only the ones you want by typing a name and you'll get a list that matches your search.
Handling Large URLS
You can add a large number of URLs and you don't need to do that manually even though you have the option to do so if that's what you want.
But you can paste from clipboard, upload via a TXT file, add manually, or you can drag and drop a file into the table.
If you're adding URLs manually you should paste from clipboard instead of typing manually because most of the times errors may rise and will not give you data for the wrong URLs.
Hotkeys
If you don't want to be pointing your mouse clicking on different menu options you can use the different Hotkeys available.
Most of the hotkeys are the usual keys used on windows and other apps, which means you're well familiar with them.
Here are the keys:
Ctrl + V; is for pasting content from clipboard to your table.
F5; is for start analysis.
Ctrl + F5; is for stop analysis.
Ctrl + S; will save your projects.
Ctrl + F; is for filtering your results.
Delete; pressing the delete button will erase the selected cells.
Shift + Delete; will remove selected URLs from the table.
Ctrl + E; is for exporting your table.
Ctrl+Shift+T; will open your last saved project, this is a time saver, instead of locating the file on your disk you can use this shortcut to continue working on the project you've closed.
These are some of the most important hotkeys anyone should be using, but there are other keys you can discover in the tool interface.
Working On Multi Screen
You can work with multi-screen simultaneously with this new version of Netpeak Checker.
The Search Engines Scraper
If you've already used the previous version of Netpeak Checker you know it's a multifunctional tool that can serve a lot of digital marketing tasks.
The new version comes with even better options because you can get Google, Yandex, Yahoo, and Bing search results in a clean structured table with valuable information that will help your online marketing campaign.
How To Use The Search Engine Scraper Feature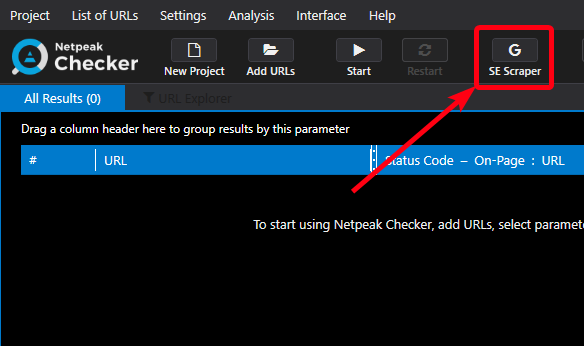 Open the search engine scraper from your dashboard.
Type your search queries in the "queries" tab.
Add only a single query in a separate line.
The search operators can also be used.
Click the "settings" tab.
Select the search engine you want to use; Google, Bing, Yahoo or Yandex.
You can select all of them at once.
Choose the result limit, you can choose from 1 to 1000 at maximum.
Select the snippets you want to be displayed and use other additional settings you want.
You then hit the "start" button for the process to begin; you'll get a table with lots of data you need to improve your campaign.
What Data Is Displayed?
URLs of the pages displayed.
The position of the URLs; this indicates the position of the URL in the selected search engine.
Title; the title of the URL as it's displayed in SERP snippet.
This is extracted from the title tag of the page.
Description; description of the pages as it appears under title in the SERP snippet.
Highlighted text; this is presented in bold which indicates an exact match for your query and for similar terms. If there are different values they'll be separated with a comma.
Site links; anchor texts used for site-link extensions.
You'll more data than the ones mentioned here, depending on your marketing needs you should use the data you find to be useful for your marketing campaigns.
New proxy anti-ban
Using proxy is a must if you're sending a lot of request in a short time.
Using proxies will allow you to get data faster and will prevent captcha from appearing more frequently.
In this new version of Netpeak Checker, they've come up with a new algorithm that will lower the risk of banning your proxy address.
They've run a lot of tests limit on the number of proxies that can be used at the time for each service.
This will ensure you scrape data faster without the need of changing proxy frequently which can be time-consuming.
You can also view the list of proxies that are banned from the service you're using so that you can replace them with new ones.
Parameter Templates And Customized Filter
Instead of choosing the same parameters again and again, you can set or choose from default templates that are available so that you can use those parameters for any project with a few clicks.
RAM Optimization
Even in the previous versions, there isn't much consumption of RAM but with the new version there 2X less RAM consumption.
Though there are numerous columns to deal with in previous Netpeak Checker but due to development in this new version, you can work smoothly with the app.
Data Rechecking
To ensure that you're getting accurate results for your analysis you can highlight and recheck all the selected data.
You can recheck values; this recheck values you've highlighted.
Rechecking rows; this rechecks parameters for selected URLs.
Rechecking columns; you can recheck parameters for URLs in the selected table.
Services available in older versions but have been removed in 3.1.
LinkedIn; receiving data from LinkedIn API has been disabled.
Twitter; this is also the same as LinkedIn, they're closed.
StumbleUpon; service also closed and moved to Mix.com, but they're still working to integrate this service again if there is the need.
Those that feel it shouldn't be closed should send suggestion through their contact support team.
They're willing to integrate any API provided it has a good documentation.
Verify Proxy
You can import proxy and check availability before saving them in your account.
And as I've mentioned earlier you can find out the proxies that have been banned so that you replace them.
Limits & Balance Display
Since some of the services integrated have limit, you can now see the remaining limits for accessing the following services;
Serpstat; this displays the API rows you've used and the ones that are available at the current time.
Ahrefs; this is displays the number of API rows used and the remaining ones and also the type of subscription you're using.
Majestic; shows the availability of the different types of units you have, analysis units, retrieval units, and index item units.
SEMrush; this displays your API balance.
Special Status Codes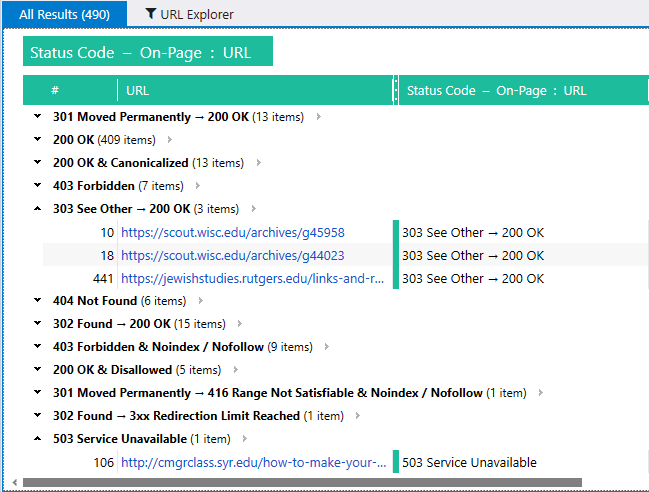 Now with the new version of Netpeak Checker they have added unique notation in the most common situation using status codes, server response code, and status.
Other Improvements
Since a lot of users have been sending requests, there is no need of admin right to update or install any Netpeak software program.
If you however still want to configure user agent and basic authentication you can do so as well.
The algorithm has been improved to add the list of URLs manually, Netpeak Checker can recognize URL with a path but with no protocol.
Google reCAPTCHA can be solved manually or automatic using captcha.com.
What Tasks Can You Do With Netpeak Checker?
A lot of people are asking this question especially people that have already bought Netpeak Spider.
While Netpeak Spider focuses mostly on SEO tasks, Netpeak Checker is a multifunctional tool that helps in online marketing in general.
Netpeak Checker can perform various SEO purposes but it's a lot more advanced tool than Netpeak Spider.
Let's take a look at how effective this tool can be to webmasters and online marketers.
For Webmasters And SEO Experts:
Compare a large list of URLs
Perform a detailed SEO analysis.
Export your reports regarding the optimization of input URLs.
Search engine scraping.
Get the link profile of your competitors' URLs
Help you know the SEO strategy of your competitors.
Checking indexation and snippet results in Google, Yahoo, Bing, and Yandex.
How Link Builders Can Benefit From Netpeak Checker:
Compare large URLs using over 300 parameters.
Check the quality of a website before building your links on them.
Find similar websites from SERP.
Check the domain age and expiration date or if it's available for purchase, you can also search dropped domains.
For Marketing And Content Teams:
Search for profitable topics fast.
Collect data from your research.
Scraping phone numbers, emails and social media accounts (Netpeak Spider can also perform these actions).
Analyze social media accounts using a list of URLs.
Search engine scraping.
Compare a list of URLs.
Find out where a brand is mentioned in SERP.
Uses For Sales Team:
Helps you find clients in any niche or market.
Get the contact details of any business or website; get their email, phone or social media profiles.
Uses For Blogger:
Research for trending topics; Netpeak Checker will give you topics that receive the most traffic online so that you can write about those topics.
Collect data from your research.
Know the content strategy of your competitors.
Check the quality of a blog before adding your links for guest posting.
Any digital marketer can use this tool to their advantage; it can help link builders, webmasters, PPC and SEO specialists, bloggers, marketing teams or sales managers.
All these professionals can use Netpeak Checker to solve a lot of online marketing problems such as finding the right content for blogs, checking the quality of websites or analyzing your competition.
The best part of Netpeak Checker is that it comes with freemium.
You have the freedom to try this powerful tool for free, and a credit card isn't required to access the free offer.
Use discount code MRWEB10 to get a 10% discount for one year on purchasing Netpeak Spider and Netpeak Checker!
If you haven't tried this awesome product you should definitely check it out and see how you can benefit from the tool.
Be sure to read our review of Netpeak Spider. It is a software from the same company that made Netpeak Checker. Netpeak Spider is a web crawling tool that helps webmasters to identify errors that prevent their website from getting more exposure from search engines.
- Advertisement -