- Advertisement -
The most important tool you want to add in your SEO campaigns is a web crawling tool.
Web crawling tools allow you to get an in-depth analysis of your website so that you can identify the areas that need improvement.
By using the right web crawling tools you can come up with effective strategies that will help you optimize your websites for better results in the search engines.
Web crawling tools will not only help you improve your website SEO optimization they'll also help you analyze your competitors URL's so that you can see what's working for them to achieve higher rankings in search engines.
So you can see that web crawling tools are real time savers when it comes to search engine optimization or I can say internet marketing in general.
One important and effective web crawling tool you don't want to miss in your SEO toolbox is Netpeak Spider.
It's a powerful web crawling tool any web master can benefit from.
So What is Netpeak Spider?
Netpeak Spider is a web crawling tool that helps webmasters to identify errors that prevent their website from getting more exposure from search engines.
If you've worked very hard to rank your websites in any search engine and you're not getting the results you want it's time to try Netpeak Spider to help you identify all the possible errors hindering your website visibility in search engines.
This powerful tool works like a search engine robot, it crawls through all your website pages and finds out all the SEO problems that are present and will provide the best possible recommendations that will help you fix those problems.
Netpeak Spider allows you to run a technical audit of your entire website within a very short period of time.
This is an efficient tool I believe every webmaster should have if they want to optimize their website fully in the search engines without spending much out of their own pocket.
Netpeak Spider helps you get a complex audit and also scrap data better than most of the SEO tools out there.
It will crawl through any website like a search robot and find SEO issues that are affecting your website position or ranking in SERP.
The key features of Netpeak Spider include:
Check your website for SEO improvement; the tool checks your website URLs against more than 60 internal optimization factors such as; title optimization, broken links, finding duplicate pages, redirects, H1 headers, meta descriptions and more.
Find status code return for each page or URL.
Check incoming and outgoing links on your website.
Check your source codes and HTTP headers to ensure everything is set right.
Validate your site maps.
You get advanced data result table.
The table that displays your result is easier to understand by anyone, even someone with no prior experience can understand the presented data.
You can sort and group your results by selecting the proper settings.
You can adjust the columns or resize the table to expand the important information you need.
Your website issues will be highlighted with different colors depending on how critical the problem is.
You can add URLs using drag and drop feature.
If you click on any issue your website has, you'll be able to explore more about the problem.
You can view the possible threats it can cause, you see a message on how to fix it and you'll also be presented with links that explain more about the problem.
Benefits Of Netpeak Spider
The SEO benefits of Netpeak Spider are endless. It all comes down to how you want to use the tool because there are a lot of features every webmaster can take advantage of.
Netpeak Spider is designed to help you improve search engine rankings with ease, and this will bring in more traffic to your website which yields to more customers for your products and services.
Let's take a look at some of the benefits of using this great tool.
Drilled Down Checking
Netpeak Spider allows the user to crawl for basic SEO problems, the tool will crawl through all your website content including the title, headings, Meta description, finding duplicate content.
The tool will then show you how they're influencing your website performance and whether there is a need for improvement or not.
Customizable Rules
Netpeak Spider allow webmasters to set up or define crawling rules, if you don't want the tool to run on all the sections of your website you can specify the rules you want in the dashboard.
This will help you save a lot of time and concentrate on the areas you believe need improvements.
Data Saving And Export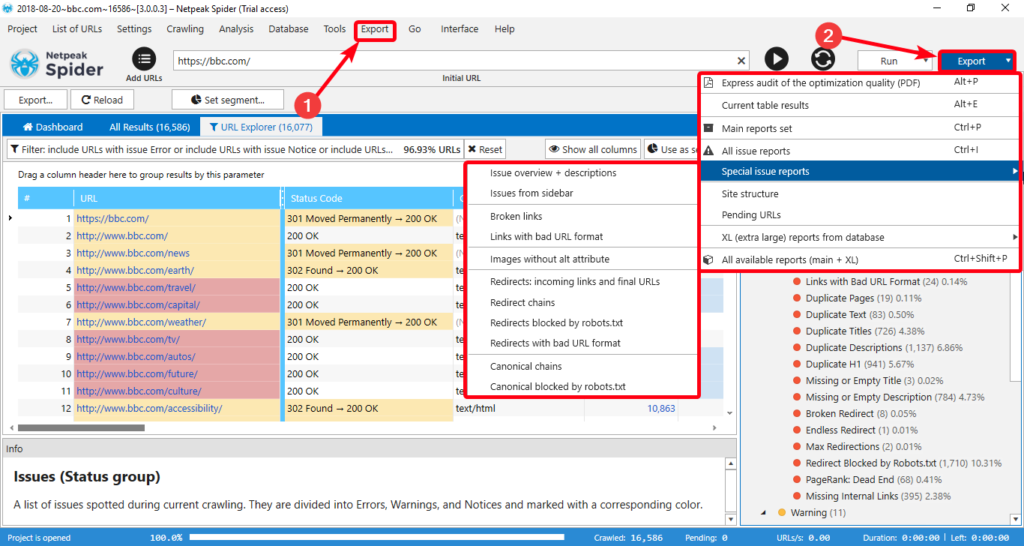 When the results are out you have the option to save in CSV, XLSX, PDF or PNG format so that you can use the report later to analyze your website problems.
For SEO experts that run SEO agencies, they can use this to their advantage in order to educate potential prospects about the structure of their website and the improvements it needs.
Check out the Express Audit of Optimization Quality in PDF.
Getting Started With Netpeak Spider
To get started you just need to sign up with your email or using your Facebook account.
Once you login to the dashboard you'll have access to download the application.
Netpeak Spider is available for free with no limitations by the term of use, the number of analyzed URLs, and settings customization.
You'll first download the Netpeak Launcher, once installed you can then install Netpeak Spider from Netpeak Launcher dashboard.
Netpeak Launcher has two applications: Netpeak Spider and Netpeak Checker.
So you pick the one you want to install by clicking on the icon that's available.
Netpeak Spider Dashboard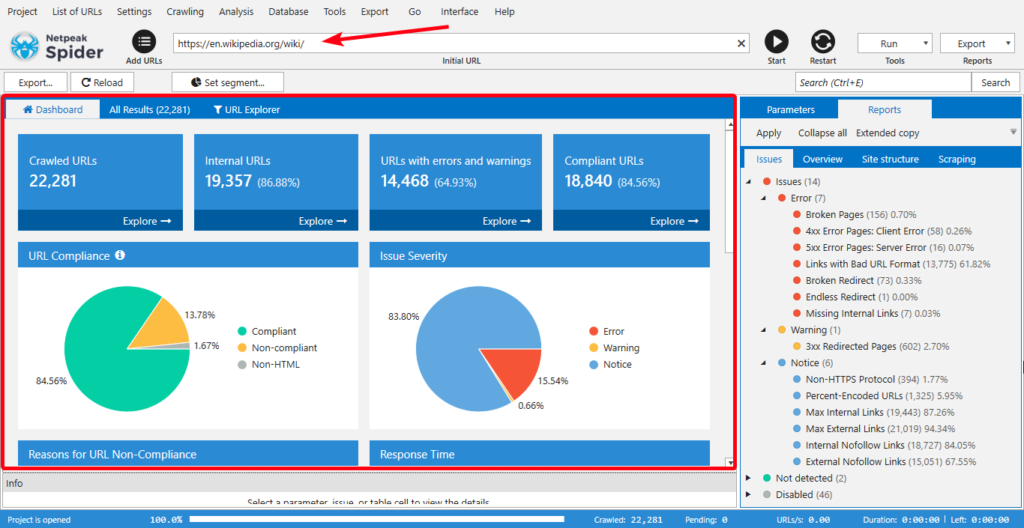 Once you install Netpeak Spider you can start using the tool right away.
In order to crawl any website, you just need to enter the website URL and within a short time, you'll get the details of your website data.
The time it takes depend on the number of pages you have.
If you have thousands of pages it might take some time before coming up with the results.
Or for better use you should specify only some sections of your websites, this increases speed.
When crawling finished you'll be able to view all the important data about the input URL.
Netpeak Spider will give you important details that are worth looking at if you really want to increase your website performance in search engines.
Netpeak Spider Links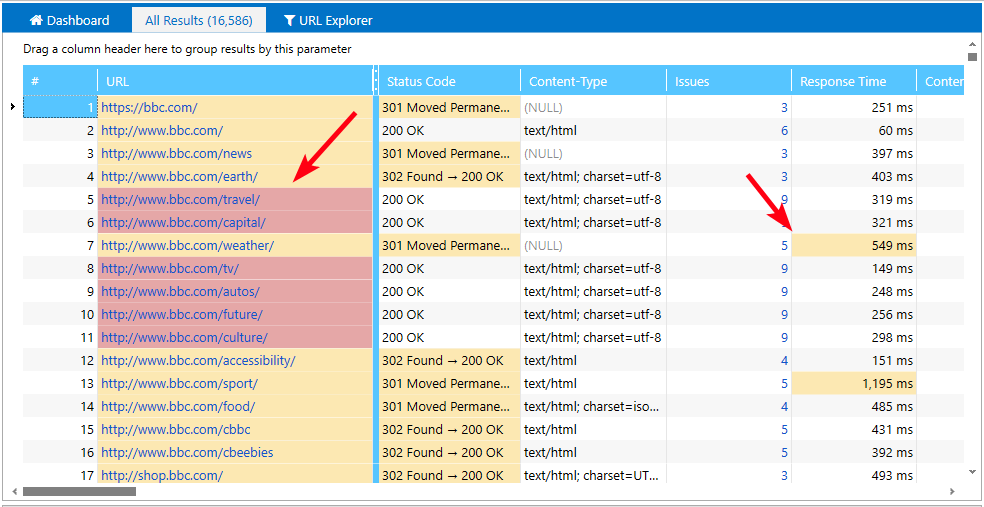 You'll get a view of outgoing and incoming links, descriptions, download time and other important SEO metrics for the input URL.
All the important aspects that need improvements will be highlighted in different colors so that you can sort them out easily without getting confused with other pages that are good.
Netpeak Spider Graphs
The crawl feature gives a quick overview of your website.
You'll be presented with graphs that are easier to read and comprehend; it shows the performance of your web pages in the search results.
By clicking on each graph you'll view all links that are connected to the graph.
Netpeak Spider Parameters
This is another important feature that allows the user to search for certain links within their website.
You have the option to filter results that need to be checked immediately.
Netpeak Spider Graph Data And Export
If you work with clients or your team you can export all your result in different formats such as CSV, EXCEL, PDF OR PNG, you can also select specific data to export.
Netpeak Spider Pricing
Netpeak Spider is one of the most affordable and effective SEO tools that are available right now.
You can subscribe for the monthly membership at $19 per month, 3 months costs $17.10/month, 6 months at $16.15/month and the annual plan cost $182.40, that's $15.20/month. (+10% discount by signing up using this link = $164,16)
If you want to get the best discount and will be using the tool regularly, you should definitely subscribe to the annual membership.
Remember you can try the tool for 14 days and without providing any payment information.
You can try the tool for free to explore all the features that are available.
Advantages Of Using Netpeak Spider
It's The Best Link Building Report Tool
This is the best tool anyone can use to generate an advanced link building report.
A lot of webmasters are wasting quite a lot of time doing link building tasks manually and it's time consuming especially when dealing with multiple clients.
But with Netpeak Spider this can be done within a few minutes and with a few clicks.
Netpeak Spider provides the best SEO data that's crucial in any SEO optimization campaign.
It's one of the best advanced tools for analyzing websites with ease.
Internal page ranking calculation couldn't be easier with Netpeak Spider.
The tool comes with good looking graphics elements that are divided into different categories and according to their importance, and how they're affecting website visibility.
Very Fast
RAM consumption is at minimal when working with Netpeak Spider.
Any PC user can use Netpeak Spider efficiently without experiencing slow PC or waiting long before data is processed.
A Lot Of People Are Happy With Netpeak Products And Support
Most SEO professionals use Netpeak Spider together with their team because of the great support they have.
Based on customer reviews Netpeak Spider is the best SEO tool nowadays and is reasonably priced when compared to other SEO analysis tools.
Uses Of Netpeak Spider
Fixing SEO problems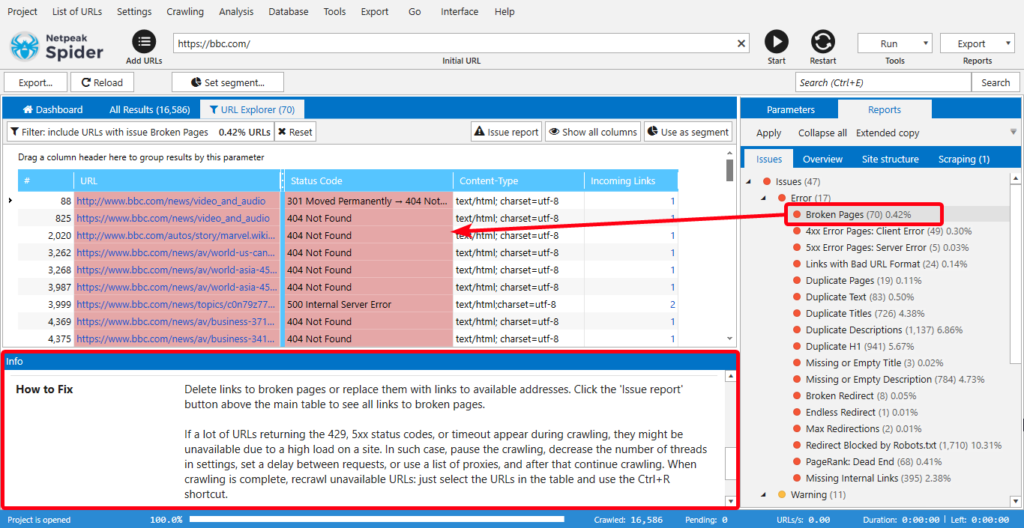 If your search engine rankings are suffering it's because your website has a lot of SEO problems.
The first step is to find these errors using Netpeak Spider and then implement the recommendations offered by this tool.
This is the best SEO tool anyone can use to identify potential problems that are affecting their SEO rankings.
Analyzing Your Competition
Netpeak Spider allows the user to scrape data from competitor's websites and pages by helping them to identify strategies that work.
Before anyone begins their SEO campaigns they want to make sure they implement strategies that work.
And you can do this by finding successful websites that are already ranking well on search engines and then looking at how they optimize their websites.
Calculate Internal Page Rank
You can use this tool to identify how your websites URLs are linked together and also identify the ones that are not well ranked.
Internal linking plays a key role when it comes to website optimization.
Netpeak Spider will make the best possible suggestions for your website linking and optimization.
Netpeak Spider Is Stable Tool
Anyone would love working with this tool, the idea of scraping URLs is impressive when compared with other tools.
You can get a comprehensive analysis with a few clicks and you'll get conclusions on the areas that need improvement.
Easy To Use
Anyone can use the tool regardless of their experience.
As a new webmaster without much experience in the SEO field, you can take advantage of Netpeak Spider.
Also if you're a professional that's looking for advanced SEO features, Netpeak Spider will help you a lot to improve any website.
Get Any Technical SEO Details
Netpeak Spider will provide with almost every technical SEO issues your website has.
I am talking about modern SEO promotional methods that really work.
You don't need to worry when new Google updates are released.
This tool will analyze your website using the very best on-page ranking factors that determine the ranking of any website.
It's Interactive
Everything is interactive with Netpeak Spider, there are charts and graphs and everything is categorized.
It's easier to learn about your website problems.
You can check for your website problems with few clicks before is go live.
Who Should Use Netpeak Spider?
SEO specialists and webmasters
For SEO specialists and webmasters here is how you can take advantage of this tool:
Use Netpeak Spider to identify your website weak spots which you can use to increase organic traffic.
Scrape any SEO data you want from any website.
Use Netpeak Spider to get full site structure.
Analyze websites with massive pages; you can check websites with up to 100k+ pages with Netpeak Spider.
Use the tool to improve internal linking.
Get a full SEO analysis with segmentation.
Export comprehensive reports about your website optimization.
Create and validate sitemap, these include; HTML, XML, or images.
Check your website pages for SEO compatibility; you can check for duplicate content, SEO compliance, and availability.
Run an SEO audit quickly so that you can track your SEO progress.
Use Netpeak Spider to learn about your competitor's strategy.
For Link Builders
Check your Backlinks after publishing them to ensure that they're compliant with all the major search engines. If your Backlinks aren't indexed all your Backlink building effort will be a waste.
For Marketers
Use Netpeak Spider to discover successful content and articles online that are worth placing your website links.
Collect data for intensive research.
Know the content strategy your competitors are using to promote their brand.
Scrape contact details for a list of websites such as phone numbers, emails, and social media accounts.
For Web Developers
Check your website performance after implementing some changes in your website design.
Understanding your website structure.
You can perform custom scraping for any URL.
For Sales Teams
Get contact details for a list of websites you want to follow up with.
Cons Of Using Netpeak Spider;
Netpeak Spider doesn't support Mac
You might have to be switching between computers if you're not a windows user.
Most SEO tools out there can work across all platforms, so Netpeak has to really work around this to offer an easy solution to Mac users.
The Tool Can't Be Integrated With Some Tools Like GA And GSC
There is the need to export your data to any tool you want to work with alongside with Netpeak Spider.
This can be annoying to some people but I can say that Netpeak Spider alone is a powerful tool that can provide all the SEO analysis you need for your websites without the need of adding any extra SEO tool.
More Training Materials
The developers should try and add more training materials for using Netpeak Spider.
Even though they have great support and instructions on how to use the tool, they should offer more training materials like video courses that will make it easier for a newbie to use the tool without spending much time searching online.
Although, I must say that they have a Help Center and Academy, where you can find a collection of SEO issues and ways to fix them using Netpeak tools.
Netpeak Spider comes with advanced features that need to be well explained with screenshots, videos and step by step guides.
SEO professionals won't have any problem working with Netpeak Spider because they're well familiar with most of the features since they've worked with other SEO Tools.
No Auto-Save Option
This is another downside of using Netpeak Spider; you have to make sure that you save all your work before closing the application (it asks to save the project when you leave, so you won't forget anyway).
Autosave feature is great in any tool and Netpeak would do a wonderful job if they implement this feature.
Overall, I can say that Netpeak Spider is a great tool and you have nothing to lose by trying the tool for free for up to 14 days and if you're not happy you don't have to pay anything.
Adding a web crawling tool to your toolbox is a must for any effective SEO campaign and anyone with or without SEO experience can take advantage of Netpeak Spider to analyze any website or URL.
Conclusion
Netpeak Spider is really worth the price and I suggest you give this powerful tool a try.
Be sure to read our review of Netpeak Checker which is a tool that allows the user to conduct a mass analysis of websites in order to perform various online marketing and SEO tasks.
- Advertisement -