- Advertisement -
Viglink is an affiliate network platform that has combined merchants that want to promote their products through their network.
There is no need to spend days trying to find the right affiliate programs that will help you earn revenue from your website.
Once you're a member at Viglink you have access to thousands of merchants that will pay you for generating sales for their products.
Let me demonstrate a little bit how it works.
Let's assume you've written content about the D-SLR camera and it's receiving a lot of traffic, at the same time you don't have any advertisement that's earning you money from such pages.
That's to say your content is non-monetized.
So now when you install Viglink code your website, their system will automatically find such keywords like D-SLR and link them to merchant product that's similar to such keyword.
If your content is about a D-SLR camera, accessories that are related to the camera will be linked or the camera itself, so that when a visitor buys the product linked to your content you earn a commission.
It's that simple, you don't need to manually add links on your website and you don't need to waste time requesting permission to promote a product.
Affiliate marketing is the best way to make money from any website.
Why? Because you don't need to create products to sell and you don't need to handle shipping or other product delivery issues.
There are thousands of affiliate products to choose from out there but most of them aren't reliable or can't convert well.
Viglink is designed to make life easier for affiliate marketers.
Viglink converts some of your content into affiliate links.
When there is a sale from such links you get a commission.
These affiliate links are from thousands of merchants who've added their products on Viglink.
You can go all the way to sign up with these merchants individually.
But you know it's going to take time and it's difficult to track your sales, clicks, and the arrival of your paychecks.
How Do You Make Money With Viglink?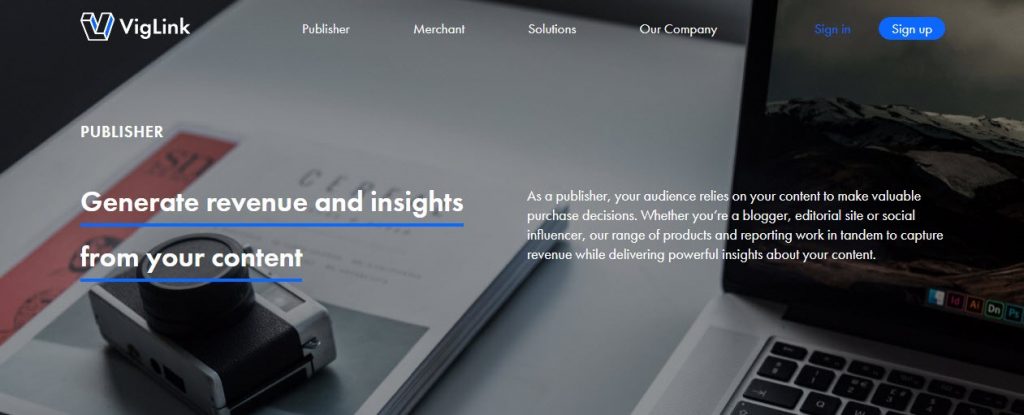 It's very simple; you need to create a blog.
You can do that with free platforms like blogger.com, or I suggest you create a self-hosted WordPress blog with your own domain.
When you set up your blog you then start adding valuable content on your blog, these could be articles or videos.
Once your blog is a few months old and you're generating traffic to the blog, you apply as a publisher at Viglink.
Provided your content is of high quality and your website traffic stats are also good you'll be accepted at Viglink.
When you join everything is automated. You'll be provided with a code that will automate adding affiliate links to your website.
You can as well customize based on the type of offers or merchants you want your website content to be monetized.
To make more money with Viglink you want to make sure that you're consistently adding more content to your blog.
You should learn how to optimize your website in search engines.
This is called SEO and the most important aspect of SEO is learning how to use keywords properly.
Find profitable keywords using effective keyword tools like LongTailPro.
Target long-tail keywords that are proven to generate traffic for you and you'll generate a lot of traffic from the search engines.
As long as you're receiving massive traffic to your website and regardless of your niche you'll find merchants that are similar to your website content.
You have the option to pick the highest converting offers for your website.
You'll see these stats in your account dashboard so that you can identify the best-selling products in your niche and from other categories as well.
When you pass the Viglink application process you're ready to start using thousands of merchants to generate revenue from your blog on complete autopilot.
No need to worry about expired offers or low-paying offers, you can adjust the settings so that only profitable links are added on your websites.
Zero effort is required to make money with Viglink, once your website is set up and is receiving traffic you can join Viglink to start earning money on autopilot.
The most important factor to consider before applying for Viglink membership which is free is your content structure.
When you sign up there is the need to adjust the settings to ensure that appropriate links are linked to your articles.
Without proper settings Viglink will make your website boring by adding a lot of links in your articles, in fact, they're known to link a merchant whenever a product name is mentioned.
Adjusting the link properly will ensure that your content links are user-friendly and can provide a smooth experience to your site visitors.
When writing your articles make sure to mention the product name a few times, no more than 3 times at different sections of the article.
Adding too many links to your website can harm your SEO efforts.
Even if there is the need to mention the product name a lot, you should try to use pronouns like "it, they, this" to refer to the product.
A great feature about Viglink is that you can specify merchants you want to be linked to on your websites.
Doing so will help you get more conversions because you'll pick merchants that have products related to your content and articles.
By default, your account is set to automate linking feature, and you can specify the places or pages you want affiliate links to be placed on your website.
You can see how Viglink can save you a lot of time, like joining multiple affiliate programs and tracking down your results and payments.
With Viglink everything is combined for you under one roof.
You just need to apply once and then get access to thousands of merchants or I can say affiliate programs.
Here Are The Top Reasons Why Should Consider Using Viglink
Easy to install
Once you have built a blog that is receiving traffic, you can start earning money the very first day after your approval.
Viglink will supply a code that will be pasted on your website and you're ready to earn revenue.
Choose Products From Thousands Of Merchants
Most affiliate programs focus only on one product but when you sign up at Viglink the potential is unlimited because there is a product in almost every niche you can think of, right from digital products to physical products that require shipping.
If your blog covers multiple topics you don't need to worry about searching different affiliate networks for all the topics you write about.
Viglink will add appropriate affiliate links that are related to each topic or page.
Custom Settings
You can customize affiliate links placed on your website.
You can check the highest performing products and then set your account settings to display only such merchant's products.
Reporting

In your account, you have access to everything you need to improve your earnings and conversions.
You'll be able to view a report of your sales stats over a specified period of time.
You can view the top-performing offers on your blog and can see the ones that are not performing well so that they can be replaced.
Viglinks Affiliate Links Are Safe To Use
Some site visitors would like to know the exact website URLs they'll land after clicking a hyperlink. Even though Viglink affiliate links are long, they'll still show the user the exact address where he will be landing.
SEO Safe
Provided you haven't set your account settings to show many ads, you're safe with SEO, especially when it comes to Google.
However, overusing affiliate links on your pages will definitely affect your rankings.
You don't need to be greedy here, do not add more than three affiliate links per page especially if they're from the same merchant.
And also you should exclude some posts and pages that do not have any affiliate links on them.
This is to ensure that your blog looks like an informational blog not designed for the purpose of making money.
Viglink Saves You Time
There are thousands of merchants who've listed their products at Viglink. If you were to join these merchant's affiliate programs separately it will take months before you sign up for all of them.
But Viglink has taken all the hassles, you just need to sign up with them once and for all, and you're enrolled with all the merchants that are on their platform.
This means it's time-saving for you and the best part is everything is handled on autopilot.
Can New Affiliate Use Viglinks?
Viglink is the perfect option for new affiliates because once you have your blog ready all you have to do is add a code to your website.
Not no need to visit each post and then grab multiple affiliate links which can be confusing for affiliates.
So you can see how easy it is to use Viglink for your affiliate business.
And the good thing is that you can advertise other products by placing banner ads separately and your links will not be affected.
Managing Your Commissions
Even though there are thousands of merchants on their platform, you don't need to separately track your commissions from each vendor and there is no need to wait for each merchant to send out your commissions.
Viglink has advanced tracking tools that enable you to see your sales stats and they'll receive all commissions owed by a merchant and combine them together so that you receive one paycheck at the end of the month.
Your commissions will be sent through PayPal.
What Are The Commission Rates?
Different merchants offer a different commission rate, it can range from 10% and upward.
The price of the products also matters, the higher the price the more commission you make.
You'll make more commission from a product that sells at $200 offering 10% than a product that sells $30 offering 20% commission rate.
As we've mentioned earlier you can find merchants that have high-paying commissions and set your preference to promote such products.
Viglink takes a cut of your commission from what you generated. It's for the services they provide by connecting merchants and publishers together in one place.
They cut about 25% of your commissions, which might be expensive for most people but because of the technology they have in place to monetize your website, they definitely deserve that cut.
You'll be making money on autopilot if you have massive traffic to your website. You'll have thousands of dollars sent to your PayPal account.
Cons Of Using Viglink
User report shows that Viglink doesn't work if your site visitors are using an Adblocker.
And as you know a lot of people these days are using adblocker due to spam advertisements by webmasters.
And what does this means to you?
It means less revenue, so don't be surprised to have a blog receiving a large amount of traffic and still not making much out of Viglink affiliate links.
Your SEO Optimization Might Be Affected
If search engines, especially Google, find out you're using too many affiliate links, they might lower your rankings in the long run.
Affiliate links have a great impact on SEO and you have to minimize their usage on your blog.
In order to minimize the risk, you can set the number of affiliate links you want to be placed on your website or each page.
You can set this from your Viglink account settings.
Conclusion
Viglink can be monetized by any blogger that wants to earn extra income from their blog, if your blog traffic is large, you can even make full-time income because there is no limit to the amount of money you can make as a webmaster.
Viglink has lots of merchants on their platform which means you'll hardly run out of options when it comes to promoting affiliate products.
So don't hold back, go ahead and sign up with this powerful affiliate network.
If you wish to compare Viglink to other similar affiliate networks, I suggest you read our comparison on Skimlinks vs VigLink?
- Advertisement -