- Advertisement -
Shopify or Wix: which one is better? Let's find out in this super detailed review!
Options when building an eCommerce store
If you have an offline store you probably want to get your own share of the audience online, or maybe you want to completely run your store online.
Whatever you're selling online you want to pick an eCommerce store builder to help you get started.
Your eCommerce store is equivalent to your physical store. Extra consideration is needed before choosing an eCommerce platform that will manage your online store.
The success of your online store will largely depend on the eCommerce platform you choose. That's why it's important to choose carefully the type of platform you want to be using.
There are endless options when it comes to running an eCommerce store.
One of the most popular eCommerce platforms available is Shopify.
Shopify provides eCommerce vendors with all the solutions they need to run a successful online store.
Shopify is solely designed for business and eCommerce purposes and it's the leading eCommerce building platform on the internet.
They offer powerful tools and software that will help anyone run and promote their online store without much hassle.
Even though as a beginner you might find Shopify to be somewhat complex, but as you get used to the platform you'll find it easier to work with.
If you're targeting large audiences for your online store you don't want to miss Shopify to run your online store because you have access to all the managing tools you need to run your business online in one place.
On the other hand, we have Wix which is also another eCommerce store builder that is not complex to work with.
Wix is ideal for webmasters that find it difficult to work with Shopify and are looking for a simpler platform.
Within a couple of hours, you can start running your online store with Wix and you do not need any prior HTML or CSS experience.
When talking about popularity Shopify is definitely the leader but Wix is right behind because it's been utilized by more than 68 million people worldwide.
So with that said we'll now take a look at the two eCommerce store builders to see what they offer and how you can utilize these platforms to start running your ecommerce store.
Shopify Review

What's Shopify?
In simple terms, Shopify is a website application that makes the process of building an online store easier.
It works just like the way you hire a general contractor to build your house, the general contractor will take of hiring all the sub-contractors that are needed to build your dream house.
Shopify works much the same way. Instead of you spending countless hours trying to set up your online store including hosting and a lot of technical aspects that will take some time to learn, Shopify makes things easier for you.
You'll find readymade website themes to choose from and you don't even need to worry about hosting it on your own server, they'll host the website for you.
https://www.youtube.com/watch?v=kQaHxLC8__E
Whether you want to sell digital items or physical goods you'll never run out of options with their template collection.
You don't need any coding skills, but if you have some basic HTML and CSS skills that will help you more to edit the website templates available.
Shopify is a self-hosted solution, meaning you don't have to install any software.
All you have to do is simply customize your online store according to your needs.
You don't really own the tools provided by Shopify but with their membership fees, they take care of all the processes.
You just need an internet connection and a web browser. There is no need to install any software on your PC.
Shopify is truly the giant of eCommerce, its competitors are Bigcommerce and Volusion. These three eCommerce platforms are really powerful and have lots of features, but they're somewhat complex to deal with.
If you're looking for simpler options you can try Wix which we'll review later on in this review article.
One of the great advantages of Shopify is that it allows users to integrate eCommerce marketplaces such as eBay, Amazon, and Etsy.
You can use the Shopify buy button as POS (point of sale). This means your customers can buy products from various online channels such as WordPress blog, Facebook, Pinterest, Tumblr, and others.
How Shopify Works
The process is very simple and straightforward, setting up your selling point isn't complex from the beginning.
But if you want to integrate a lot of features then you might take some time before getting used to their platform.
First, you need to pick a plan that suits your needs.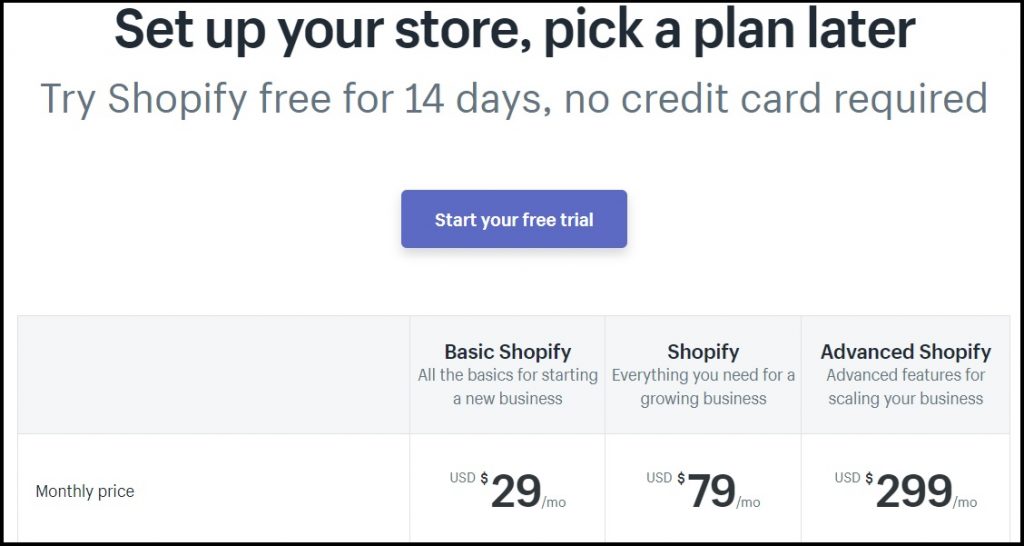 You need to first have a domain name which you'll point to Shopify servers because they'll host everything for you.
With registers like Namecheap or GoDaddy, you can point your domain name directly to the Shopify store, and the best part is you can also order and register your domain name with Shopify.
The next step is to choose a design or a template for your store.
Pick any template from the categories available and if you want to customize there is a drag and drop editor that allows you to do that with ease.
There are both free templates and premium templates at affordable rates.
If you don't want to deal with the designing aspect of your templates you can as well hire a designer to do the task for you.
When your template is ready you can then move ahead to start uploading your products.
 You can upload pictures and any other detail that you see fit.
Who Should Use Shopify?
If you have only a single or a few items to sell on your ecommerce store especially when it comes to digital goods Shopify is definitely not for you.
Instead of paying a monthly fee with Shopify to host a few products, it's better to find plug-ins or use other services that are free to join but deduct some percentage from every sale generated.
In this case, a plug-in like WooCommerce or a PayPal button can do the job.
If you have a lot of products and you need extra marketing tools and inventories then you should opt-in for Shopify.
Any online web store that's intended for selling 100's to 1000's products should definitely consider using Shopify as their ecommerce platform.
Even though Shopify is the most popular ecommerce store, is it really the best?
When you take a look at the features they have and it's what you're looking for in your online store, then it's the best service for your business and if it isn't the right choice for you then it's not your best option.
Truly speaking there is no such thing as the "Best", it all comes to down your needs.
Any eCommerce platform that has exactly what you need is your best option.
Let's take a look at Shopify features so that you can decide whether it's the right choice for your business or not.
Shopify Features And Pros
Secured Hosting And Built-In Speed
One of the biggest problem online stores owners face is slow website loading.
Uploading hundreds to thousands of products on a typical web server can cause your website to load slowly. Most webmasters have to add independent plug-ins that will increase their site loading speed.
Every extra second your website adds before displaying the page content will affect your conversion rate.
That one extra second can take your visitors to your competitors.
 The best loading time shouldn't be more than 5s.
For an eCommerce store, it's supposed to be less than that.
All Shopify stores are equipped with all the latest technologies that will make your site load faster.
Loading speed is not a problem when working with the Shopify platform.
And there isn't the need to do any extra work in order to increase your website speed; they'll take care of everything when you upload your products.
On the other side, you also need extra security and protection for your customer's financial information.
You need to add an extra layer of security in order to comply with PCI regulations.
Some Shopify store owners prefer to work with 3rd party payment processors like Google Wallet or PayPal, still, you need a secured server with exceptional speed.
With your own Shopify store, you don't need to worry about hackers or compliance with any financial regulations.
Shopify is safe and legit to use because they are a public trading company that has invested millions of dollars in software management and security engineering.
Shopify handles security and site speed at the global platform level.
They offer 100% SSL security to keep the sites running fast so that your customers aren't waiting long before processing payment or waiting for a website to load.
Excellent Customer Support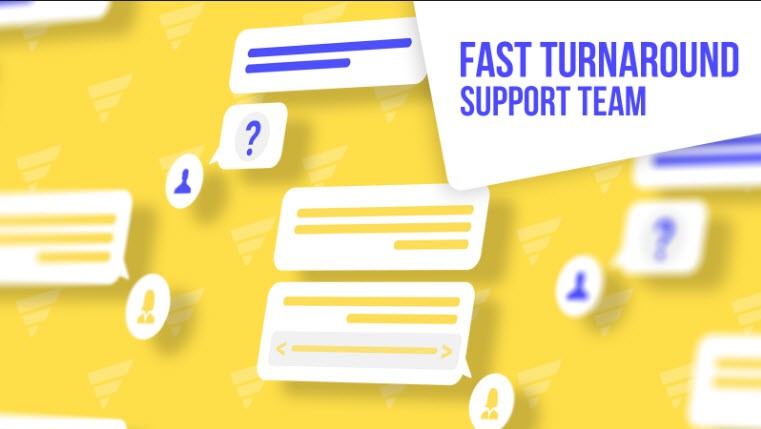 Since you're going to be dealing with a lot of customers you have to make sure that your eCommerce service provider has great customer support that will help you solve any problem your site visitors are facing.
Shopify has the best customer support when compared to its competitors.
When you're working with other eCommerce vendors you'll find that you have to spend a few dollars or visit unresponsive online forums in order to get answers to your questions.
Whether you're looking for help as a developer or you're a storeowner Shopify support team is there for you and they're fast and reliable.
Most of the problems you might run into have been solved for you in the FAQ section. If you however still need more assistance you can contact Shopify support via live chat, email, or phone.
Customer support isn't a concern when working with Shopify plus you'll find a lot of resources that will guide you through your online store setup.
Marketing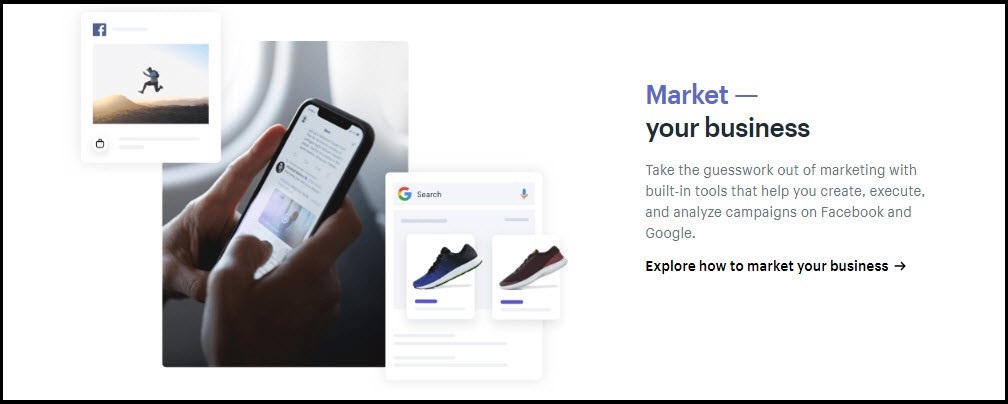 Who doesn't love a free marketing for his business?
And if you don't have any visitors to your online store what's the benefit of setting up the online store right from the beginning?
Due to its popularity, Shopify is one of the favorite online shopping marketplaces that receive a lot of visitors on a daily basis to their marketplace.
Soon Shopify might take over Amazon.
This means by working with Shopify store you'll be receiving a lot of free traffic from their marketplace.
You should of course try as much as you can to promote your online store through other online and offline marketing channels.
With Shopify marketplace, you can tap in free traffic for your online store provided you optimize it properly.
Shopify allows you to set up your marketing campaigns with ease when using Facebook ads, Google ads and email.
You can create beautiful and high converting landing pages that will set you apart from your competitors.
When it comes to SEO they help you build websites that are well optimized in the search engines by allowing you to create clean and Crawlable codes.
You can customize your title tags and Meta descriptions with ease. This can be done even on your product collections.
Other essentials included in your online store include search console and sitemaps to let the search engines know about your pages.
To summarize things up, if you're looking for all in one solution that integrates your SEO campaigns and other paid traffic campaigns Shopify is a good option for you.
Design Options
A clean and beautiful design interface is one of the best features Shopify has over all the other eCommerce platforms.
As a webmaster you want something clean that's out of the box and can be maintained without the involvement of any graphic or web developer.
Shopify has such a powerful platform to allow you to build beautiful online stores using their readymade themes.
You can build your online store using the free templates available or you buy premium themes from the marketplace.
There is also a simple drag and drop editor that allows you to edit these themes to suit your needs.
So whether you want to start running a multimillion-dollar store or want to run a small niche boutique you can customize these themes to meet your needs.
As a beginner, if you want to explore more out of Shopify you can use the free themes, but as your business grows bigger you might want to upgrade to premium themes.
Add-Ons
Shopify comes with a ton of add-ons like no other online store builder out there.
 A lot of add-ons are accommodated on their platform.
There are both free and paid add-ons, all popular web services can be integrated with Aweber such as Autoresponders like Mailchimp.
Shopify can handle all your email marketing campaigns with just a click of a few buttons.
Shopify Pricing
There are different fees that are associated with using Shopify, it all comes down to your requirements and how far you want to take your business.
Let's take a look at the 4 different pricing elements that are involved in using Shopify.
The first fee you'll pay is the monthly fee which varies according to the plan you choose.
You pay this amount every month as a fee for the maintenance of your website.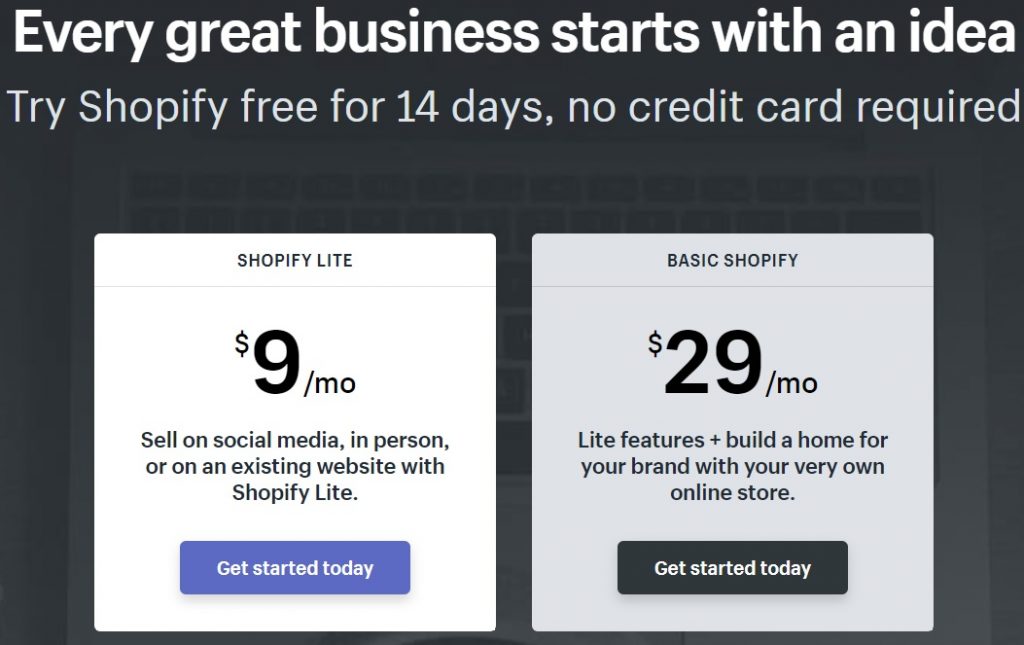 The small plan is the Lite Plan which can be as little as $9/month. This plan is only for users that are using the Shopify buy button.
The real use of Shopify begins at $29 per month and upward.
The second fees involved are the transaction fee. That's if you choose to use Shopify to process your payment since they have their own POS.
This is in the form of a percentage of the sale made from your products and services.

If you also integrate third-party payment processors like authorize.net you should expect to pay higher fees than when you're using Shopify payment processor.
 Whatever you choose you should compare pricing because the rates vary, that's dependent on how much you're selling your products.
The third fees are credit card fees. These fees are pretty standardized since Shopify have their own POS to process your credit card payments without the need to incorporate a third party payment processor.
Instead of using other services like PayPal, Shopify can directly receive the payments for you.
You have to be careful though if using Shopify POS because some lock-in aspects are involved.
Using Shopify as your credit card payment processor will save you a lot of time and fees.
And last but not least if you're using 3rd party apps there are some costs also associated with using such apps, this can be monthly fees, yearly fees or a one-time fee.
Most of the time if you have a bunch of products on your store you may have to purchase some of these apps and plug-ins.
There are free ones like we've mentioned earlier but if you want to go beyond the freebies you should buy the affordable ones that are available so that you can minimize your costs.
You should focus on apps that have a one-time setup fee. You should consider such apps to reduce store maintenance costs.
Content Marketing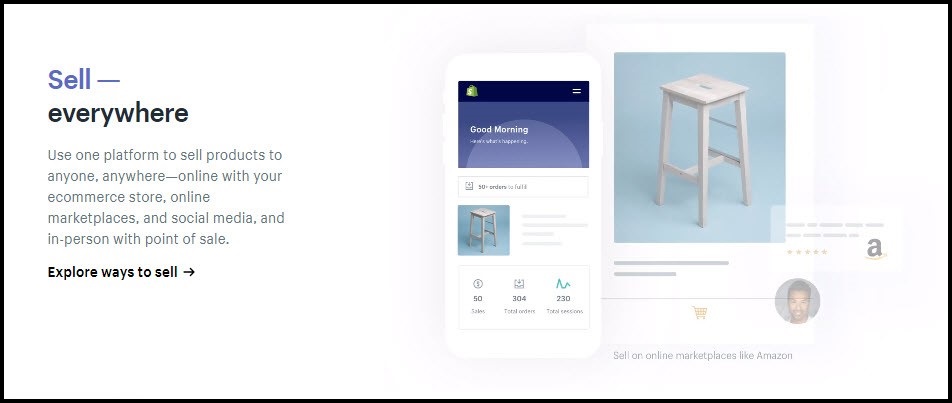 We all know the power of content marketing and how it can help promote any online business.
Content marketing is the best way to get more exposure for your eCommerce store. It helps boost your search engine traffic, increase your social media traffic and above all will help build up your brand quickly.
In order to help you achieve all this, Shopify comes with built-in blogging software.
You might not love this blogging platform if you're used to WordPress, but if you want everything to be in one place you should consider using the Shopify blogging platform.
You can also use third-party blogging software like WordPress to market your products but still, the Shopify blogging software does a good job for internet marketers to help them promote their website content with ease.
The Cons Of Using Shopify
Steep Learning Curve
Since Shopify has a lot of features it's not easy for a beginner to understand most of the features right from the beginning.
I can say that Shopify has a steeper learning curve when compared to other eCommerce platforms such as Wix.
But with time when you get used to the platform, everything becomes easier to manage, right from setting up your theme to integrating any add-on you like.
Lock-In
If at some point you decide to move your online store to another platform you're definitely not going to love Shopify.
Things aren't going to be smooth, but if you want to stick with Shopify forever that's not a big deal.
Shopify has a good platform to grow with because they have the scale, the features, and the support you need to set up a small site or big giant store like Amazon.
Shopify is the best online store builder, but don't expect to start running your store in like 15 minutes and then start making money immediately.
Even though it's simple to use, it will still take some time to get used to all the features that are integrated.
With time you'll develop all the technical experience that's needed to work with Shopify smoothly.
If you're looking for a one-stop solution for your online solution Shopify is the ideal platform. But as mentioned earlier, you want to make sure that you have lots of products to sell in your store. If you got only a few items to sell you should rather run your online store independently.
In such a case, you may want cheaper options like Wix or BigCommerce platform because they're also effective and will save you a lot of money than going for expensive platforms like Shopify.
These small eCommerce platforms are easier to set up since they don't have many features.
Ok, that's it for Shopify. Let's take a look at Wix and see what they have.
Wix Review

Wix is a well-known website builder that has been around since 2006 and their services are used by more than 90M people worldwide.
With their drag and drop blank editor, you create any website including eCommerce websites.
 They also have a lot of interactive tools that make website design easier.
They'll host everything for you without worrying about web servers.
Wix platform is much easier to use than Shopify and that's why Wix should be your second option when it comes to building your website.
Unlike Shopify, you can use Wix for free and they have more free website templates than Shopify.
They have more than 500 templates to choose from.
You can use these templates for various website building purposes and they come at no cost.
You can add extra features and tools to make the website setup process even better.
Let's take a look at the features they have and see whether they're worth trying or not.
Wix Features
Easy To Use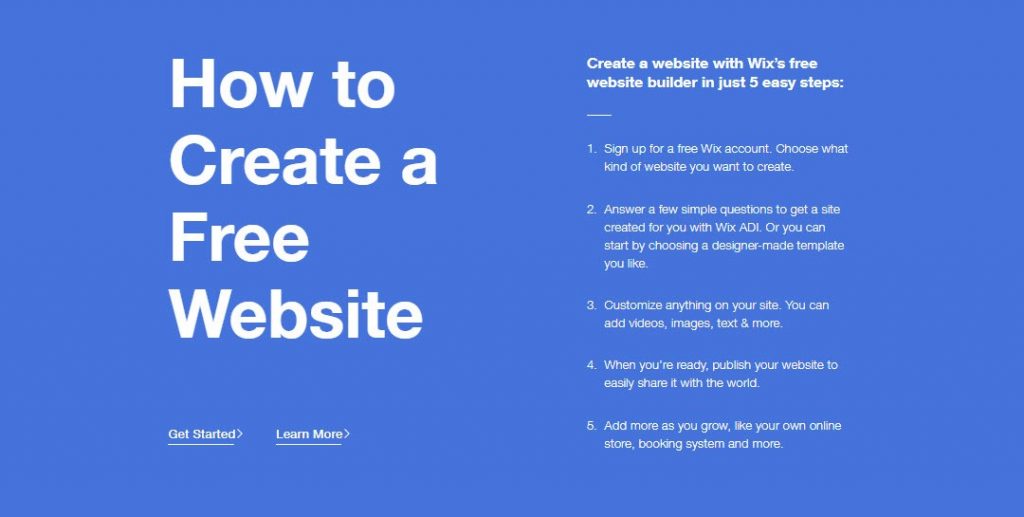 A lot of website builders out there require some coding skills in order to customize your website but with Wix website builder things are much easier.
Wix website builder is easier to use than Shopify which we previously talked about.
Wix allows you to set up your own website within a few minutes after signing up for free. I can say that Wix is the best free website builder for anyone and free hosting is included.
For those that find it difficult to work with Shopify website builder, they should definitely consider working with Wix because it's much simpler to work with.
Wide Range Of Templates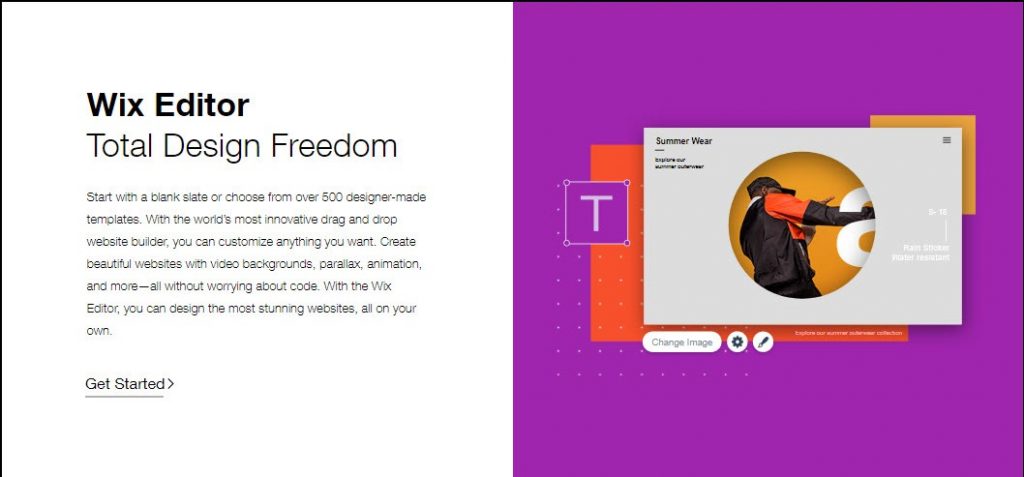 With hundreds of templates that are available, it's easier to set up your website right away.
They have beautiful designs that will appeal to your site visitors.
Even if you don't have any design idea by going through their free collection you'll be able to find a template that will suit your needs.
All the templates are easy to customize with their simple drag and drop editor that allows you to enter your website information.
You have the option to add or remove different elements using the template you choose to work with.
To keep it simple you don't need any graphic design or HTML skills to edit Wix templates, you have every tool in the dashboard to create a stunning website with ease.
Blogging Platform
Wix has a blogging platform that will help simplify your content marketing efforts. You have the option to choose from multiple blog layouts which are all customizable.
Designing blogs with Wix is really fun. However, you shouldn't expect to see the same quality as WordPress.
Wix allows you to schedule posts on your blog. You can tag and categorize your blog posts like in any other blogging platform out there.
The post editor has everything to style your posts and also make sure that your posts are well optimized for search engine results.
Ecommerce Solution
Wix has built-in eCommerce options to help you set up an online store. It's basic though, you should expect much fewer features as you can find in Shopify.
You have the option to set up a shopping cart page nicely and easily without any technicalities involved.
Designing product pages is much simpler than other eCommerce services out there.
You have the option to set up shipping and tax rule for your online store. Setting the product option or adding coupon codes is possible with the Wix ecommerce builder.
Pricing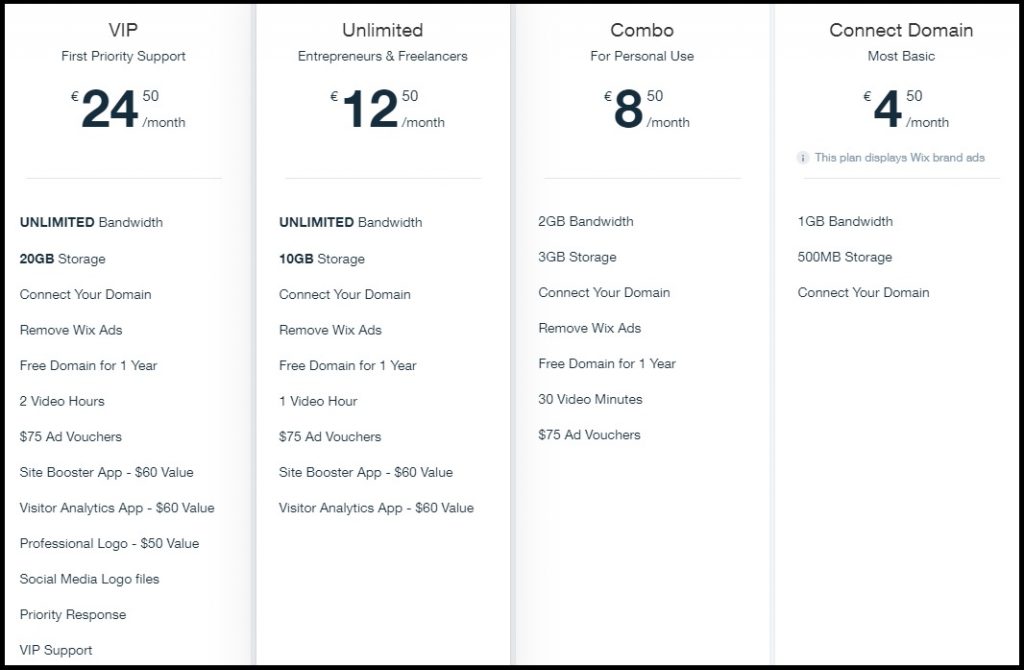 Wix is famous for its generous free website building offer, but that's only for basic website setup.
The free service offered by Wix has limitations when it comes to bandwidth and storage. Not only that, you're restricted from using some advanced features, and of course, since they host your website you should expect to have annoying ads on your website.
With the paid plans you have the ability to add your website to your personal domain name which is a must if you want to build a powerful brand for your business.
The free plan offer should be used as a free trial to see how their interface works since there are no limitations to that when using the free package.
The upgrade plan is an unlimited package that allows you to use the service without restrictions and you won't be disturbed by ad placements on your websites.
Wix has the simplest pricing options out there.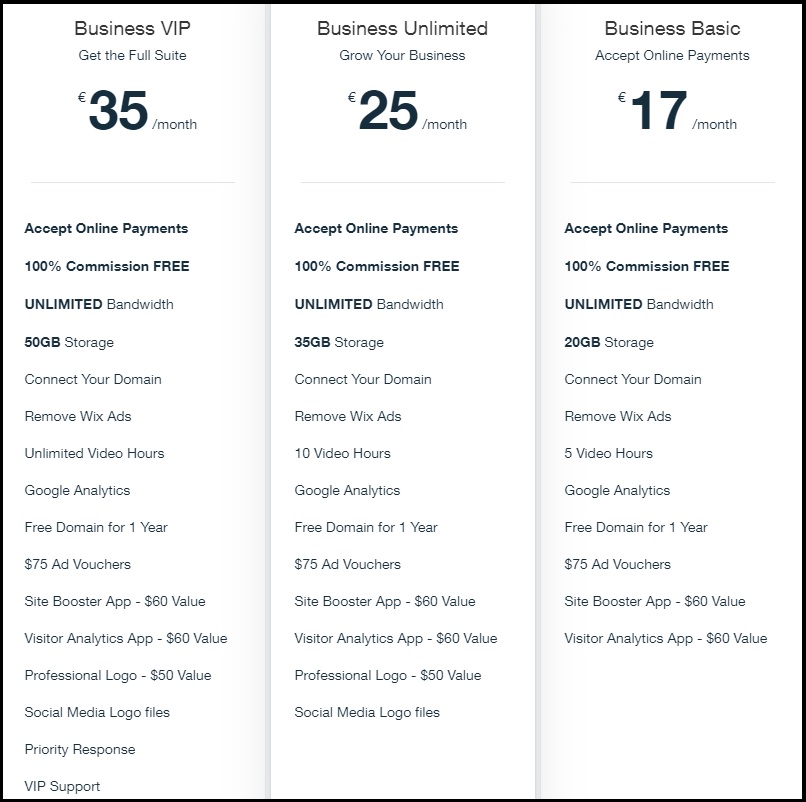 If you don't mind working with a sub-domain name then you can opt-in for the free plan that has limitations when it comes to storage.
Each plan you choose to work with will allow you to set up a brand new website without any fuss.
Good Customer Support

Even as a free registered user you can get amazing customer support in the help center.
The help center is filled with lots of tutorial guides that cover different aspects with regard to working with Wix.
Most of the questions you might have are covered in the help center guide and there is no need to seek customer support.
Free members only have access to the help center support, but premium users can submit a ticket and ask a question by contacting them through email or through the support forum.
VIP members have access to other support channels such as the priority call back service and can receive an instant responses from Wix staff.
Wix is the perfect solution for short-term projects and everything is bundled together in one place for you.
Speed And Security
All the websites you build will be hosted on Wix servers and their servers are well optimized to load faster to give you the best user experience for your site visitors.
With a team of professionals by your side, you don't need to worry about server maintenance even if you're using the free plan.
You'll experience the best server running time. Your websites are safe and secure without the need to worry about CDNs, caching, patches or salts.
 All these factors play a major role in your website's speed and security.
Cons Of Using Wix
Of course, Wix has some downsides too.
Wix has been around since the days of flash websites and there are still a lot of improvements that need to be made.
There are a lot of users complaints regarding certain problems they have.
Wix is the simplest website builder to work with especially for someone without technical skills, but as a developer, you'll find that there are a lot of developer tools missing.
They have a basic website building platform that can help you set up a basic nice looking website within few minutes but lots of features are missing when compared to other eCommerce builders like Shopify.
Shopify website builder has more features than Wix, but the only downside is that they have a few themes and templates while Wix has lots of templates but with a few editing features.
Ads Placement
A free plan is a good option for beginners but they display ads on your website, even when you upgrade to the starter plan, which costs $4.08/month, Wix doesn't remove the ads, you have to upgrade to higher plans in order to remove ads from your website.
Their pricing plan is better than its competitors like Squarespace and Weebly, but still, Wix is more expensive than hosting WordPress on your own server.
Whichever plan you choose on Wix there is always a limitation on bandwidth.
This makes Wix not ideal for webmasters or online store owners that want to build a website with huge traffic.
They Don't Have Enough Extensions
All the popular web platforms have enough apps and extensions that will help you market your website effectively. Take WordPress and Shopify as an example, you can get enough apps in every field you can think of, especially, WordPress.
Wix has their own so-called marketplace that allows third-party apps to be listed for shop owners, but they're not apps with real value, they're just Iframes that are added to Wix pages.
When you take a look at the Etsy app, for instance, it doesn't do the actual job it's meant to do. It just adds an Iframe to your Etsy store while leaving your web page open.
Wix team are trying their best to improve their app store and we've seen some noticeable changes over the past few years, but currently, as a web developer, it's not something you can rely on.
Wix Websites Aren't Well SEO Optimized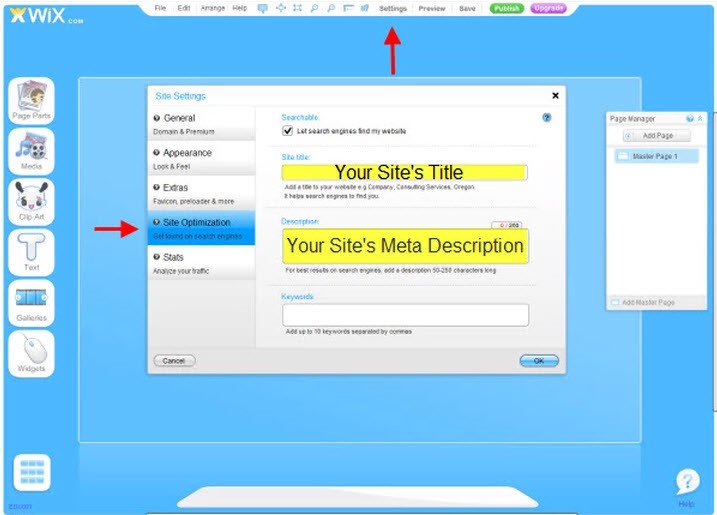 If you're building a flower shop for a small city Wix might work well in terms of SEO optimization but if you're uploading hundreds of products on your website with international shipping options, you should consider using other eCommerce platforms.
According to one member of Google staff "John Mueller", he pointed out that Wix websites are fine but webmasters should take a look at the big picture.
If you're just looking for a basic website or online store set up Wix will provide you with more than enough, but as a web developer or an SEO expert, you need something much better than what Wix offers.
I'll say that if your website traffic entirely depends on search engine traffic, Wix isn't your option. You'll end up spending a lot of money on SEO optimization without getting any results due to the nature of their website structure.
But if you're generating traffic from ads, social media, referrals, and word of mouth, Wix will be ok for you.
Lack Of Advanced Marketing Tools
Wix comes with built-in tools designed to help small businesses especially local businesses that don't have many expectations when it comes to website development.
They have all the basic tools such as CRM software, contact forms, basic eCommerce solutions, and much more.
If you're however looking for something that's not integrated within their platform it's going to be difficult to add any additional codes to your website.
Adding retargeting tools, pixel tools, email marketing tools and custom social share buttons aren't available or will be difficult for you to set up.
Exporting Your Site Data Isn't Possible
As your business grows you'll find the need to move your website to another platform for various reasons and that's when you need to export all your website data to another platform.
Wix will make things difficult for you because there are no options that allow you to export your website data.
This is a huge setback for Wix and has to be fixed as soon as possible.
In order to move your site data to another server or platform, you have to scrape your data manually or use some other service to help you with the process.
For example, there are services that will help you scrape all the images and links from a web page or sometimes even the entire website can be downloaded, but still, the manual job is needed to pick up the product details and then add them to your new server.
Ecommerce Solutions Aren't Enough For Web Developers
Don't even think about using Wix for your online store if you're aiming to sell hundreds to thousands of products on your website!
Wix isn't an ideal solution for large online stores. Wix cannot be matched with Shopify when it comes to eCommerce.
All they have is a shopping cart set up that allows users to accept payment for their products. This is enough for individuals that want to add a few products to their store, they should rather invest in Wix since they don't have high requirements and they'll save a lot of money.
Wix is ideal for informational and lead generation websites or for websites that want to sell only a few products.
For instance, as a business owner, you can sell some accessories on your websites such as shirts or mugs.
Wix has the reputation of helping small businesses to build websites without the need to undergo any complex process.
If you're looking for a free basic website builder that offers free hosting, you'll hardly find one like Wix. They've been offering this service since 2006 and you can surely rely on them if you're looking for a basic website setup.
Wix isn't a good website builder for developers, it's a DIY website builder for the common man that wants to put their business or services online.
Shopify Or Wix: Which Is A Better Platform?
By taking a look at the features of both Shopify and Wix you'll understand that Shopify is the best option for anyone that wants to set up an online store for the long term.
They have all the features you'll ever need in order to set up an effective online store with ease.
As we've mentioned earlier there are a lot of costs involved in using Shopify but it's still worth the investment.
But if you find yourself on a low budget and can't afford to use Shopify you can consider using Wix since they're cheaper and have fewer features than Shopify.
Wix is easier to manage than Shopify because of the lesser features and tools that are available.
Currently, there is no eCommerce store platform that's comparable to Shopify.
There are a lot of services out there and they might have something to offer to online store owners but if you're looking for all in one solution that puts together everything in one place then Shopify is truly the king of eCommerce.
So without any hesitation, if you can afford you should definitely give Shopify a try to see how it can improve your online business.
- Advertisement -