- Advertisement -
Introduction
If you've read anything about me, then you know that I'm a huge fan of Reddit.
For the past one a half year I've been using it to promote affiliate offers or other products with huge success. I've even written a guide about it.
Today I'm going to show you a little case study on how easy it is to make money online by using the enormous Traffic that Reddit can generate.
What is Reddit?
So, what is Reddit?

Unless you live on the moon you probably have at least heard of Reddit.
According to Wikipedia Reddit is the 6th largest website in the world based by Alexa rank (based on a combined measure of page views and unique site users).
The most important part of Reddit is its sharing aspect.
If users didn't share links, photos, stories, and other info with each other, there wouldn't be a Reddit to begin with.
Upvoting and downvoting is how Reddit democracy works.
If you like a post you upvote it, if you don't like it you downvote it. The more upvotes you have, the more people may see your post. The same applies to comments which can be upvoted/downvoted. The good stuff rises to the front page, the bad stuff… doesn't.
Reddit consists of thousands of small communities called "subreddits".
Subreddits are communities centered around a particular topic, and they run from rather broad (like the r/history subreddit, 13.2M subscribers) to super narrow niches, like the subreddit for Resident Evil players (38K subscribers).
You can find a subreddit dedicated to almost any topic you're interested in. There is no such thing as a topic too narrow or specialized to form a subreddit around.
At the time of writing, there are 1,209,754 subreddits, according to RedditMetrics. And it's rising all the time. Not all of these will be of interest, of course, but plenty will.
Basically, if you can think of a topic, there will be a subreddit for it, no matter how obscure.
For all the popular subreddits and even the less popular ones, you can check out RedditList.com. It has a list of 5000 of the largest subreddits.
The Case Study
Lately, I've been trying to get into the drop shipping business with Shopify stores. And since I'm good with Reddit, I thought why not try and promote something on Reddit that I am selling in one of my stores. And that's what I did.
I made two identical posts on Reddit. It was a video of an iPhone case that looks like a Game Boy. This post didn't link to my shop, it was just to start the traction and bring the upvotes.
This is the video I used:
What I did next was that with another account I made a comment: "Source? I need one!". Which lead to a reply that I made with the third account replying a Link to my Shopify store.
The first post was on subreddit named r/INEEEEDIT (this subreddit is deleted now).
It was a subreddit for all the cool things you would want to buy.
This post received 47 upvotes and 11 comments. This subreddit had a total of 339K followers at that moment.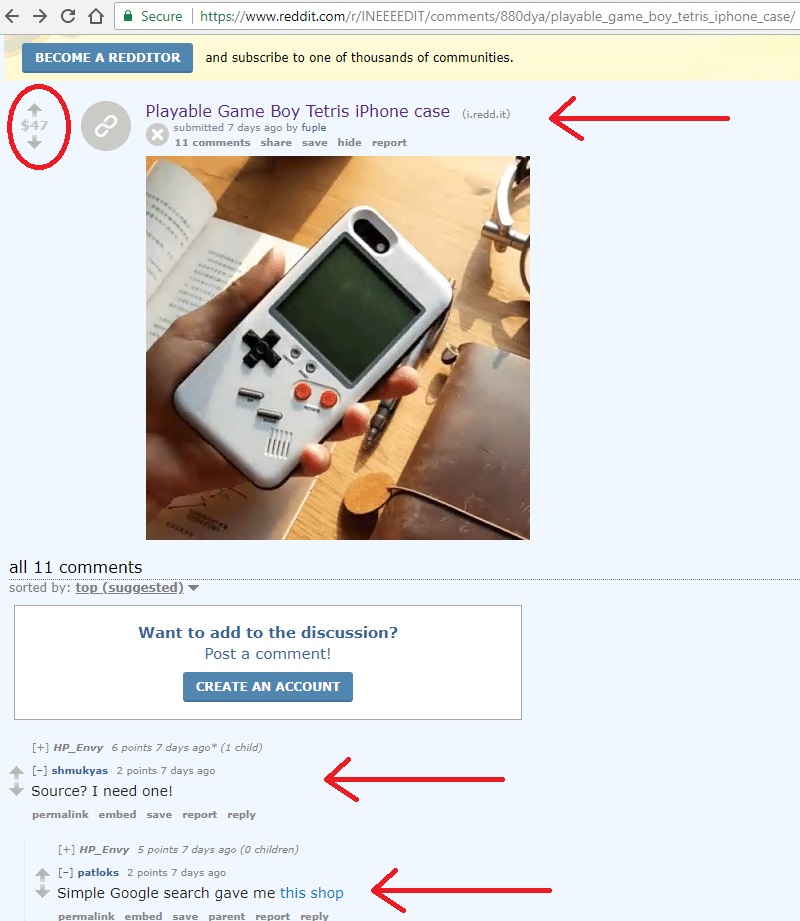 The other post was on subreddit named r/gifs.
This subreddit is all about funny/interesting gifs.
This post received 131 upvotes and 28 comments. This subreddit had a total of 15.9M followers back then.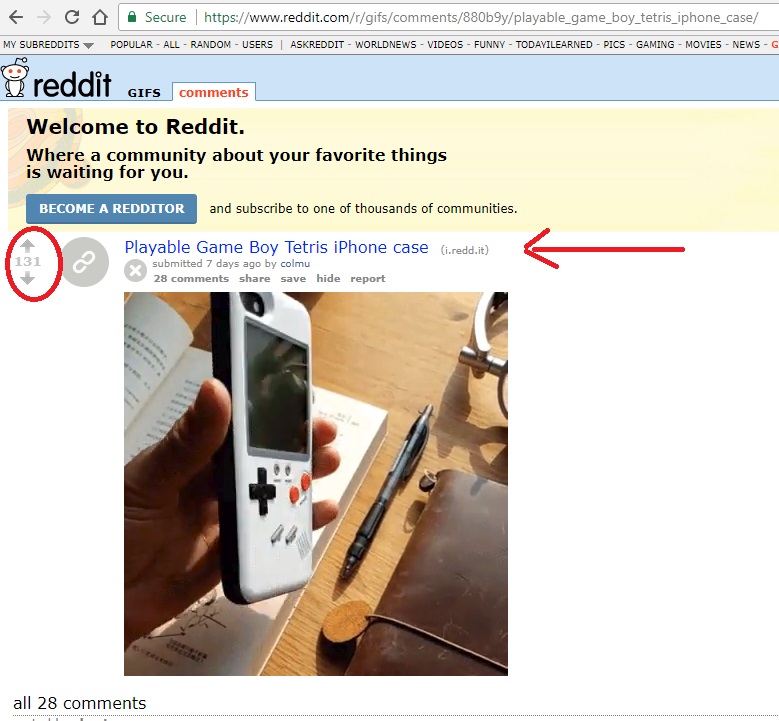 Results
So, what are the results of all this?
In 24 hours I got 6 sales, that generated a revenue of $149.70, and I got a total of 688 visitors to my Shopify Store only from Reddit. Many of whom signed up for my stores' newsletter.
All this was done by a simple comment in the post. Imagine what traffic I would've gotten if I got them directly to my store with the main post? I can tell you – tens of thousands.
If you got time to put in for work, you can literally make thousands of dollars a month, just by leveraging Reddit traffic.
It's a pity that the post on subreddit r/gifs didn't go viral.
If it would the traffic would be x10. The good thing is that you can always try again with different video/gif/picture/title etc.
There are many variables. Even the time of the day is important when to post on Reddit.
Since majority or Reddit users are from the USA, you should always post when they are awake, to get the best out of it.
Stats of my Shopify store on the day I made the posts: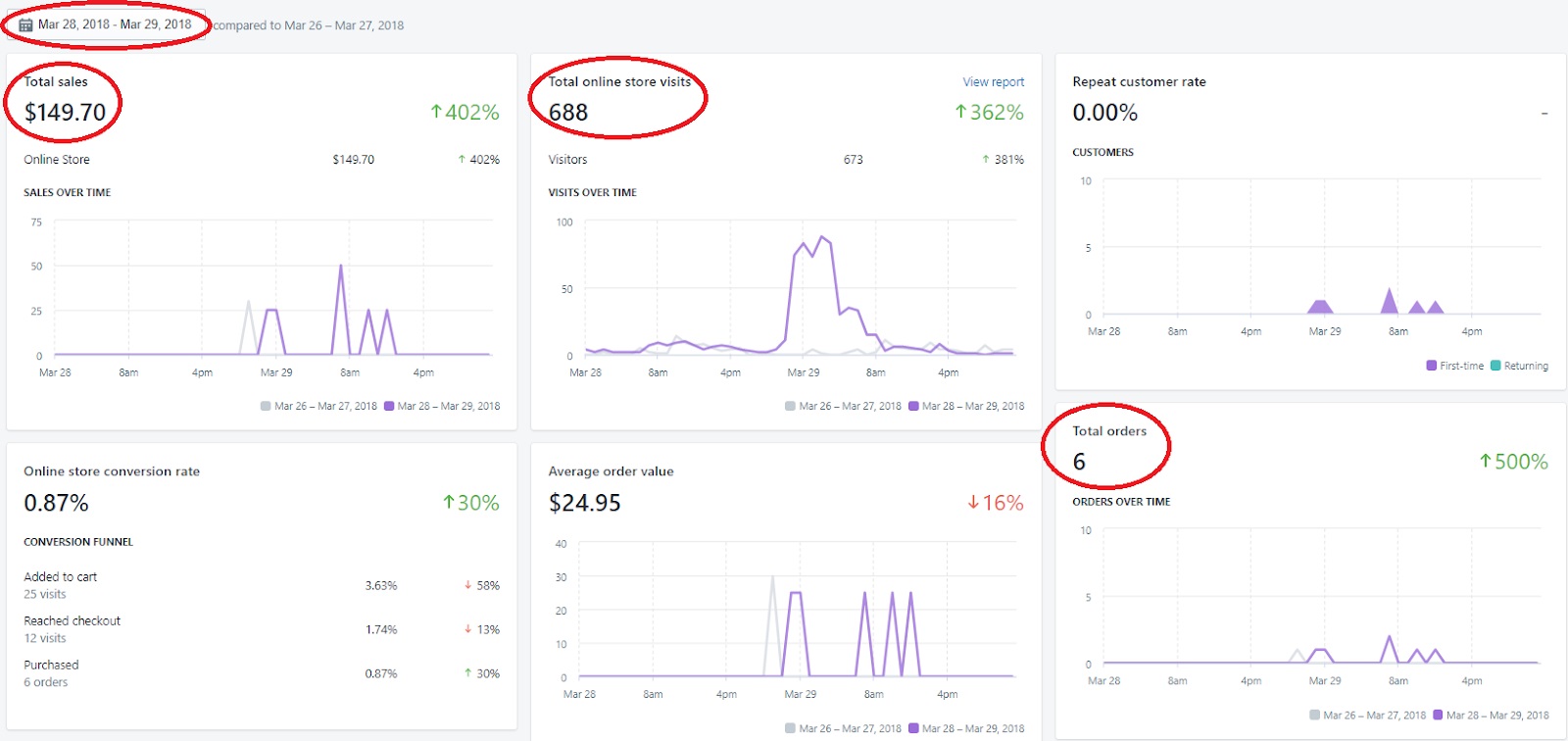 So, you see how easy it is to generate traffic with Reddit. With this method it is possible to promote:
Affiliate offers
Blogs / articles
Shopify /eCommerce stores
Social media accounts
and many more
How to improve results?
How can you improve the results of this campaign?
You can always link to your website right in the post.
By directly linking to your website the traffic can go through the roof.
Often times the hosting of the small sites can't take it and the websites go down because of the overload.
But be careful! Reddit doesn't like SPAM. If the community will have suspicions that it is a promotion, you will get downvoted into the oblivion, and you won't get any results.
Also, don't over-spam Reddit with your links. Reddit may ban your website so that whenever someone links to it whether in posts or comments, that post/comment won't be seen by anyone.
You have to be SMART to promote on Reddit.
All in all, there are many ways and tricks on how to promote on Reddit. It all depends on what you are promoting.
Short-term success is easy on Reddit, long-term success is hard. That's why you have to know what you are doing and have a method.
From the day I started promoting on Reddit there hasn't been a day since without any sales. NONE.
Let that thought sink into your brain.
Reddit is a traffic power machine, and with the right mindset, you can achieve anything!
The best part about promoting on Reddit? It's FREE.
Conclusion
I hope that with this guide you learned something new that you didn't know before. It is really easy to make money online by using Reddit marketing.
And now I'd like to hear from you: Do you have any questions about this process? Or maybe you have a cool tip that I didn't include here.
Either way, let me know by leaving a comment below right now!
- Advertisement -