- Advertisement -
Introduction
We internet marketers, bloggers, sellers, business owners are looking for cheap or preferably Free traffic sources.
Quora is one of the best Free traffic sources on the web right now.
While founded in 2009, Quora has started gaining traction only in the past few years. It has proven over time that it's here to stay.
What is Quora?
Quora is a question-and-answer site where questions are asked, answered, edited, and organized by its community of users in the form of opinions.

Wikipedia
Basically, you can ask any question about any topic, and people may answer them (similar to Yahoo! Answers).
Why would anyone answer your questions? For entertainment, upvotes (digital karma) or marketing purposes. I use it for the latter.
Don't get me wrong, Quora is great for entertainment purposes when you're bored.
Reading answers to questions like What are some fascinating examples of ancient or medieval technology or How realistic is the physics in the movie "Gravity"?
The quality of the answers is astounding. And no wonder why.
To get noticed, you have to create really valuable posts to get the upvotes. The more upvotes you have, the larger the chance your posts will get seen by more people.
How do Quora Bloggers make money?
Here are the most common ways on how to make money on Quora.
Link to your blog/website and earn from Ad revenue
Promote products for commissions (Affiliate Marketing)
Promote your own eBook
Promote your courses. Teach online.
Promote your physical products.
Promote your services (Freelance).
How to get the most out of Quora
The usual method
It involves using Quora as intended. You search for the topics (keywords) that are relevant to you and answer the questions from the suggested questions.
The problem with this is that you can't search the questions based on the question views, followers or answer count.
The suggested answers are given to you randomly by Quora algorithm.
That means you have to go through each question to make sure if it's worth writing an answer to. The main attribute you need to look for is Followers.
For example, this would be a good question to write an answer to because it has 307 Followers.
It means that whenever someone writes an answer to this question, most people who are following this will see it when browsing Quora and those who have opted in for daily/weekly emails from Quora will get notified about this.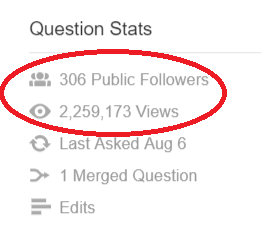 As you can see this question has 2,2 million views. That's a shitload of traffic.
So what does it tell us about Quora? It's well worth the effort.
To be fair this question didn't have any marketing efforts and it didn't include any links. So I checked further.
Three answers further there was this one answer with a link included.
This answer has 15.4K views. I bet it got a lot of clicks to his website.
No matter what your niche is about, you can always find questions related to your niche.
People who follow or search for these questions are all interested in the topic, so they're HOT leads.
Quora traffic is highly targeted.
The Quora Traffic "Hack"
Since I'm lazy, I always try to find the fastest & easiest ways to get the best results.
Finding the right questions to answer in your niche is a tough task.
Finding the correct questions to answer can quickly gain you the desired traction. But since it's not possible to search for questions based on followers or view count, it takes a lot of time to look for good questions to answer.

Here's the "Secret Quora Traffic Hack" I use. It's a simple trick to find which questions you should be answering.
What you can do is to set up an ad account on Quora and head to the Manage Ads > Create Campaign > Create an Ad Set.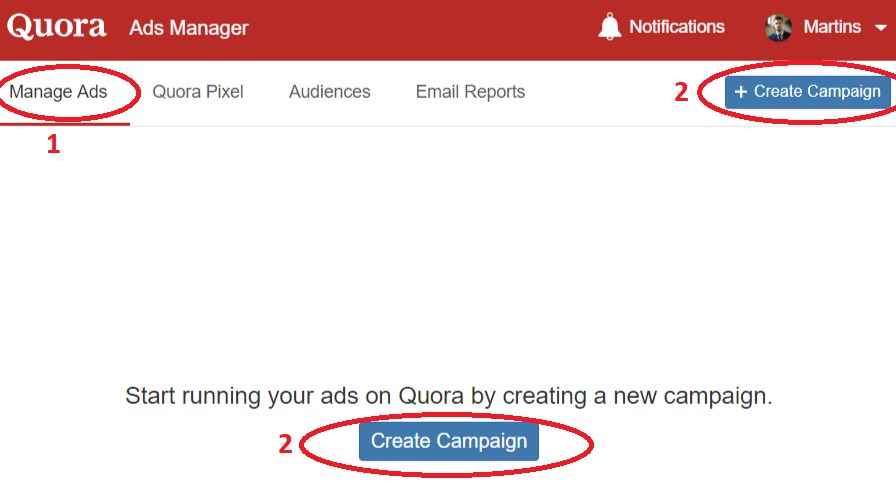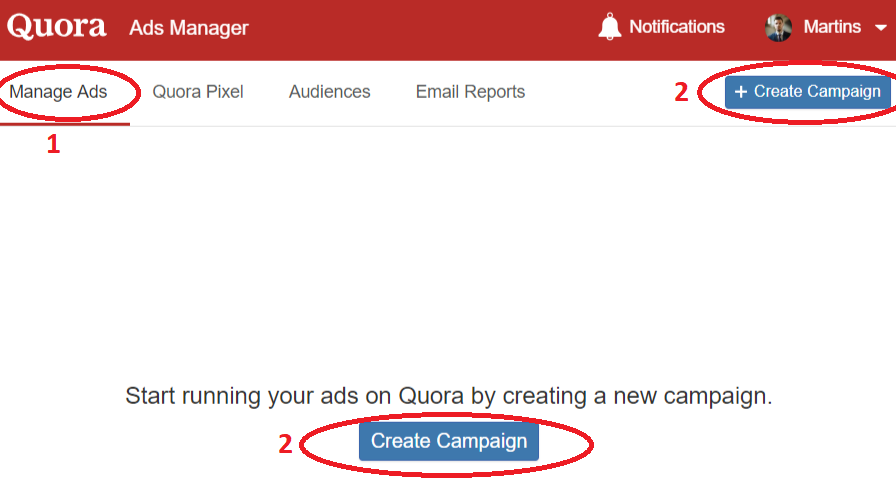 In the Primary Targeting type select "Question Targeting". Then click on  "Choose Questions" and enter your target keyword.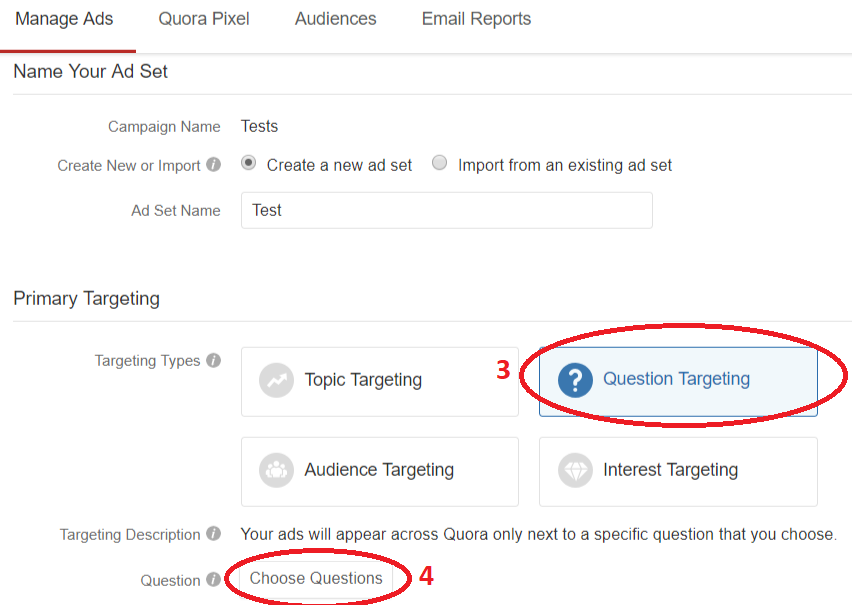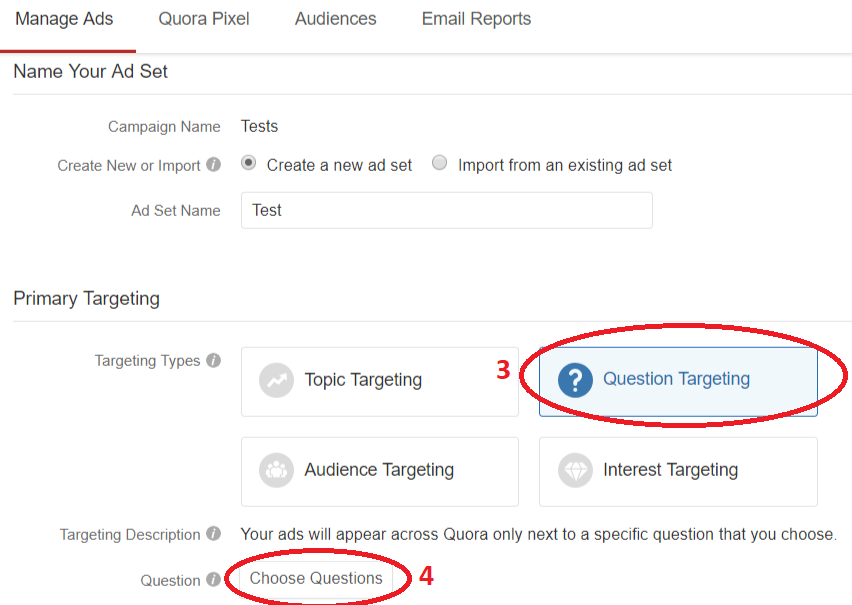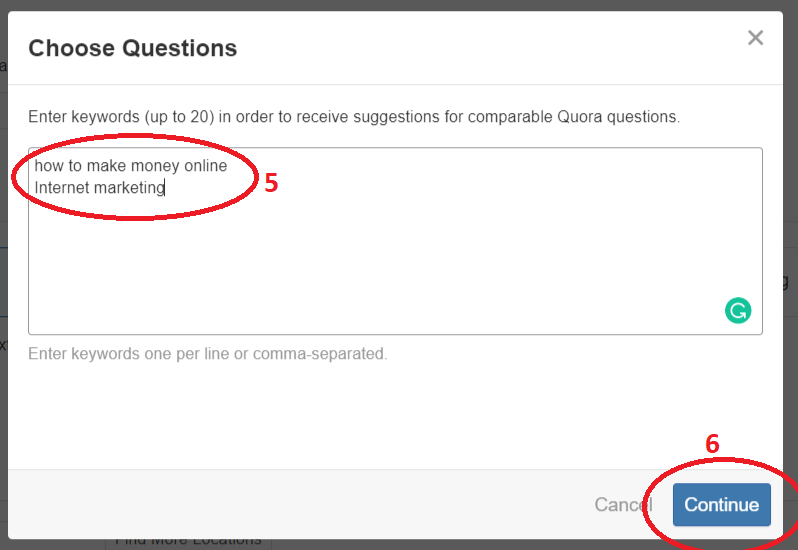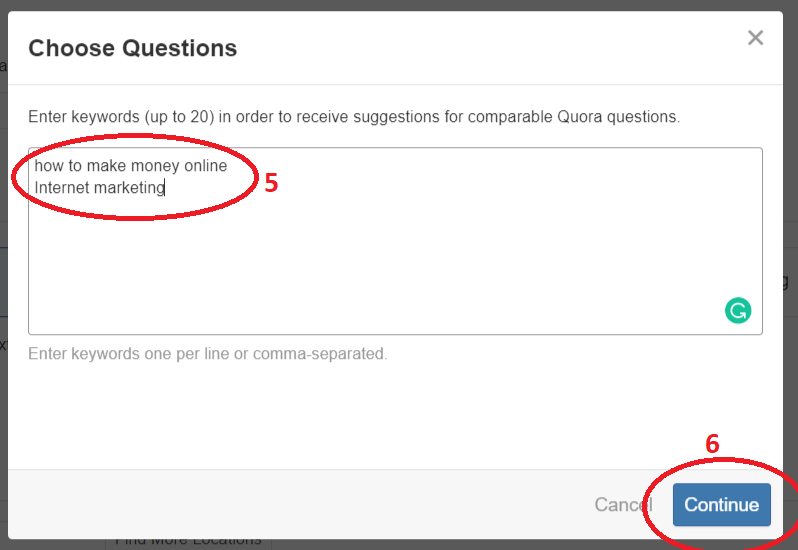 And here comes the glorious results: Questions that you can use for your marketing purposes.
Quora shows you the relevant questions filtered with views/week. Each question can be clicked on. It will take you to the question.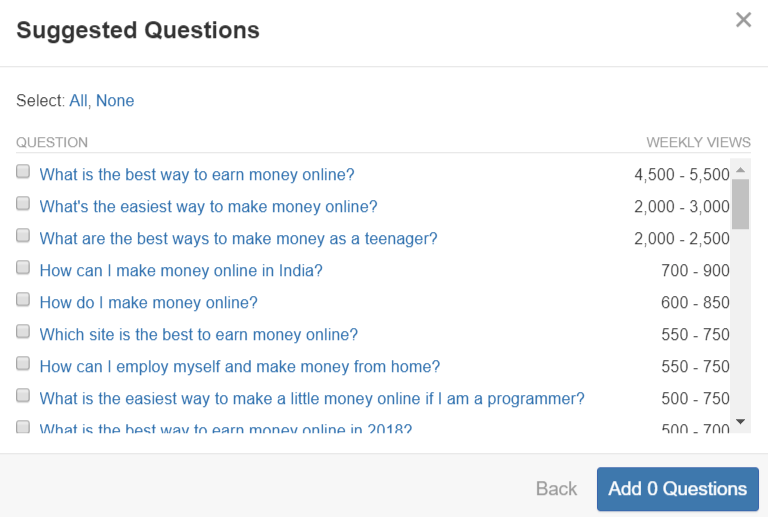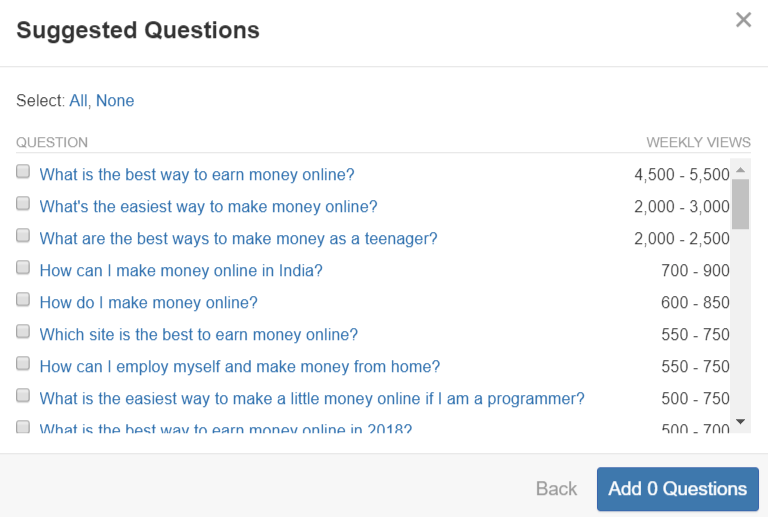 You can target these questions to drive Quora traffic to your website/blog and build your brand / make sales.
The best part is that you don't even have to run ads. Just mark the questions to answer them later.
My results?
I'm an avid Quora user. I'm lazy and I don't have much time on my hands, but it does get me a lot of traffic.
Here's a picture that I've gotten 45K views in the last 3 months.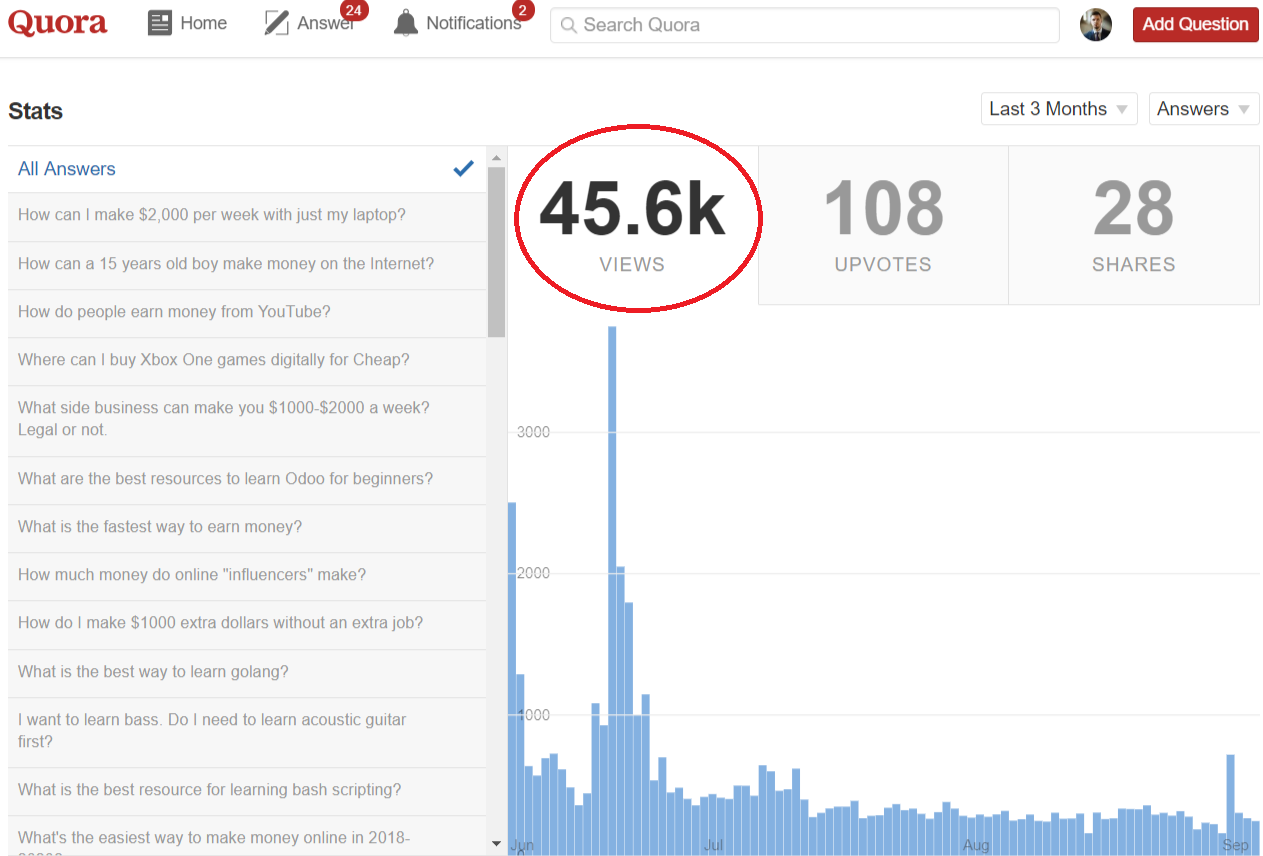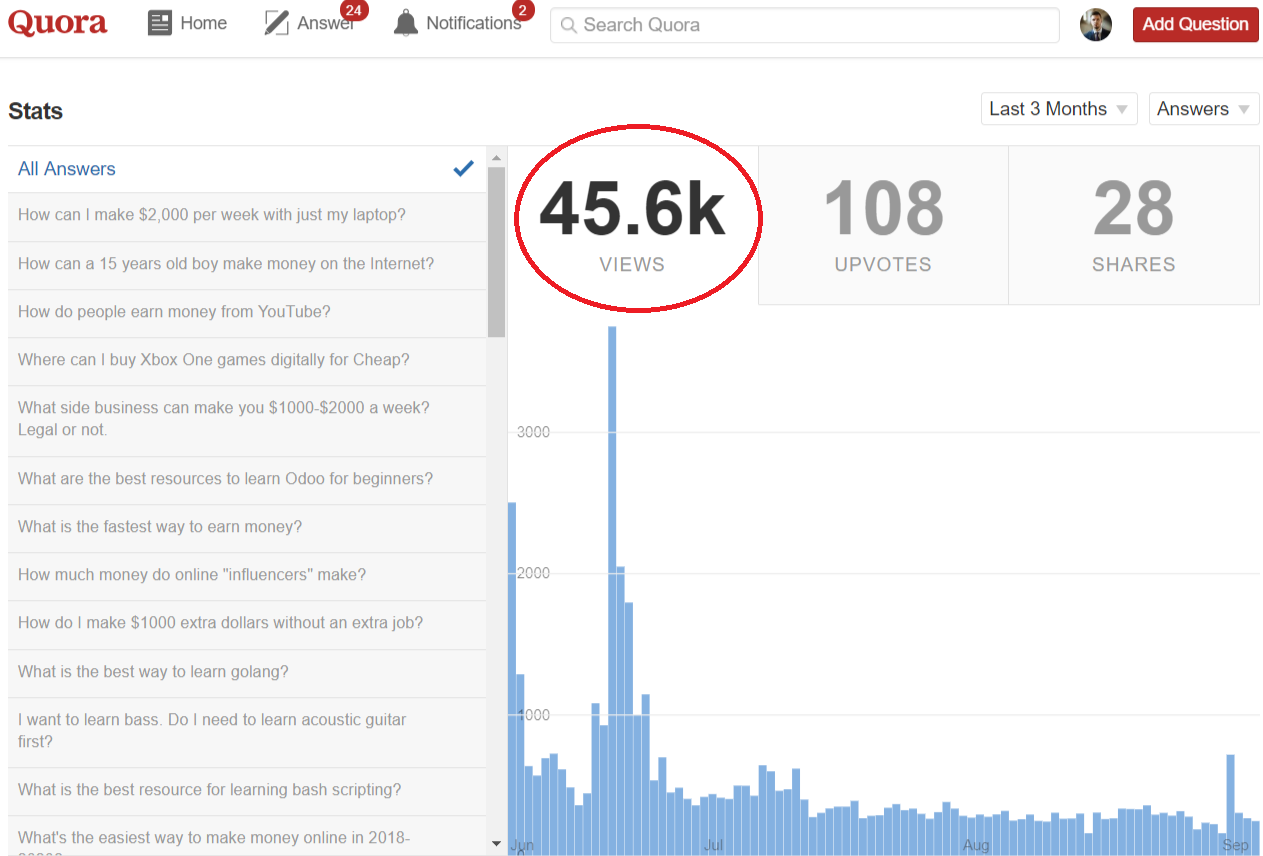 Other Benefits of using Quora
By using Quora you can establish yourself as an authority in your niche.
The more answers you write, the more people notice you.
Just look at these stats for "Most viewed writers in Making Money Online":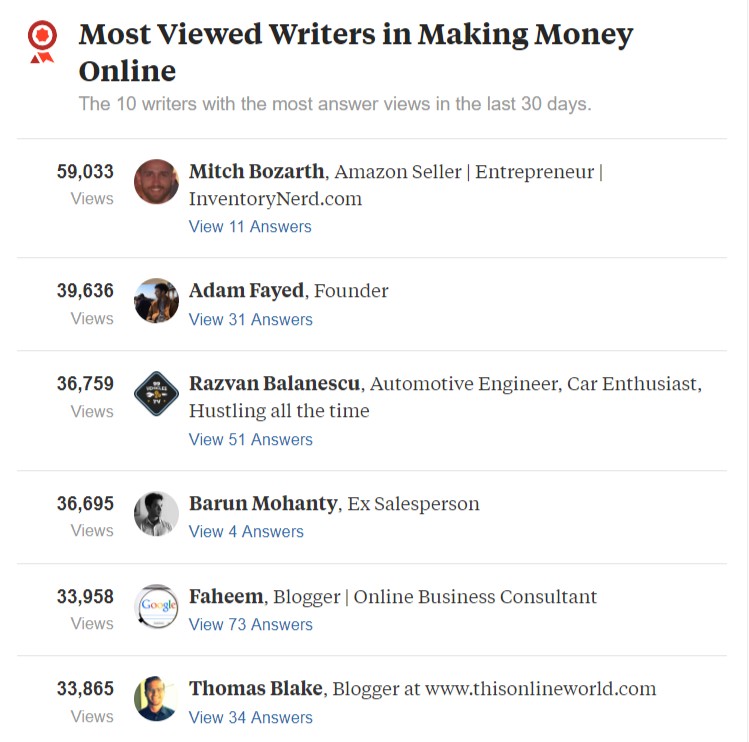 Two out of six most-viewed writers have Domain names in their Titles.
Now that's a good promotion, right?
Conclusion
I hope that with this guide you learned something new.
And now I'd like to hear from you:
Do you have any questions about this process? Or maybe you have a cool tip that I didn't include here.
Either way, let me know by leaving a comment below right now!
- Advertisement -