- Advertisement -
Here Is Why You're Not Getting Any Traffic To Your Website
Most webmasters struggle with generating traffic to their newly published content.
Research shows that about 91% of content receive no traffic from Google, this means if you're lucky to drive traffic to your content you're among the remaining 9%. Even the most popular websites and blogs don't receive traffic to each and every post they publish.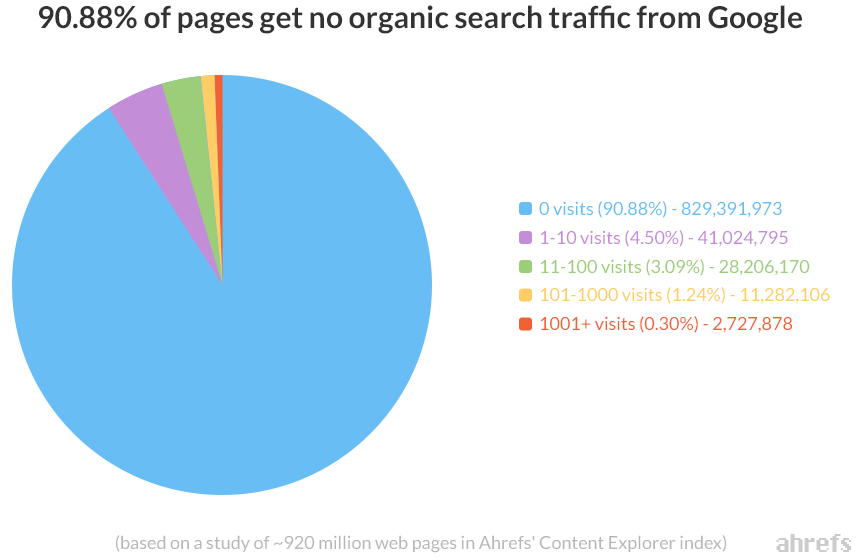 Let me share some of the reasons why your website isn't generating enough traffic.
No Backlinks
You might definitely find this in almost every article out there but that's the truth.
When it comes to SEO backlinks still carry an important weight it's used as a factor for ranking websites in search engines, it's just that you have to do it carefully and in a natural way. Backlinks shouldn't be built solely for the sake of SEO and ranking, it should be done in the sense that a lot of people will follow that link and land onto your website or blog.
Backlinking doesn't mean getting backlinks to your home pages only, you should create backlinks to each and every page or post on your website. 55% of web pages don't have any link backs from referring domains and hence they end up receiving little to no traffic.
Backlinks are among the top 3 ranking factors used by Google.

You're Not Targeting The Right Keywords
If you believe your website is well optimized and you're still not getting any traffic, you might want to check the keywords you're targeting.
Search engines are robots and they use keywords to filter search results. I'm not talking of filling your pages with excess keywords, I'm talking of targeting keywords with high search volume.
Use a good keyword tool to find out the most popular keywords which most users are searching for when making a query and then use such keywords in a natural way throughout your posts, include your main keywords in the title, subheadings and also use some variation of the keywords called LSI.
Find proven keywords that have been receiving a lot of searches over a year not only within a month. You might have noticed that news articles only receive traffic for a short time and later on they won't receive any traffic. That's because they're targeting keywords that have short-term traffic search.
If you have some quality backlinks to your website and you're not receiving any reasonable traffic you might want to consider fixing keyword usage in your articles.
What are LSI keywords?
LSI keywords are keywords that are related to the topic your article is about. They're not only synonyms but also other words that often occur when a certain topic is written about.
For example, if a website is talking about Apple, how do search engines know if the website is talking about the brand or the fruit? This is where search engines look for LSI keywords to figure out what the page is specifically talking about.
You're Not Utilizing Other People Traffic
Instead of trying to promote your website content right from the scratch why not take advantage of other people's blog that receives a lot of traffic daily?
Find popular blogs in your niche and then contact the blog owner to see if he can promote your blog, it doesn't matter even if you're paying him, you should create banner ads which other webmasters can place on their site.
Another way to do it also is by offering blog posts with exceptional value and then in return, you'll request a link back to your website or services, this is what's often called guest blogging.
As long as you offer a valuable content most bloggers will accept your offer because you're giving a content that their audience will love and you're saving them a lot of time since they aren't the ones writing the content. Take some time check their blog to see the type of content they're publishing and then write killer content that could match theirs or even better.
Finding popular blogs isn't difficult. You can set the process on autopilot by setting up Google alerts when you sign up for Google alerts. Google will send you an email whenever a new post has been indexed in their search engine which is related to the keywords you specified in Google alerts.
When you receive new post alerts just visit the link and then see if it's a popular blog by checking the traffic volume of the blog. You can check the blog traffic on a website called SimilarWeb.
Link To Other Websites
Most people only think about getting backlinks to their site and don't want to link to other websites.
Most of the time when you link to a website or blog, the blog owner will notice and in return will give backlinks for free on their site or sometimes can even tweet on your posts. So you can see how linking to other sites can increase your website traffic, linking to other sites also help increase your ranking in the search results, especially if you're linking to high authority domains.
If you're not linking to other blogs, it's time to start doing so because it has a lot of impact on your rankings. Don't be greedy! I link to other sites on my blog all the time.
You're Not Participating In Forums
Forums play an important role when it comes to generating traffic to your website.
Most people visit forums to ask questions whenever they have a problem. If you can participate in forums related to your niche and offer valuable answers to members, you'll definitely receive massive traffic to your blogs.
Forums allow members to add a signature which is a link back to your website. Anyone who will find your posts interesting will consider visiting your website to learn more about you and what you're writing about.
Using Email Signatures
Email signatures also aren't used much by webmasters but it's a powerful way to drive a lot of traffic your content. Anyone who you send an email to, especially if it's a new contact, will most likely check out your website in the email signature to know more about and if you have great content on your blog they'll definitely keeping coming back to read your valuable posts.
Don't ever ignore email signature because they'll certainly make a big difference to your website traffic. This is an easy process, almost every email provider allow users to add signatures in the email.
Go to settings and add the email signature which will be added beneath every email you send.
Generating traffic to a new website isn't going to be easy; it requires consistent effort and needs some time before you see massive traffic coming to your website. There are still other factors that are causing your website traffic to drop but the ones I just shared are some of the top factors which are ignored by most webmasters.
Now that we know why you're not getting the traffic, let's look at the best ways to increase your website traffic
Best Ways To Increase Website Traffic
There are more than 1.24 billion web pages running online and most of these website owners depend on search engine traffic to generate visitors to their website.
This means whichever niche you are in you're going to face a lot of completion and unless you employ the right strategies you'll hardly get your own share of traffic from search engines especially the big giant "Google".
You need a good promotion strategy if you want your website to thrive online and that requires a lot of research, effort and time.
Driving massive traffic to your website isn't going to happen overnight, even if you're utilizing paid traffic sources it's going to take some time to figure out what works and what doesn't.
When it comes to driving traffic to your website don't expect a miracle to happen overnight, you have to dedicate yourself every day and set achievable goals that can yield positive results. Here are the best ways to increase your website traffic using the best SEO practices.
On-Page SEO Optimization
Search engines read your site structure before indexing and positioning your web pages in their search results, and the best way to make sure that your site is well structured is to implement all the necessary on-page SEO elements appropriately.
Search engines can read the various tag elements that are present on every web page. You should insert the title tags, description tags, header tags and sub-header tags, image tags, video tags, and other relevant tags that are useful.
Search engines can only know your website structure by the use of tags, this means adding only plain text to your web pages won't favor your website when it comes to search engine placements, and it's going to take a lot of time before your website is even indexed in search results not even talking about ranking it on the first page.
Make sure you add all the important elements that are needed to improve your On-Page SEO optimization.
Add Your Website On Directories
Most webmasters believe adding a website to directories does no longer work.
The truth is there are a lot of spam directories out there and most bloggers use them, that's why they're not getting any results with this method. There are still powerful directories which Google still value and placing your website on these directories will improve the ranking of any website because of the weight the domain carries in the search engines.
Most of these quality directories have paid listings and your website is subject to approval and they only accept high-quality websites. As long as you have top-notch content you'll be accepted in most of these directories.
Choose wisely the type of directories you're going to place your website on, forget about the directory submission services that will submit your website to more than 1000 directories for a few pennies, these are spam directories and they'll hurt your SEO efforts.
Use Long Keywords In Your Posts
Using short-tail keywords to optimize your web pages can hardly give any significant traffic to your website.
Most of the times when you search for a short keyword in Google you'll find high authority websites appear in the first page like Wikipedia and other authority sites that are difficult to outrank. Using only short keywords in your posts isn't a good SEO strategy especially for a new website.
You need to target long-term keywords because the traffic that comes from these keywords is more targeted and has less competition.
With long tail keywords, you won't spend a lot of money optimizing the pages; there are a lot of long-term keywords that can be ranked in the first page without even doing off page optimization like building backlinks or whatsoever. Target long tail keywords coupled together with short keywords and you'll notice an increase in your website traffic.
Promoting Content To Your Subscribers
If you're not building a list you're really not utilizing your traffic.
When someone visits your website and you didn't get their email address, chances are they might never return to your website but if you already have their email, you can always send an alert when you make a new post on your blog or when you have a new product or service to market to them.
Even if your rankings drop in search engines you can generate a lot of traffic to from your email subscribers.
Collecting email addresses isn't a difficult process. Almost everyone can do it without any technical experience, with email service providers like AWeber you can set the process with ease and let it run on autopilot.
The best way to ensure a consistent flow of traffic to your website is by building a list because you fully control the subscribers and you can send them whatever you want at any time.
Guest Blogging
This is a must for new blogs and websites.
Guest blogging is nothing other than utilizing other bloggers' traffic that has already established themselves and have massive followers. These bloggers have been blogging for many years and have huge audiences daily to their blog, whenever they make posts people are on the run to read what they offer and will share their content on various platforms.
If you can find such bloggers and negotiate with them how they can promote your website or blog, it will really increase your traffic and authority because your website is now recommended by an expert who is well known.
Since you now understand the benefit of using authority blogs to promote your website, how do you convince authority bloggers to promote your website or services?
The most popular and effective way of doing is to offer free content in an exchange for providing a link back to your website, you need to write a valuable content and then contact the blog owner through an email and tell them your offer.
Valuable content isn't enough, you have to make sure your website has the best information, and some bloggers will still reject your offer unless you'll pay them in addition to the free content.
Accepting your offer is numbers game, some will accept your guest post while a lot won't even reply to your request. Don't give up, keep making contacts and you surely find a winner.
Here's a great strategy by Brian Dean, the Founder of Backlinko. It's called the "Guestographics".
Easy Ways You Can Use To Attract More Traffic To Your Website
No matter how much you invest in building your website, if it doesn't receive any traffic it's worthless in the real world. If you're selling the website, the design will not be considered, the amount of traffic it receives is what determines the value of any website.
We all know that setting up a website isn't a big deal these days, one can even start with free templates and blog designs. The real deal is when it comes to promoting the website and most online businesses aren't successful because they fail to drive traffic to their website.
Website traffic is what gives you customers or sales. If you won't have enough traffic you will soon be out of business.
Honestly speaking there is no free traffic, you're either going to pay it with your time or with your money, it's up to you to decide on what you want to invest.
The paid traffic providers spend their time to optimize their pages in the search engines and in return they sell that traffic to webmasters.
If you have SEO skills and can spend the time to promote your web pages, and you'll get free traffic to your website. Let us now see how you can increase your website traffic.
Content Is King
Before mentioning anything I must say that content is everything. The phrase "content is king" isn't new but most webmasters or bloggers don't take it seriously.
The amount of traffic you'll receive is directly proportional to the quality of content that's on your website. Content doesn't only mean articles, it could be videos, PDF materials, online courses, even if you're selling something on your website you have to make sure that it's a good product and if not, nobody will make another purchase after buying the first product.
You should understand that value comes before anything in this world. If people can find value in whatever you're giving them, they'll certainly give you whatever you want them to, it could be an email address, phone number, money or referrals.
Before anything else try to give your readers the best information they could ever get online and you'll see how they can help you promote your website absolutely free without even asking them to do so.
Don't play around with the type of content you're posting on your websites and blogs. If you want to add the best content on your website you know it's not going to be done within a few minutes, the most successful bloggers in any niche spend their entire day trying to research for a single blog post and they know that in the end, it's worth it because for many years to come they'll benefit from that post. You should do the same by researching your topic so that you can come up with the best content.
Use Social Media

If you want to engage with your audience and increase your website traffic you must participate on social media platforms.
Research shows that more than 60% of successful websites link to social media profile on their websites, as long as you spend time engaging with users on social media, increasing your website traffic is guaranteed. You should start with the big giant "Facebook", start interacting with pages that are similar to your niche and participate in various groups with massive audiences and in a short time, you'll start noticing an increase in traffic for your website.
You should start using one social media at a time. When you're successful with one platform and you understand how things work for you, you can then move on to another site.
Some will advise you to sign up with all the major social sites at once so that you can share all your content to these sites. One thing they don't understand is that if you're just starting out you don't have followers and if you keep sharing your posts without engaging with users you will not getting any results. You'll be constantly sharing your content with nobody, that's why as a rule of thumb "you should take one step at a time".
Build A Mobile Site
Having a mobile-optimized website is among the most trending topics among webmasters.
A mobile-optimized website is among the ranking factors when it comes to Google placements and yes Google does know whether your website is mobile optimized or not. Almost every designer now designs a website or blog so that it can be displayed well on desktop, tablets and any other mobile related device.
If you want to provide the best user engagement you need to create a separate mobile site for mobile users, we all know that some mobile searches exceed desktop searches.
With smartphones always getting better, users can do a lot of things with their phone just like they do with a PC. More than 50% of all local searches come from mobile phones, so why not create a separate mobile site that addresses the mobile market.
If you look at the most popular websites on the web like Wikipedia, Google, YouTube, Yahoo, Facebook, and Twitter, they all have a separate mobile site. Though most of them give the user the option to view the desktop version on their mobile if that's what they want.
Having a separate mobile site will drive more leads to your business and offer the best user experience for mobile users. You can give users the option to call you directly by just tapping the call button without the need to start copying your phone number.
Having a desktop and mobile version of your website is going to cost you more because you need more time to maintain both sites. If you post content to the desktop version you have to post to the mobile version too. The way you should arrange the menu on a desktop website is different from a mobile device, you have to do things differently.
You can host both websites on the same domain, you just need to create a sub-domain name where you'll upload your mobile site files and you're good to go.
Conclusion
You can increase your website traffic in many ways but these are some of the important ones, once utilized they'll yield good results.
If you liked this article, read my other Case Studies here.
And now I'd like to hear from you:
Do you have any questions?
Or maybe you have a cool tip that I didn't include here.
Either way, let me know by leaving a comment below right now!
- Advertisement -