- Advertisement -
Introduction
Never in a million years did I think that I will do a product launch. It all changed at the beginning of 2018.
I had so many projects I was working on that I had no time for all my money making methods.
I had to choose the ones that are more important to me, and decide what to do with the ones I left behind.
The promotion in my real-life job didn't make things easier.
Now when I'm running a large beverage retail company, I have less time for other stuff than ever.
For several years I'd been actively promoting stuff on Reddit.
It was active income, so whenever I didn't work, I had no income in that day. It is based on how Reddit works. Every post is only relevant 24-48 hours max.
It meant that every day I worked about 2 hours on this method alone. Sometimes even more.
Since I couldn't devote my time for this method, I decided to write down everything I know, and sell it to the public.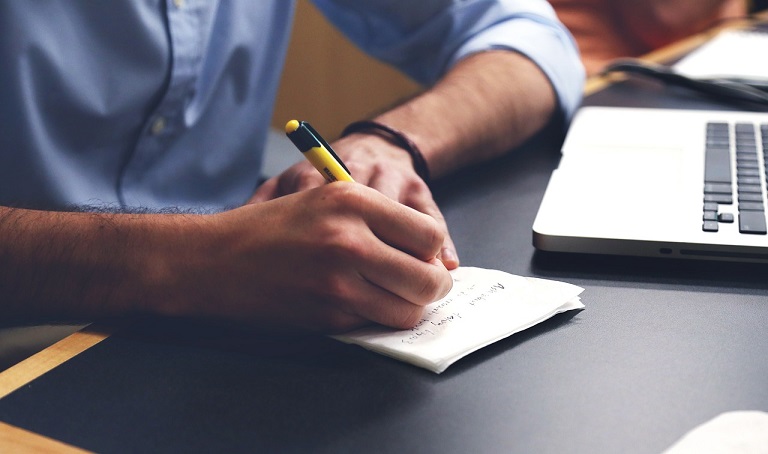 Launching a product (my first product launch)
Everything that you shouldn't do when launching a product, I did.
What I did wrong:
Didn't have a pre-launch page
Didn't have a JV page (it means no information for affiliates, swipes, bonuses)
Didn't have any known affiliates
I didn't contact any affiliates
I had no real plan
Had no idea how to make funnels
Not everything was bad. I did make sales after all.
What I did right:
I made a great product. It was fresh, no one knew about this method, and the reviews were great later on.
A great sales copy (in my opinion)
Had real income proof
I responded to every buyer / potential buyer. Gave my suggestions on how to improve their campaigns.
Found other great traffic sources, which aren't reliable of affiliates unlike Warrior Plus and JVZoo
I made 3 simple websites for the product. One for Forum traffic, one for Warrior Plus & one for JVZoo.
Warrior Plus
If I had to compare Warrior Plus & JVZoo, then adding a product to Warrior Plus was much easier. They don't have so many restrictions.
After adding the product to Warrior Plus I didn't notice much increase in traffic.
I received plenty of affiliate requests from low-quality affiliates. I had to decline most of them. Those who I accepted, didn't make any sales for me.
After two months I only sold 5 copies of my product through Warrior Plus. I deleted the website after a few months.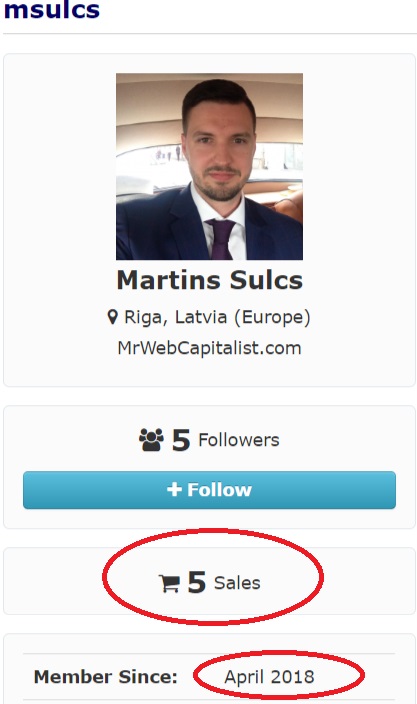 JVZoo
Adding a product to JVZoo was a real pain-in-the-ass. There are so many disclaimers and restrictions. I couldn't include income proof and there couldn't be anything about how much you can make with this method.
I had to promote the product as a method for getting traffic, not as a way of making money.
Launching the product on JVZoo was a disaster.
I sold 1 copy. I deleted the website after a few months.
Various forums
Since I'm into internet marketing for quite some time, I already was a member of several online marketing forums.
Most of the online marketing forums have marketplaces, so that's where I posted my product.
This was the first forum I posted on. I had the second best sales figures from this forum.
I made $3450 from this forum since I launched the product.
I launched the product on this marketplace on March 13.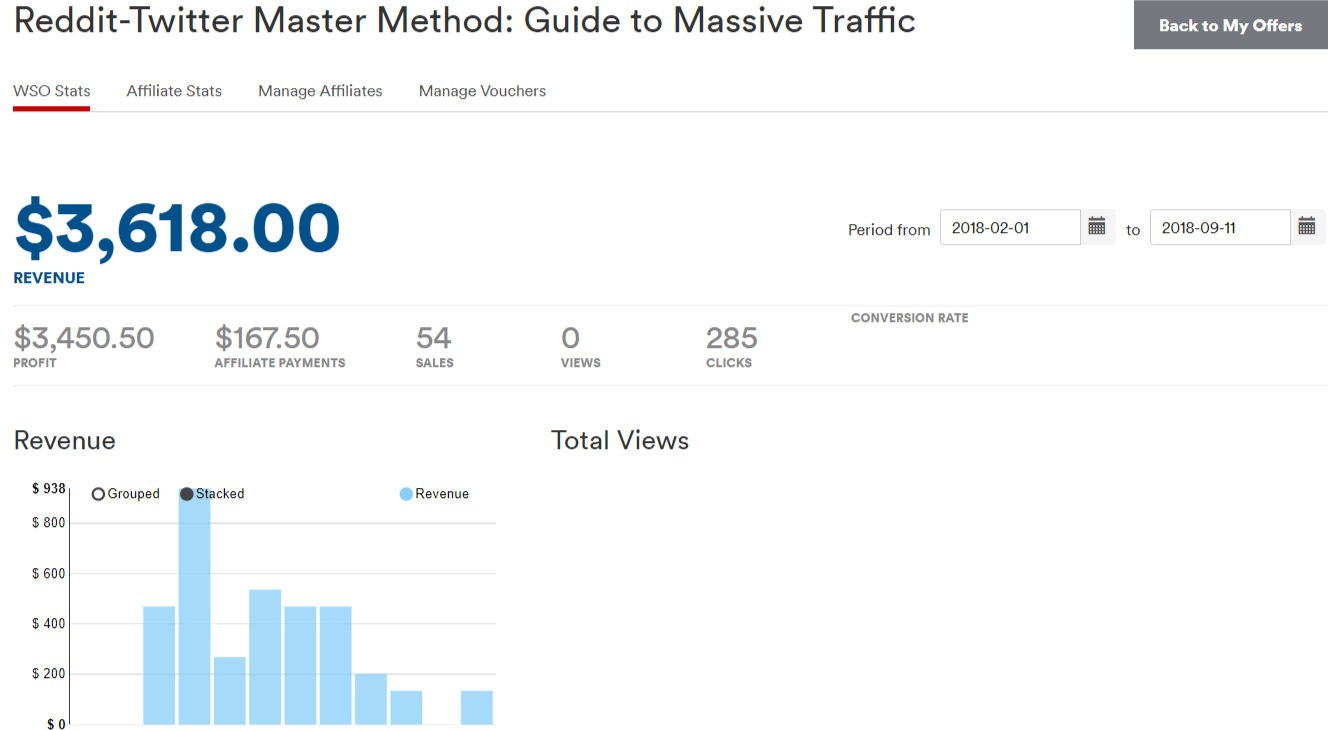 To be able to post on the marketplace you need to comply with the rules and pay a $19.95 one time fee. To have your post bumped to the top of the marketplace, you have to pay $19.95 every time.
Here are the stats of both of my product at the Warrior Special Offers marketplace. Offer Impressions show clicks on the product.

This is by far the best forum for selling. The number of sales exceeded my expectations by far.
To be able to post here you need to be a Jr.Vip member. To become one you need at least 100 posts, be a forum member at least 60 days and pay a $97 a yearly fee.
Once you're a Jr.Vip member, for each marketplace post you need to pay an additional $30.
Here are the traffic stats of my posts:

I launched the product on this marketplace on April 16. A month after Warrior Forum, because I wasn't sure that I'm going to make back my $130 investment.
My threads received 50K+ views for my main product and 10K+ views for my second product which was launched on June 5.
To have your thread featured on the marketplace you have to pay a one time fee of $40.
The response from this forum was good. Made plenty of sales.

The thread has received 6000+ views till now.
Other Forums
There were several other forums where I posted my product, but the sales were little to none. Those forums are Affiliate Fix, Digital Point, CPA Elites.
Second launch
After the great results of my first launch, I just had to launch another product. I did everything the same, without any affiliates.
I launched Amazon Affiliate Income Explosion in June. While it wasn't as successful, it was still a good launch.
I knew this product won't be as successful as the first one, because it is a very specific product. It can't be used all-year-long, and you need a website + amazon affiliate account.
In the PayPal report, both guides are mashed together.
Income report
So how much total have I earned to this day since I first launched my guide?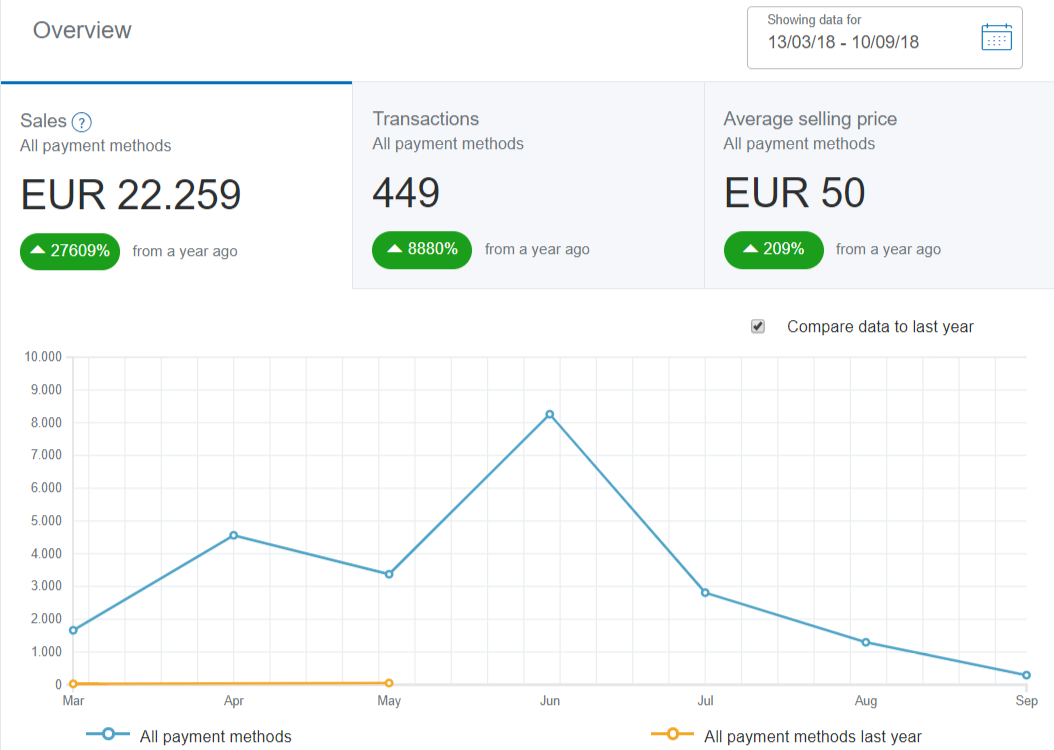 As you can see the report shows income since March 13, the day when I launched the product on Warrior Forum.
With both products I made 449 sales combined and the total revenue was 22 259 EUR, which is approximately $25 850 USD.
Conclusion
If you got a know-how for something you're sure not many people know about I would suggest creating and launching a product.
Always evaluate whether launching your method in public will saturate the method or not. Sometimes it's not worth giving away your know-how for some fast cash.
There is a whole industry of product launchers out there, that make tens of thousands of dollars every month by launching products. It's just insane.
My number one recommendation is:
If you're launching a product, do everything properly! Build an affiliate list, build a JV page, build a pre-launch page, build hype about the product before the launch.

Mr. Web capitalist
If you'll do these things, I'm 100% sure you'll have X times better results than I did.
Now It's Your Turn
I hope this story inspired you in some way.
If you liked this article, read my other Case Studies here.
And now I'd like to hear from you:
Do you have any questions about anything? Or maybe you have something to say about my ventures?
Either way, let me know by leaving a comment below right now!
- Advertisement -