- Advertisement -
Introduction
Have you ever dreamed about having able to see competitors ads on Facebook for free?
Well, now you can!
Facebook has implemented a new "spy tool" that does just that.
In this article, you'll learn why they implemented such a tool and how to use it properly for online marketing.
The Facebook View Ads Feature
The new feature lets you look at all the ads that any page is running.
If you've found a good competitor's Facebook page, you can see all the Facebook ads they're running.
So why would Facebook do anything like that?
Because of the Russians. Yup. Propaganda and everything.
After the 2016 U.S. presidential elections, people found out that the Russians ran ads against Hillary Clinton to influence the elections. People had to blame someone, and they blamed Facebook for making it possible.
Here's an example of one ad that the Russians targeted at people who are from New York: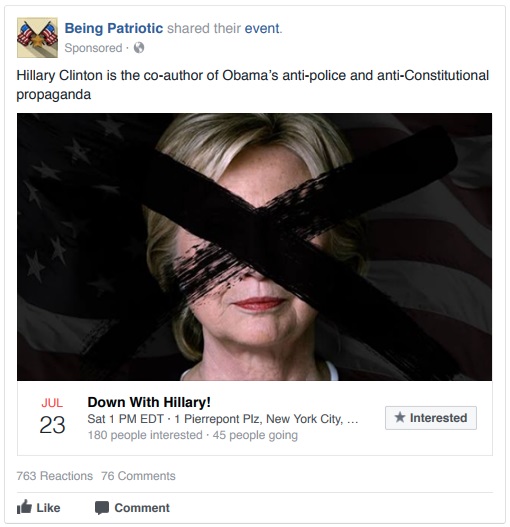 Because of this Facebook had to do something to regain trust, and to prevent this from happening in the future. Since Facebook employees can't physically control everything, they had to come up with a tool so that Facebook users can see where the ads are coming from and report them if there's anything suspicious.
Because of the U.S. presidential controversy, people are starting to realize how much damage be done with such information.
Because of the all bad press Facebook received, they want to protect themselves from such things to happen in the future.
By implementing this tool they are making Facebook more transparent for the user since privacy is one of the hottest topics right now.
So at this very moment you can see all the ads your competitors are running, and not only the competitors.
And it gets better. A lot better.
It seems like Facebook might let you see how much a company has spent on a particular ad, the total amount spent, the target audience and how many impressions the ad got.
It's still in the early phases for now.
For online marketers, these are the best news since ever! It means you can see all the ads your competitors are running, how do the ads look like and maybe in the future how much they're spending. With this method, you can see which of their ads are working the best.
And this all is FREE.
Alright, so how does it work and how to see the ads?
How To See A Facebook Page's Ads
This is what you do to use the Facebook View Ads Feature.
At the moment you can't see any ad spend numbers, but I hope that this feature will get added soon. Nonetheless, even now, this is a very powerful tool that only a few people know about.
Here's what you do:
Step #1: Go To Any Facebook Page and Click "Info and Ads"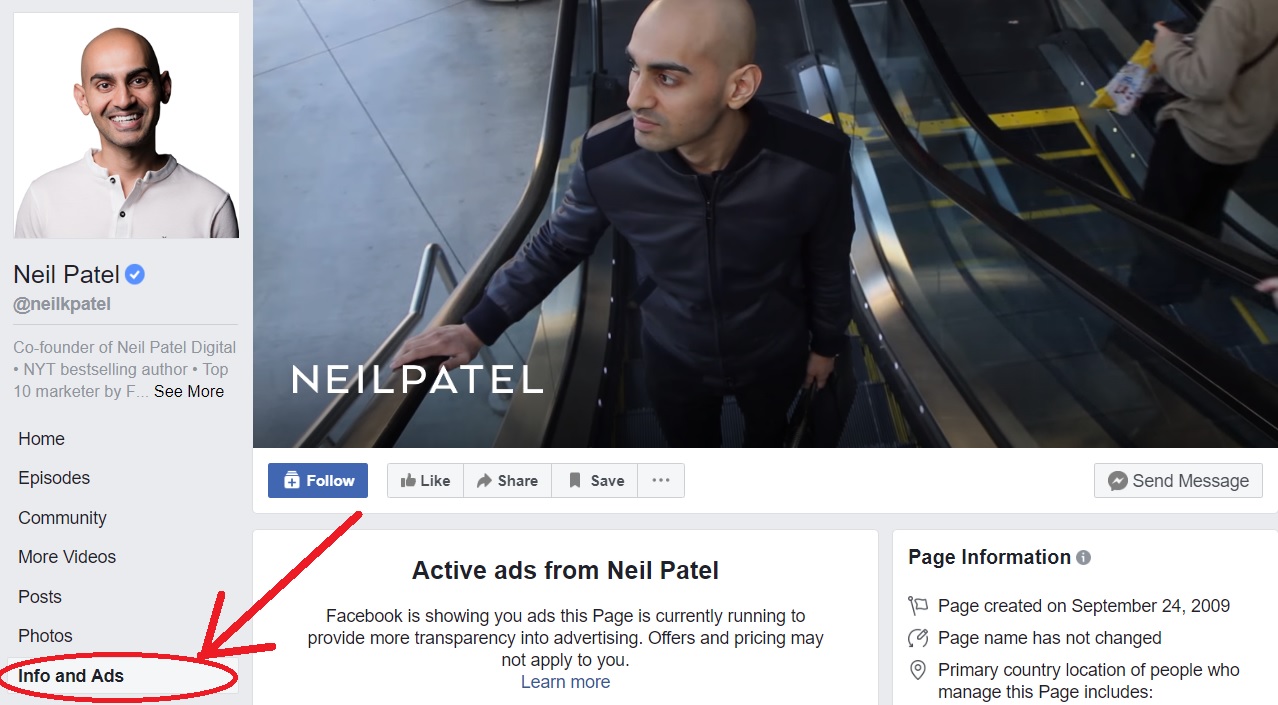 #2: Choose The Country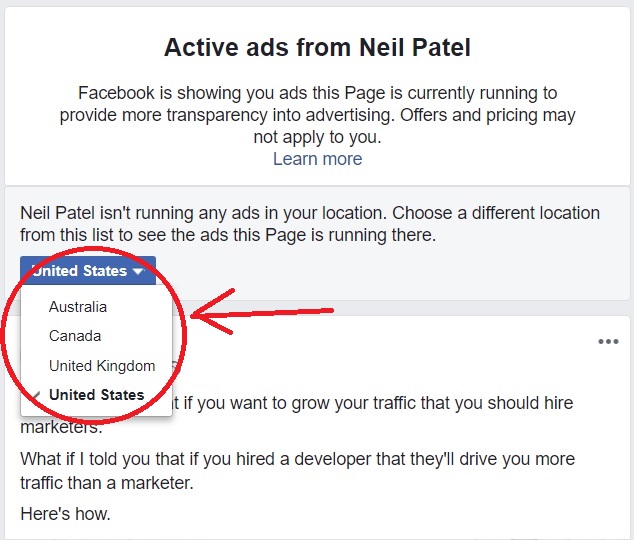 #3: Analyze The Ads
After you've chosen the country, you can see all the ads the page is currently running for the selected audience.
What can you do with this information?
You can see what are they promoting. Their copywriting. What images they're using. What landing pages are they linking to, etc.
By knowing this you can improve what your competitors are doing. Improve the headlines, images, copywriting, calls-to-action.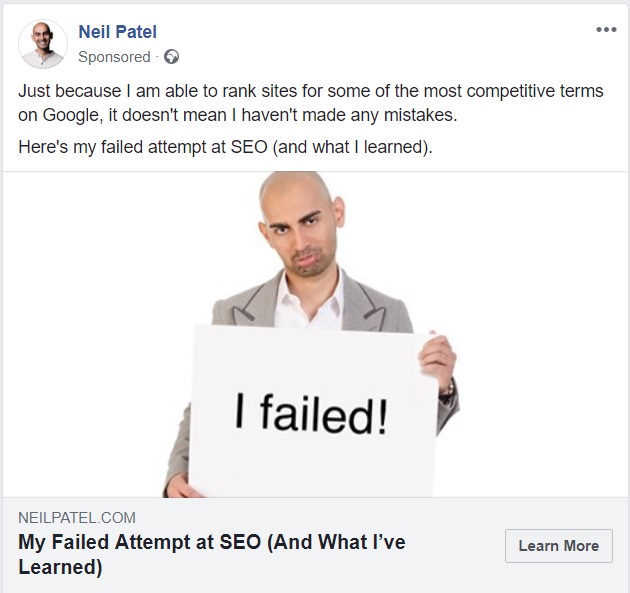 How to Use Facebook View Ads Feature Effectively
Even though the tool is still in the early stages, I'm sure they're going to improve it in the future.
To use this tool effectively you need to find your competitors on your own. This tool won't help you with that.
Once you've found all the pages you want to "Spy" on, you can check them once a week with this tool to see what they're promoting.
I suggest bookmarking all the pages you want to spy on.
I think that anyone who runs PPC campaigns will greatly benefit from this feature. It can turn a total noob into a good copywriter in a matter of minutes.
With this new feature, you can keep an eye out for new products your competition teases in ads tested on a small audience. Or new products in general.
This is great for eCommerce niche, where top sellers are looking for the next HOT product to sell.
By using Facebooks' Info and Ads feature, you can see your competition's offers, sales, and pricing.
Why is it good? People love a good deal. Make sure your competitors aren't offering something more tempting than you are. You can adjust the price of your products or services based on what you learn about your competitor's prices from the Facebook view ads feature.
Finally, use this new feature to identify the ad formats your competition uses.
Facebook offers many ad formats, such as Canvas ads, Dynamic ads, and Carousel ads. Some formats are better for promoting a certain product or service than others.
For example, Canvas ads are better for demonstrating products in use but Carousel ads are best for showcasing a series of products.
Sometimes it's hard to determine which format will deliver the best results. With the new tool, you can research which formats your competition is using and what works for them. With this information, you can choose the best ad format for your campaign.
What does Facebook say about this feature?
This is an excerpt from an FAQ page from Facebook.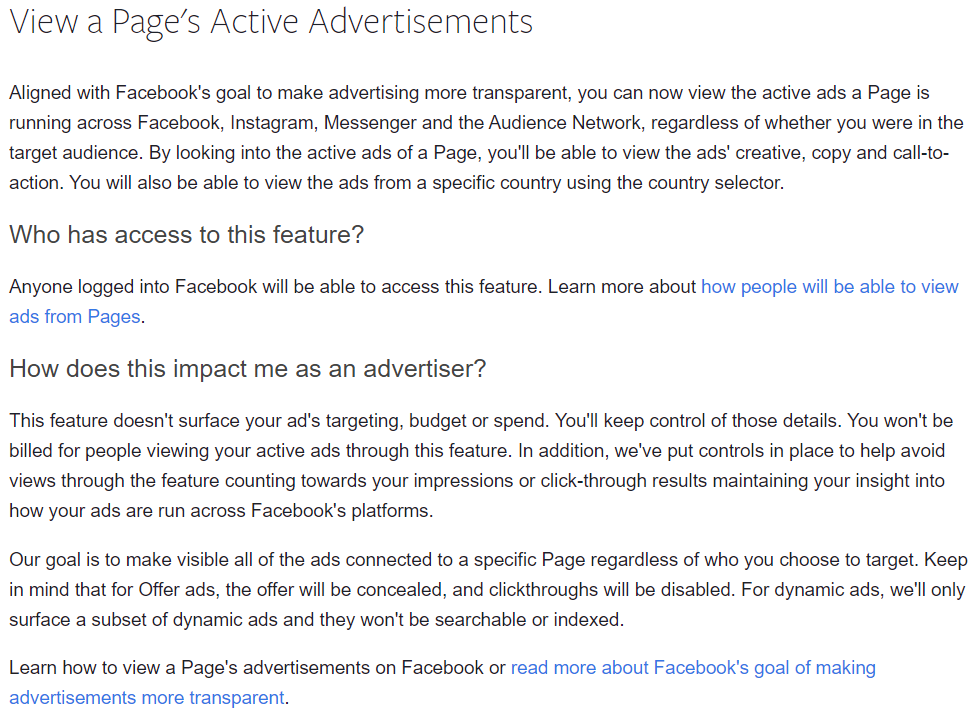 If you have a Facebook page yourself and you're running ads, don't worry. If someone is checking out your ads you won't get charged for that.
Conclusion
I hope that because of this mini-guide now you know what Facebook View Ads Feature is and how to use it properly.
If you liked this article, read my other Case Studies here.
And now I'd like to hear from you:
Do you have any questions about this process?
Or maybe you have a cool tip that I didn't include here.
Either way, let me know by leaving a comment below right now!
- Advertisement -