- Advertisement -
Overview
In this review, I'll go over Jeff Baxter's Agency Master Academy and cover everything that's inside and whether it's worth the money.
The course teaches people How to start their own social media marketing agency.
What's inside?
Inside the member's area, you're greeted by Jeff Baxter himself, who gives a brief video introduction on what to expect inside.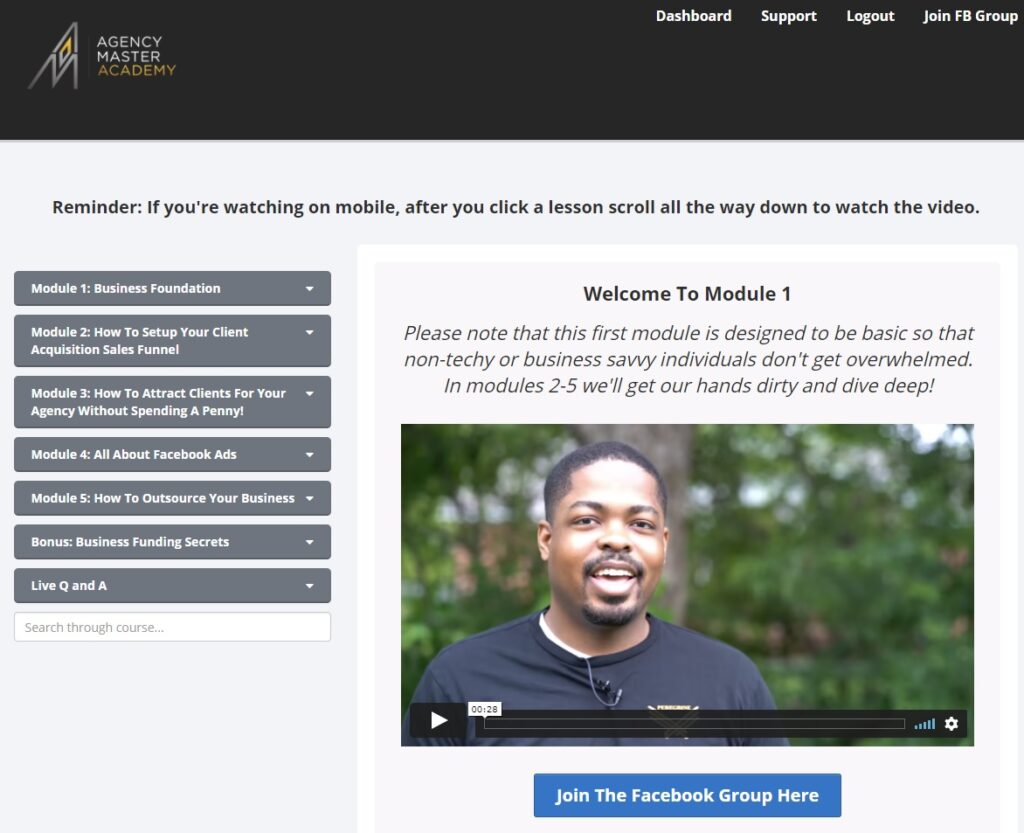 The course consists of 5 modules and a bonus:
Business Foundation
How to setup your client acquisition sales funnel
How to attract clients for your agency without spending a penny!
All about Facebook ads
How to outsource your business
Bonus: Business funding secrets
The first module goes through the process of registering the business and choosing the best Business structure and options where to register it.
There's also a video about social media marketing agencies and why they're a great business. It's a booming market and you can operate it from anywhere.
One of my favorite videos from the module is about Finding the niche, getting clients, and pricing the services. It's one of the most important factors to launch a successful agency.
In the next video, Jeff shows how to research fast the profitability of a niche. This little trick saves a lot of time when trying to determine whether to go after customers in a certain niche
And the module ends with the most useful video about the tools that you need to start a business.
The second module goes through the funnel strategy and how to get the highest client conversion rates.
This module has several long videos that go through the whole process of creating a landing page STEP-by-STEP. It basically mouth feeds you on what to do and where to click to create an amazing landing page.
The third module tackles the topic of getting clients for FREE.
Jeff Baxter shows how he generates leads from Linkedin and Facebook, by using his own twist. He also has added several downloadable outreach templates and a Lead generation Tracking sheet which are very useful.
At the end of the module, Jeff shows two live videos from real phone calls where he talks to cold leads. There's also a downloadable Call Script, that you can use yourself.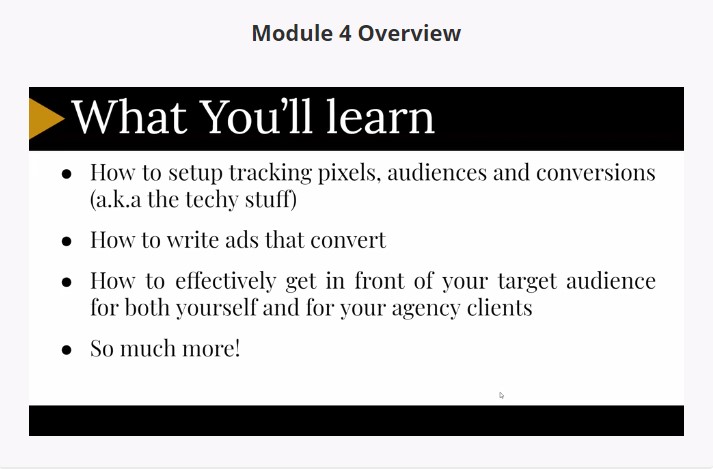 Module four is all about learning and perfecting Facebook Ads.
The module starts with how to set up Facebook ads – tracking pixels, audiences, conversions (a.k.a. the techy stuff).
Then Jeff talks about how to write ads that convert and how to effectively get in front of your audience for both yourself and your agency clients.
Module five talks about how to outsource the whole business, and get stuff done by others while your main concern is getting the clients.

An extra bonus that you get when joining the course is the Private Facebook Group, where Jeff actively mentors those who have acquired the course.
This is an invaluable perk that gets you to access straight to Jeff himself.
Conclusion
As a person who has seen countless "make money online" courses, I can safely say that Jeff Baxter's Agency Master Academy is without a doubt a must-buy course.
It has a very in-depth look at how to launch an agency, how to acquire customers & how to service them.
And the Private Facebook Group is an incredible bonus, that gets you access straight to Jeff Baxter himself, where you can ask him questions and see how other members are performing with their agencies.
The investment itself, is nothing compared to the knowledge and value that the course provides.
Members of the Agency Master Academy have created profitable businesses thanks to Jeff Baxter's course.
I rate this course 5 out of 5 Stars.

- Advertisement -