- Advertisement -
Increasing your website organic traffic is a challenging task these days. Almost every business wants to have an online presence and their first option is organic traffic.
If you want to increase website traffic from the search engines you have to learn how to use proper keywords.
Discovering profitable keywords isn't an easy task.
It's a tedious process if you want to do the task manually.
You want to make sure you have the best keywords that will drive traffic to your website and that traffic can be converted into leads and customers.
That's why everyone loves organic traffic, it's targeted and it's cheap. Not free though because you have to spend time and make a lot of research and create a lot of content on your website.
So the first step towards achieving higher rankings that will guarantee traffic is finding "golden keywords".
Once you find these profitable keywords it's like finding oil well.
In order to find these golden keywords, you have to use the right keyword tools.
There are thousands of them in the market, so much that you'll get confused to find the right one that will work for you.
After testing different keywords we decided in this article to present to you one of the best keyword tools you can use as a webmaster to discover the best performing keywords that will generate massive traffic to your website with ease.
This keyword tool is none other than Serpstat.
Serpstat isn't just an ordinary keyword tool you're used to. It's a collection of powerful SEO tools that will help your search engine marketing campaigns.
Serpstat can be used to check keyword rankings, research your competitors by discovering the keywords they're using on their pages so that you can steal them.
You can use the tool to analyze Backlinks, run a full audit of your website, find search terms that are related to your seed keywords and much more.
In this article review, we'll take a look at the powerful features of this tool and how you can benefit from it as a webmaster or SEO expert.
What is Serpstat?
Serpstat is a platform that combined all the important SEO tools any webmaster need in order to increase their search engine visibility.
The purpose of this amazing tool is to help online marketers to improve their SEO optimization in different areas such as content marketing, search analytics, Pay Per Click and much more.
With this tool, you can find out who is ranking for a particular keyword and you get recommendations on how to outrank your competitors with ease.
You'll discover which optimization strategy your competitors are using that allows them to rank for a particular keyword and you'll understand the level of difficulty of each keyword you choose to work with.
Overview Of Serpstat Features
Keyword Research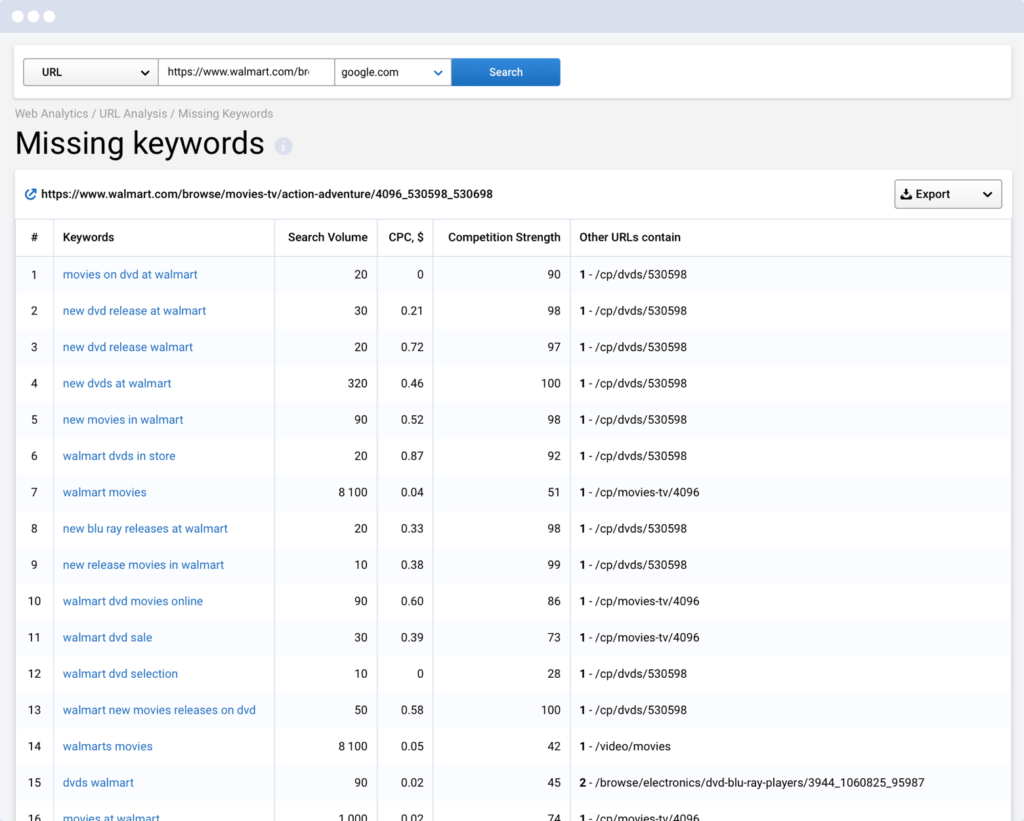 This is one of the most powerful features of Serpstat.
Serpstat makes it easier to find the right keywords that will resonate with your audiences.
Even as a beginner you can discover the search terms your competitors are using and you can steal them to get your own share of traffic from the search engines.
You'll be able to copy their strategies without the need to waste time testing and tweaking before coming up with the right strategy.
When you add a keyword Serpstat will give all the important data you need like search volume, level of competition, cost per click and more details.
If you're also looking for variations of your keyword you'll get a lot of recommendations that are profitable, in SEO terms they're called LSI, and they have to be used in your pages if you want your content to look natural instead of stuffing your content with only one single keyword or phrase.
Serpstat will give you long-tail keywords that contain at least 4 words, these are the best keywords to target as a webmaster.
Serpstat helps you find new keyword trends, these keywords are very profitable because most webmasters haven't discovered them, once you find them and include in your content you'll get traffic easily since there isn't much competition.
Search Analytics
This tool will give you a lot of insights regarding your competitors' URLs.
It will present to you in a graph who your biggest competitors are, then you can view the details separately and determine how to outrank them.
The tool can analyze traffic drop and visibility changes from your competitors.
Not only that you'll also be able to receive updates for the specified domains and URLs.
When there are changes you'll receive an email update letting you know what your competitors have done so that you can tighten up your optimization.
Advertizing Analysis
If your competitors rely heavily on Pay Per Click you can also view their campaigns.
Serpstat will show the keywords they're using to display their PPC ads.
You can discover their best performing keywords so that you can duplicate what has worked for them.
The tool will show you all their Pay Per Click Strategy including budget and everything.
If you can find their spending budget or what they're paying per click you can slightly increase a few cents to outrank their ads.
And also you don't need to waste a lot of time testing ads that will get approved and finding the right ads that will yield profit for you.
Content Marketing
Internet marketing, in general, is all about content, The best content wins the internet marketing race if promoted right.
If you want to rank your keywords you have to create unique and original content.
But most webmasters don't even understand what a unique is all about.
Serpstat will give you topic ideas and questions users are asking online so that you can offer a solution to their problems.
It will track social media to find the most trending content and then give you suggestions to create similar content that will drive more traffic to your website.
It also gives you traffic data on the best performing WebPages on your website so that you can increase marketing budget using paid traffic sources and you can also create similar content in that topic or niche.
Rank Tracking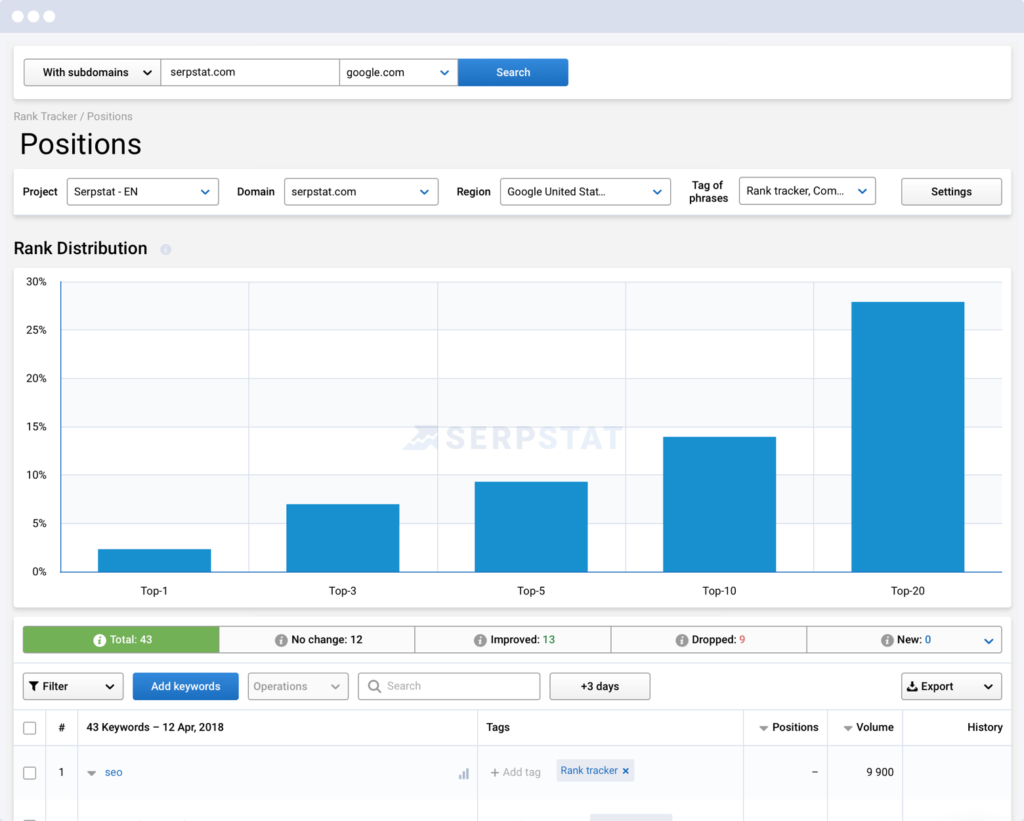 As you're optimizing your web pages for SEO you want to make sure that you're tracking your results.
One action can make your ranking drop.
With the help of SEO tools like Serpstat, you can track the ranking of your pages and whenever you performed any action and your website ranking drop, you can redo those changes to get your website ranking back to normal position.
You can as well track your competitor's rankings. As we've mentioned above you can set to get updates on what they're doing, so that when their ranking rise you can check the activities they've done and then duplicate their campaign.
On Page SEO Audit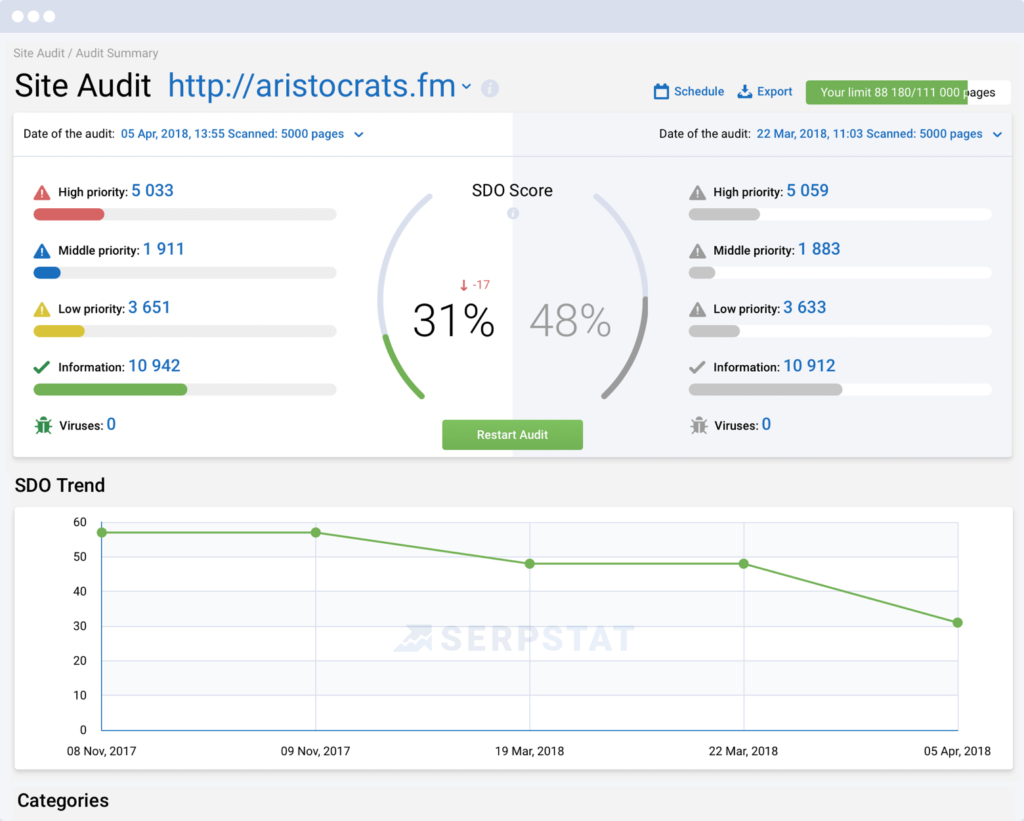 Nothing is more important than on-page optimization. You can rank a lot of keywords on the first page without building Backlinks provided you have done On-Page-SEO right.
Serpstat will identify On-Page SEO factors that are missing on any webpage and then make suggestions on how to fix those problems.
You'll find the basic flaws your website has such as incorrect headings, duplicate content, tags and other important missing factors that are hindering your rankings.
Good User Interface
You can find a lot of SEO tools out there with awesome features but sometimes it can be difficult to comprehend the output results and it's not easy to navigate to different features of the tool.
With Serpstat user interface it is easy to use and navigate to the different features you want to use and when your results are out you can understand the details easily.
Even a newbie can work with Serpstat without any prior experience.
The dashboard will let you view all the data you want at a glance without switching to different tabs.
There are graphs and diagrams that show the user insights of any website or URL.
You can view the entire SEO health of your website when compared against your competitors.
Backlink Analysis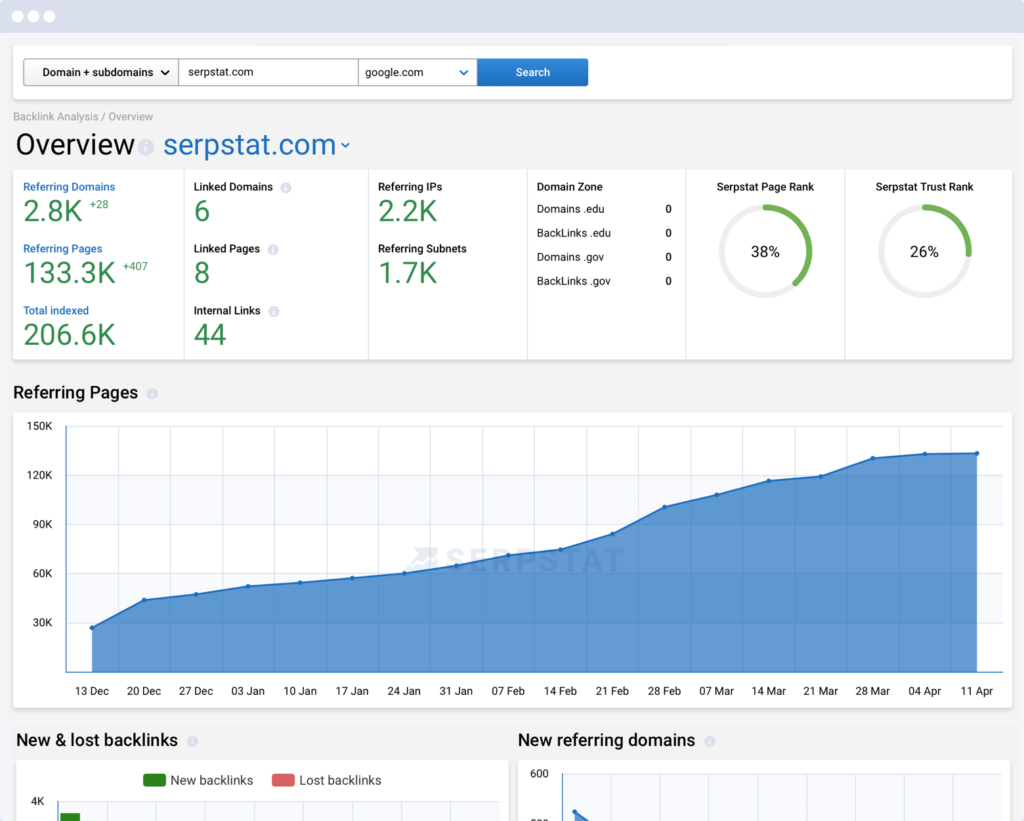 Nothing can skyrocket your website rankings than using the right Backlinks.
But you can't build the right Backlinks without the help of tools like Serpstat.
You have to search all the URLs you want to build links for your website.
If you place your website links on a poor website your site will end up like such website, that's at the bottom of search engines where no one visits.
API
If you're an app developer you'll definitely love API.
Serpstat offers API to web developers that want to create a custom app for their business or clients.
Most tools out there will charge a hefty fee for using API feature but with Serpstat it doesn't cost that much to use these service.
Serpstat API allows you to track position, daily rankings, competitor analysis and any research data available within the tool.
Pricing

Serpstat is an effective SEO tool that allows you to choose different Pricing plans.
The plan you choose depends on your requirements.
You have the option to choose from four different plans, namely: Plan A, Plan B, Plan C, and Plan D.
Plan A which is the cheapest costs $19/month. With this plan, you have access to 300 queries every day and you can track up to 200 keywords.
Plan B is the most popular plan because you get access to API and it cost $69/month.
While plan D, is the most expensive because it gives you more features than other plans, it costs $499/month.
This plan is ideal for SEO agencies that deal with multiple clients every single day.
This option gives the user up to 8000 queries every day and can track up to 5000 keywords.
Before you choose a plan you should visit the plan consultation page which is available from the official websites to get more details on how to choose the right plan for your business.
Pros Of Using Serpstat
It's all in one SEO solution for webmasters; instead of investing in separate tools to solve your SEO problems why not invest in just one tool that has all the features you're looking for.
It's easy to use; you don't need any technical experience to use Serpstat, with the simple tutorials available you can run the tool right away without any assistance.
They have excellent support; their support team is available if you have any problem running Serpstat. If you need any help on using the tool you should visit the support area and add your query.
It's one of the best keywords tools available; this is a tool that will reveal new keyword ideas with a click.
Cons Of Serpstat
Most users consider the tool too expensive; even Plan D, which is the most expensive plan has limitations. But still, when compared with the task this powerful tool can do one shouldn't blame the price at all.
It doesn't extract all Google ads; you can discover some ads your competitors are using but not all of them.
It doesn't search for video ads; if you want to discover Video ads then sorry to say you're not getting anything, we're hoping to get this feature in the upcoming versions.
Keyword difficulty isn't accurate; I think this is a flaw that will be found in any keyword tool out there. Google itself doesn't display accurate search data for keywords, it's just an estimate and all these tools use Google as their source of data. So everything is an estimate not an exact measure and search trend behavior changes every month. The important thing is to get keywords that will generate traffic and this tool does that.
You won't get much data on low traffic keywords; this is another downside of Serpstat, but who needs a keyword that no one is searching for? I guess not you! If you're looking for data on keywords with very low search volume then you might get disappointed with this tool.
Conclusion
To best honest, every digital marketer should own this great SEO tool. You don't need to invest in the most expensive plan which costs $299/Month.
You can enroll with the cheapest plan, that's Plan A which costs $19/Month to test the tool.
I believe when you check out the tool you'll realize it's worth every penny you have invested.
So my take is to try the tool to explore its features, and the best part is there is a free trial which comes in 2 ways; as a registered user and a non-registered user.
As a non-registered user, you're allowed to make 10 queries a day and you'll get only 10 results per report.
When you sign up with your email you get upgraded to 30 queries a day and 10 results per report.
Don't wait, give Serpstat a try and you'll love it!
- Advertisement -