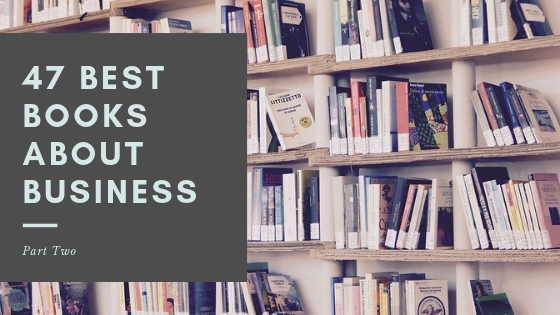 This is the second part of Best books about business that you should read in 2019. If you missed the first part, then read it here.
Every now and then I get the blues and I want to give up. In times like these, I want to get inspired fast. That's where books come in. I get so inspired by successful entrepreneurs, that I get back on my feet instantly with a new excitement and new ideas.
I strongly suggest you read at least one autobiography of any successful business icon. I assure you, that you will be inspired!
This article is divided into 3 parts.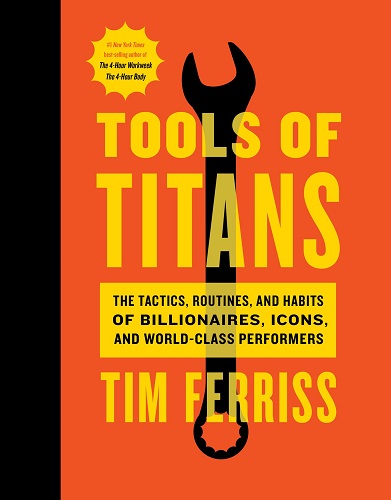 If you want to succeed as an entrepreneur you need the right tools that will help you in your journey. Before Timothy Ferriss put together this book he interviewed over 200 top world-class performers to understand what exactly made the icons great. He didn't limit his research to business, he also made research on celebrities, athletes, and many other icons from different industries.
Tools of Titans contains life lessons from successful entrepreneurs and high performers in different professions. Each of these icons share different tips and strategies that can help anyone achieve success.
The author shares what these icons do the first thing in the morning, he shares the mourning routines for the first 60 minutes of waking up each morning, the type of workout they do and the reason behind it.
They share the type books they've read that lead them to success and what do they identify as the biggest time wasters for a newbie who is starting out and much more valuable advice is shared in this book.
Tim Ferris said he only shares ideas that are proven to work and which have been used by him. He applied these principles in some part of his life and has found them helpful. These philosophies have helped him go through high stakes negotiations and also conduct large business dealings successfully. The lessons he shared have earned him millions of dollars in deals and he has learned to save a lot of time along the way.
The ideas shared in the book have saved his life and now he wants to share it with his followers and that's why he compiled them into a book. He said it changed his life and he wants the same for his readers.
If there is something that will make you succeed really fast as an entrepreneur, it's finding the right mentor. In this book, you got 100s of mentors that can lift you up to the next level with their ideas that make them be at the top in their field.
You'll learn a lot on how to deal with your own fears and how to make the right decisions for your business or career. You'll learn how to leave your comfort zone in order to achieve greatness in your life and to eliminate any distraction that's stopping you from reaching your goals. These are just a few things included. What you'll learn in this book will really make a lot of positive changes in your life.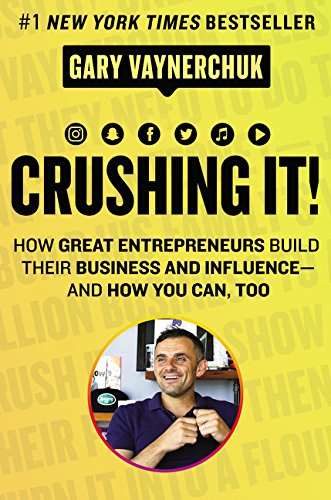 Crushing It comes from Gary Vaynerchuk who is a very well known entrepreneur. You might have known him for his motivational speeches on various social medial platforms. He is a 4 times New York Times bestselling author.
Gary has put together a lot of lessons in this amazing book that will inspire a lot of entrepreneurs who want to be successful. Gary has done a lot of research on different successful entrepreneurs who had the passion to follow their dreams.
This book will help you to create extraordinary brands. You will learn how to operate a successful business right from scratch without the need to make repetitive mistakes which most entrepreneurs make.
Crushing It was published in 2009 and the author's main message to the readers is to understand that personal brand is really important if you want to achieve entrepreneurship success. He cites a lot of examples to support his claims.
He has shared principles that no longer work and there are some that are proven to work even in the future. He shares a lot of stories from successful entrepreneurs all over the world that can help inspire new entrepreneurs in their journey.
Gary went ahead to explain how social media platforms can make an impact on entrepreneurs and that most of the successful business leaders we have today rely on social media to build their brands. Not only that, you need to do whatever it takes to pursue your dreams. Of course you're going to face some challenges but in the end, your efforts are going to pay off. These are some of the few things this book is talking about.
If you're ready to implement the strategies mentioned in this book you'll definitely achieve great success in your career.
Gary then explains how each of the major social media sites we have can make an impact in your business. He dissects each of the social media platforms and how they can be utilized.
Whether you're a small local business owner or a big venture business you have to build a loyal audience on these platforms because every successful business is profiting a lot from these sites.
The overall message Gary want his readers to understand is that you're the only one who is responsible for building your dream life, whether it's business or building a happy relationship. You need to believe in yourself and put all the effort required to achieve your dreams.
This is a book you don't want to skip as an entrepreneur.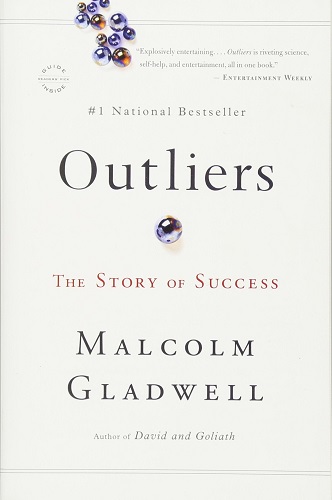 Outliers is another valuable book that has to be included in this list because the book explains clearly why some people achieve a successful and happy life while other people are still struggling to meet their basic ends.
Malcolm Gladwell explains the important things and decisions one has to make in order to achieve their full potential. Malcolm Gladwell explains the different factors that differentiate between the successful and the unknown. He shares what successful people have in common right from computer programmers to geniuses who have made a lot of impact on this world.
He states that success isn't only about being smart or having a higher IQ, it's a matter of opportunity and consistent hard work.
In the first few chapters, Malcolm Gladwell explains some of the misconceptions people have about becoming successful in life. He states that the most important things when it comes to achieving success and as an entrepreneur, are that you should understand the basic concepts before starting your journey. Once you get things right everything will be easier, whatever type of business you want to build.
With this book, you'll understand the type of work ethic that is required in order to be successful. The author shares stories of Jewish immigrants who are in the business of making clothes become successful lawyers and they achieve a great success in their lives. He then moves ahead to explain how Asians became successful from rice padding to excelling at mathematics.
This is a book you'll enjoy reading as an entrepreneur because it's written in an engaging style and the message in it can be easily comprehended.
In this book Malcolm Gladwell doesn't only share his own ideas that made him successful, he also shares research conducted by other successful entrepreneurs.
The author is a very enthusiastic and charming storyteller. The way he explains his ideas without any rambling will make you go over the book multiple times.
He shares the story of one of the most famous computer programmers of all time, Bill Gates. He explains his journey right from the beginning and how he came up with the idea of programming. He tells us the story of Mr. Gates and his dedication towards learning programming. At just the age of 20, Bill Gates has spent over $10'000 learning how to program and that's why they're where they're right now. A strong work ethic is needed in order to achieve anything great in this world.
You'll drive a lot of inspiration from this book, so go ahead and read it.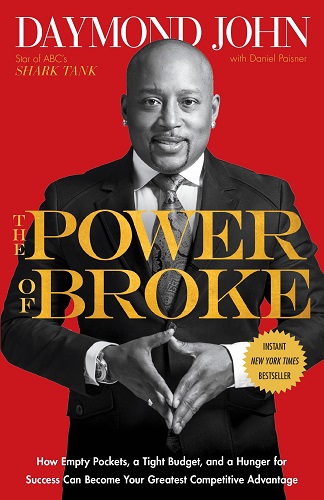 The Power of Broke is once a New York Times bestseller. The book was written by Daymond John and Daniel Paisner.
Daymond John is someone that believes in the power of broke because he started his career selling home sewn T-shirts on streets. He started his business with just $40. He decided that he has to figure out ways which he can utilize to promote his business and products on a budget. Considering his budget, things might seem impossible but Daymond still tried to build up his business. Eventually, he launched the FUBU brand which has a net worth of $6 billion dollars globally.
According to Daymond, he wouldn't have made it if he didn't start broke. With the drive to succeed he built a billion dollar product by starting with nothing.
This is what this book is going to teach you as an entrepreneur: most of the excuses you get from people nowadays for not starting a business is a lack of money or capital to start a business, but if you read this amazing book you'll understand that you can launch a successful business even if you're broke.
The authors explain how being broke can be an advantage to you as an entrepreneur. He believes that starting a business when you're broke will make you think creatively and bring out a lot of ideas out of your head. Daymond states that only when you're broke you'll learn how to use the available resources you have more efficiently and you'll be able to market your products imaginatively.
Being broke will force you to understand who you truly are. You'll be able to stay more focused on your goals and on finding solutions to the challenges you're facing.
You might not believe the idea of starting a business despite being broke but Daymond has already proven his ideas by providing case studies of successful entrepreneurs who've started their business on a shoe string budget and have achieved great success.
The book features Gigi Butler who was a cleaner from Nashville and built her cupcake empire. Despite being broke she went all the way to take her business to the next level.
If she can do it why can't you do it? It's just a matter of determination and focus.
Another great example he cited was Mo Bridges who started his clothing business with sewing machine of his grandmother, and in the end, things turned out to be good for him.
If you can get the idea of The Power of Broke, then you can succeed at any business in your life. This isn't a book you want to skip as an entrepreneur.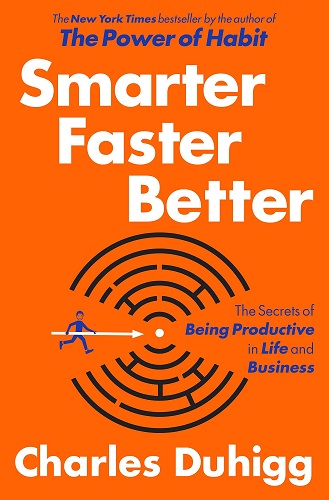 From the New York Times best seller and the author of the great book "The Power of Habit", Charles Duhigg comes with this new fascinating book "Smarter Faster Better".
A book that helps entrepreneurs to be more productive by using effective business management strategies.
Charles explores the science behind being more productive. He shares strategies you can apply in your life which will result in massive development.
The core of the book "Smarter Faster Better" focuses on 8 concepts of productivity. As an entrepreneur, you'll learn how to get motivated, make the right decisions and how to effectively set goals.
The author goes in depth explaining why some people and companies accomplish much more than the average human being. Charles derived his ideas from psychology, neuroscience and behavioral economics, not only that, but he also went ahead to interview successful CEOs and leaders from various industries so that he can understand how to produce more results effectively in any aspect of life.
He interviewed FBI agents and Airplane pilots, just to make sure that he comes up with a set of principles that are proven to work in any field. He draws his conclusions based on what hyper productive people and companies do to become extremely successful.
In this book, you'll learn how data scientists at Google conducted a 4 year research on how their best team works. Charles explains all the reasons behind every successful person or company. Smarter Faster Better is a book that explains why we do what we do. Once you'll figure out the answer to this question you'll realize that you can accomplish more out of your life.
You'll learn how to improve your life and business. By applying Charles strategies as an entrepreneur you'll lead a less stressful life, you'll be able to get more things done without the need to struggle much. He states that you can accomplish whatever you want without sacrificing the things you care in your life.
When you're done with this amazing book you'll learn to be smarter, faster and better just as the book title suggests.
Becoming a successful entrepreneur is all about being smart, getting the right things done and how to be fast because success loves speed. You'll learn how to be an effective and efficient entrepreneur that has the power to get more things done with a minimum effort.
Smarter Faster Better should be included in your reading list.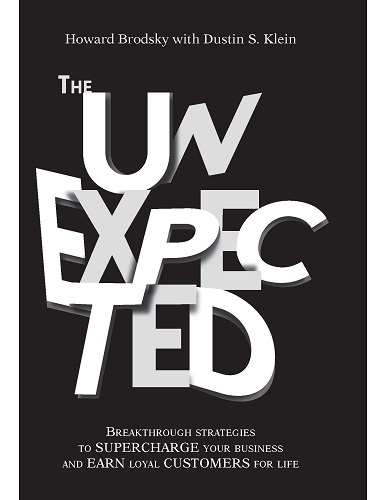 The Unexpected shows entrepreneurs how they can acquire loyal customers for their business without sweating for it.
The book states an amazing theory that will help you understand the relationship between your services and your customers. The Unexpected consists of 4 elements: memorable, profitable, distinguishable and viral.
This amazing book doesn't have any expensive strategies or tools. It shows the reader how to focus on creativity, innovation and training your team members so that they can produce more results for your company. It teaches you how to take an advantage of opportunities when they show themselves. The ideas in the book can be used by any organization or industry no matter how big or small.
This book is ideal for different professionals such as business owners, entrepreneurs, educational professionals, employees, senior executives or any manager of an organization.
The Unexpected was written by Howard Brodsky and other co-writers. Howard is a CEO at CCA Global Partners which is a $10 billion dollar company. He shares the ideas that made him to be one of the most successful CEOs. He's got a lot of experience when it comes to business and employee management and that's what he's teaching you in this book.
This is really going to be a life changing book for you as an entrepreneur if you want to learn how to put together a team of productive employees. It shows how to maintain a good relationship with your customers so that they stick to your products and services for a long term.
As a business owner, you already know the importance of good customer service, but the problem is that everyone has their own perception of the word "good". What might be considered a good customer service for someone else can turn out to be the worst service for your customers. Your aim shouldn't only be about providing "good service", it's rather about meeting the needs of your customers and also adding unexpected extra value to your services that will thrill your customers. This will get them hooked to your services for a long time.
If you're looking for ways to take your business to the next level, especially in terms of customer acquisition and want to hold your customers for a lifetime, The Unexpected is your best friend because it will show you how to get new customers without spending much. The author shows how to spend less and still acquire more customers for your business.
This is not a customer service book. It goes beyond that to help you understand how to generate more revenue from your customers.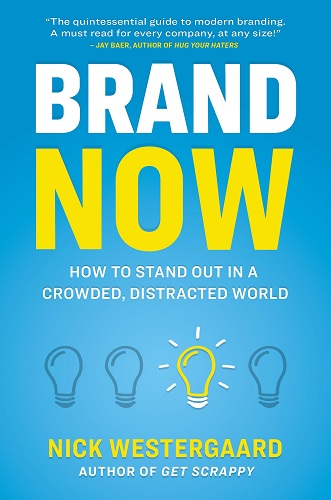 We're living in a crowded world with too much competition. This generation is facing a lot of distraction.
"Brand Now" by Nick Westergaard will prepare you to stand out from the crowd. You'll learn how to capture potential customer's attention. Everyone will tell you the best way to build and promote your brand is through social media and you might think that things are going to be easy, but still, most businesses fail to build their brand on social media.
You spend a lot of time making a lot of posts but you still fail to capture their attention. Most ads are not effective and you might face the challenge of connecting with the audience.
The first step towards building your business is to start with building your brand. Brand Now by Nick Westergaard was written to train entrepreneurs on how to build their brand from scratch. Nick Westergaard is an expert when it comes digital marketing and he has a lot of success on all the major social media platforms, and in this book, he is sharing his ideas that helped him build his brand.
Brand Now teaches you how to build a brand that resonates with your potential audience. You'll learn how to build a unique brand with a purpose so that you can benefit in a long term. By the help of this book, you'll be able to create a unique story that will help your brand stand out & you'll understand how to share your brand using engaging content that will appeal your followers.
As an entrepreneur, you probably know that the world is becoming louder and it's getting tougher to promote brand awareness both online and offline, but Brand Now comes with a unique approach that will help you build a successful brand easily.
The book focuses on the fundamentals of establishing your brand, whether you're promoting a big enterprise or you're just starting out as a small business owner or a freelancer. With the help of this book, you'll successfully create your own brand without sweating for it.
Nick Westergaard shows his readers how to take action. He explains how to break your big idea into simple ideas so that you're able to plan and promote your brand effectively, and the author has provided a lot of illustrations to make things easier for you to understand.
The book is divided into two parts, Brand-Now Dynamics and Brand-Now Toolkit.
The Dynamics section is like your meat and potatoes; in this section, Nick Westergaard explains the building blocks of building a brand such as structure, content, community, story, experience, and clarity.
While the second part focuses on explaining helpful resources that need to be applied in B2B branding.
You'll learn a lot about building brands in this book. If you haven't read it, go ahead and buy a copy!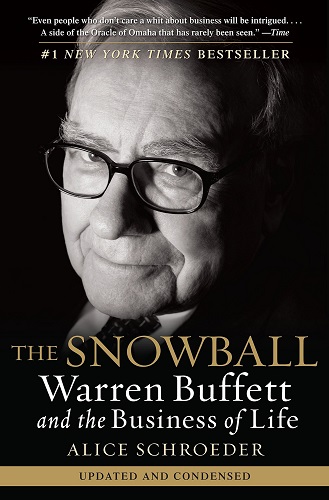 The Snowball is a book that reveals the complete biography of one of the famous investors we have in this generation. This legendary investor is no one other than Warren Buffett. Everyone knows the skills of Buffett when it comes making profitable investments that yield long-term profits.
The Snowball written by Alice Schroeder will walk you through the biography of Warren Buffett and how he builds a fortune of wealth throughout his lifetime.
Buffett himself has never written a book about his biography but he has allowed Alice Schroeder to share his story with the rest of the world. Buffett allowed Alice to explore his life struggles, opinions, wisdom, follies, and triumphs. She worked closely with Buffett to ensure that she got all the information needed for this book.
Inside this amazing book, she shares strategies that will help any entrepreneur that's looking for investment strategies that yield long-term profits.
The media have interviewed Buffett a lot but he has never shared his complete story. For a long time, he kept that information private from the world until he allowed this book to be written.
You'll learn how to build strong relationships with your business partners. Buffett mentions that his investors are his partners and there is the need to treat them well.
Warren Buffett is known worldwide for his motivational speeches, as a Board member, and CEO. Buffett was once the worlds richest man. By hearing this you know that there is a lot you can learn from this man as an entrepreneur.
Alice Schroeder is a gifted writer, well known for business acumen. Buffett loved her writings on finance. When she showed the interest of writing Buffett biography, he decided to corporate with her since he knew he might never write it himself.
For this book, he spent countless hours answering Alice Schroeder questions about his life philosophy. He directed Alice to his wife, friends, children, and close business associates. He even allowed her to open his files to take any information she wants.
When you'll read this book you'll understand that Buffett's legacy doesn't come from the accumulation of wealth, it comes from his philosophies and how his ideas helped and made an impact to the world.
Most successful entrepreneurs believe that Buffett is by far the most fascinating American success story for this generation.
This is a must-read book for entrepreneurs that want to learn about investing and also learn about the journey of Warren Buffett.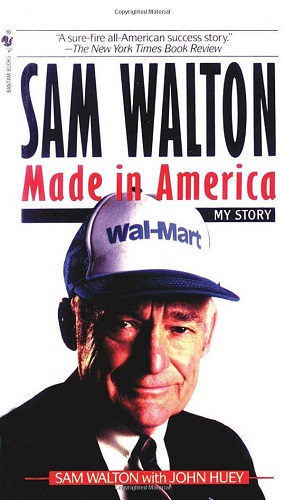 Are you one of those entrepreneurs that want to launch their business from scratch without the need of a silver spoon? If yes, then this is a must-read book for you.
Whether you're a beginner in the world of business or you want to scale your business to a higher level you shouldn't skip reading this great book called "Sam Walton: Made In America".
The book was written by Sam Walton himself and if you can do a little research about the man you'll know that he started from scratch and made his way to the top. In the book, he explains all his life experiences along with his entrepreneurship journey.
Sam Walton was an expert in the world of retailing. This is something he was passionate about and that's what made him great and successful. Sam Walton is the icon behind the creation of Walmart.
In this book, he shares how he built Walmart. He has said that if it was for the love of money he would have left Walmart at the time he made his first few Billions.
During his last days when he was struggling with cancer, his family invited a local Walmart manager to talk with Walton regarding his store's sales figures. Walton was successful because his ears were always open, he listened to his employees. He even visited a lot of stores of his competitors to learn more about retailing. He spent time in these stores and asked a lot of questions. Because of that, he came up with creative ways to build Walmart.
At the time of his death, Walmart was the leading retailer in the world and became the second largest corporation worldwide. They are the largest employer in the United States and Mexico.
The author explains that working around your weaknesses is a must if you want to succeed at anything in life. Sam Walton himself isn't a strong man. From an academic point of view he wasn't a gifted student, but with consistent hard work, he earned himself good grades.
In this book, Sam mentions that the only way you can learn is by doing. The only way to learn business is to experience it.
Sam worked hard to learn about sales. In fact, he started selling magazine subscriptions at the age of seven or eight. Right from college he hired a lot of people that helped him make serious money. He did what has to be done in order to meet his ends since he solely relied on himself to do that.
Don't neglect this book as an entrepreneur because it will help you a lot when it comes to retailing.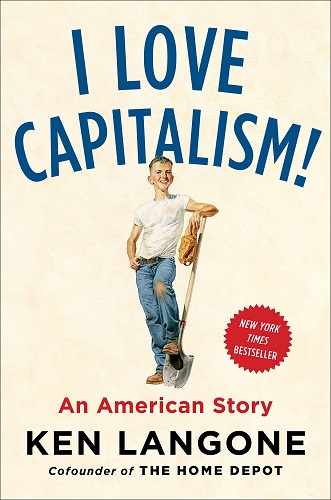 If you're an entrepreneur you definitely love the idea of capitalism and in this book called "I Love Capitalism", you'll learn a lot on how to build a sustainable business right from the beginning.
The author tells the story of a poor boy that went from nothing to being of the most successful entrepreneurs in America.
Ken Langone has built massive wealth that he never imagined he could get even in his wildest dreams. He is one of the most important icons behind corporate America for many decades.
He is among the co-founders of Home Depot. Was once a director of New York Stock Exchange, and is known for his philanthropic deeds throughout the United States, he donated $200 Million to NYU Langone Health.
In this book, he tells the story of his successful journey and how he achieved it. He explains that any hungry kid can make it in life. It doesn't matter what you have in your pocket right now, he believed every kid has the potential to rise to a higher level.
In this book "I Love Capitalism", Langone narrated a series of stories on how he struggled with life. He shares his educational stories, and how he entered Wall Street. He elaborates on how to understand the net worth of any business and how he applies his street smarts from eight to nine-figure deals. He also shares his legal and PR battle with one of the former NY governor, Eliot Spitzer.
This book is ideal for those that love capitalism and it will show them how it works and how they can expand their business to make more profit. Everyone has the right to dream big and everyone should do so. Capitalism helps individuals, that are born without a silver spoon in their mouth, to achieve great success. And that's exactly what Langone went through, he has repeatedly said: "I am the American dream".
Successful entrepreneurs recommend this book. It will help you a lot. "I Love Capitalism" is a joyful book to read, it's entertaining and authentic. One thing that will fascinate you is the great American story that he shares. This book is insightful and inspirational for anyone that wants to succeed.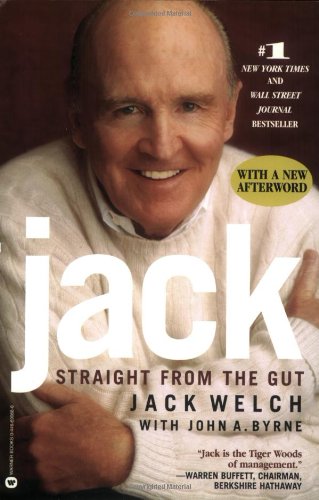 Straight from the Gut is a book written by Jack Welch and in this book Jack shares his biography.
He narrates the story of his life right from childhood to adulthood. He explains his childhood and the relationship between his parents. He then moves on to explore his study of life and his joining of GE. He fully describes his GE journey right from the beginning. He kept on getting promotions until he finally reached the position of CEO.
Most of the book focuses on his life as CEO, and for most readers, this is what they're the most interested in learning about. They want to know how he became a successful entrepreneur/manager so that they could follow his path.
You'll learn all the policies that helped him manage his company really good. He talks about the companies he bought and some of the programs he ran.
One of the important aspects you'll learn about this book is Jack's management style. This book shows entrepreneurs how to focus on finding good people and then educating them. You have to search the right managers that will run your business.
Straight from the Gut shows you how to manage your business effectively. It's an interesting book that you don't want to miss. When you'll finish reading the book you'll understand that you can achieve greatness no matter what. Jack shows that you need work really hard and with some luck you can definitely make it in business.
If you're the type that values his career and you believe that you can learn from someone who has been on the same road you want to travel then this book is the right option for you.
If you really want to succeed in business, not only you need a fancy website, you also have to possess the guts.
The book "Straight from the Gut" has earned a lot of positive reviews from Amazon and other kindle stores. Don't hesitate on reading it because it will help a lot when it comes to business management.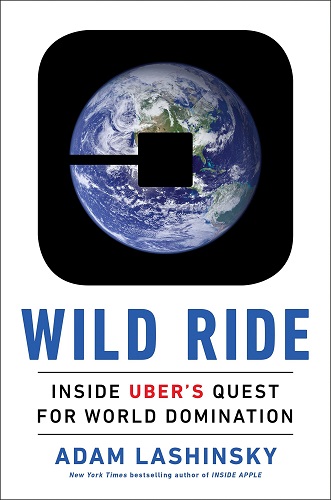 The next book on the list is the Wild Ride which is written by Adam Lashinsky.
This book shows entrepreneurs how to explore themselves into the world of opportunities. It's the first book that goes in-depth into the Uber's global empire.
Adam Lashinsky is known as the bestselling author of Inside Apple. In this book, he went ahead to trace the origins of Kalanick's ambitions and he tries to explore more on Uber's murky start-ups. He explains how they grow so rapidly and how they expand their business in different industries.
Adam Lashinsky has done great work by putting this book together. He wrote the book based on some of the interviews with Kalanick and a lot of other powerful sources that shared their own details regarding Uber's power struggles, both internal and external.
Adam himself was once an Uber driver and he knows what it feels like to be an Uber driver, that's why he teamed up with a lot of powerful people to reveal the secrets behind Uber business.
Wild ride is the first of its kind to explain how Uber became a giant today and how they're going to conquer for many years to come. As an entrepreneur, even if you don't want to involve yourself in Uber business, there are a lot of lessons you can learn in this book.
You'll learn how to start a new business venture and take it to the next level. Uber has now built-up over two million drivers on their platform, they operate in over 700 cities and their revenue is growing rapidly and all this happened within 7 years.
Most entrepreneurs don't give the book much attention but it deserves more than that. It's very informational and a well timed and related book for entrepreneurs of this generation. Uber's story is a different story, but Lashinsky has gone in-depth into the real story to reveal how Kalanick build Uber right from the beginning.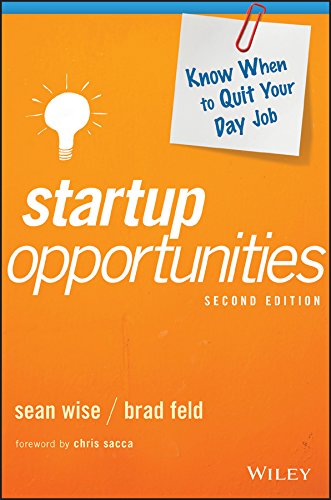 If you're a new entrepreneur you're aware of how a lot of businesses fail every year. It's been estimated that over five million businesses are launched every year but a large percentage don't survive for the first five years while the remaining hardly live to 10 years and only some ventures reach global success.
If you want to launch your business and you don't want to join the massive failure rate then this book is a must read for you. Sean Wise and other co-writers have written this book to help new start ups to evaluate their business idea and to help their business survive in this competitive world. You should definitely consider reading this book if you want to launch a new business venture.
Inside the book, the author emphasizes the importance of the 10x rule. You're bound to fail if your business doesn't follow the 10x rule system. It's better to keep up with your 9-5 job because you'll hardly succeed.
You'll learn how customer development is an important aspect of building your business. This will help you as an entrepreneur to explore more opportunities. You'll understand the opportunities that are worth your time and investments. You can't just go and invest in every idea you might have, you have to take a series of steps to determine whether it's worth your investment or not.
You'll learn a lot from the book because Sean and Brad have a lot of experience when it comes to launching startups. Together they've launched over 500 start ups in their career and have gone through over 30,000 pitches. They're one of the leading minds in North America when it comes to capital ventures, and in this book they share a lot of information that will help you as an entrepreneur.
Startup Opportunities is ideal for individuals that want to start their own business. Beginners without any business experience are struggling with maintaining their business and in this book everything is simplified. You'll learn how to step onto your failures and take your business to the next level.
There is surely much that can be learned from Sean. He is among the bestselling authors worldwide and is well known as an international speaker. He has published 5 books that are well known worldwide, and this book Startup Opportunities is one of his best publications, so my take is you should go ahead and read this awesome book.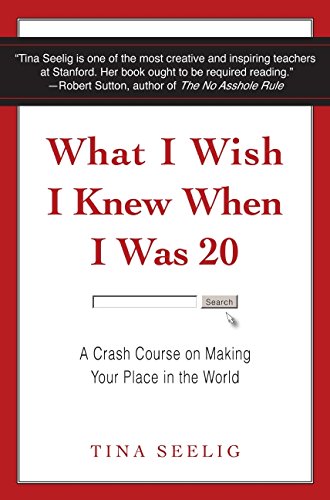 We all make a lot of mistakes in our teenage years and most people regret what they did during these days. People experience a lot of life changes when they're teens. Some would like to start their career early while some would like to stick to college first.
Teenage years is a scary time for most people because at that age you got a lot of choices to make that will make a great impact on your life in the feature. A lot of people believe they can live anyhow because they have a lot of time in the future that's waiting for them, yet they don't understand there is no guarantee for that, death can come at any moment. You'll reach a time when you'll realize you should have understood certain things right from the beginning, but it turns out to be too late. So as a teenager why don't you learn from those who have experienced these problems?
Inside this book called "What I Wish I Knew When I Was 20" you'll learn how to make major decisions in your teenage years that will help you develop and grow yourself so that you can succeed in any career, you want to pursue. Whether it's a business or a job you'll learn how to have a good start in life.
There is no path or exact map to success because it varies based on individual's capabilities and surrounding, but even starting out can be a huge challenge for most and that's exactly what "What I Wish I Knew When I Was 20" is going to show you.
Tina Seelig put all her effort in this book to guide her students who find it difficult to make a transition from their academic environment to the professional world. Inside this book she gives her students tangible skills and insights that will help them throughout their life. She shares a lot of inspiring advice and provocative stories that will help any teenager to go out there and conquer their dreams. Tina Seelig has a lot of experience in life because she is an entrepreneur, a teacher and a neuroscientist.
The book is filled with good examples on how to achieve amazing success. The author does not follow the old rules, she provides new set of models that will help anyone reach their highest potential. You'll learn how to overcome your failures and the book explains how your problems can be used as opportunities.
If you're a teenager or a young adult who wishes to succeed in life, then grab this book as fast as you can. The faster you'll learn answers to these questions, the faster you'll succeed, without failing as much.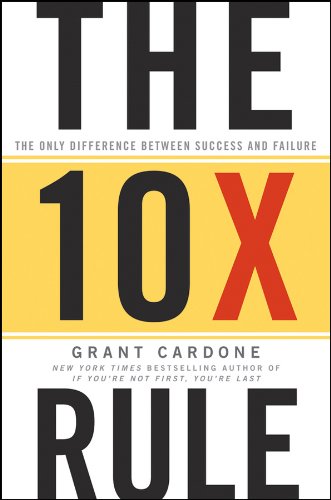 This is a really powerful book that should be included in your top 10 business books because it's a very powerful book from an influential entrepreneur.
The 10X Rule is an amazing book that will spark you on how to take massive action and achieve success in your entrepreneurship journey. Cardone have helped thousands of people reach their potential. One of his students went viral by showcasing his new Ferrari on Grant Cardone's website and the 10X rule logo on this brand new car.
No bragging here, if you really want to make serious money in your life, you should buy all Grant Cardone books, not only the "The 10X Rule". Grant Cardone is very popular in all the major social media platforms, especially YouTube where he shares the stories of his successful journey, he shares how he started from nothing and still achieved success.
By the age of 25, Cardone didn't have a penny and his life was filled with frustrations and downfalls, but after that he decided that it's time to take action. The man worked really hard and he has experienced a lot of ups and downs, but now the results can be seen. Cardone is involved in a lot of seminars including his own.
The core principle of The 10X Rule is about taking "massive action" if you really want to succeed in business. Yes, sometimes you have to be a workaholic to achieve your dreams. You have to work so hard that you forget it's time for launch or breakfast; you can't achieve great success without a consistent work ethic.
The 10X Rule tells you how to get started, what you need to do, and how to execute each idea you have in order to achieve the best result.
In this book you'll learn how to estimate the effort needed to achieve the results you want and then exceed that by doing better.
You'll learn how to break off the chains of a mediocre life. You'll understand the reasons why most people fail and then give up on the dream-life before even putting any effort while others succeed at a very high level.
The 10X Rule will show you the exact formula you need to follow in order to solve your life's problems. Instead of settling for the average life like most other books will show you, this book goes beyond that to tell you how to achieve massive success. Read this book and you won't regret it!
Conclusion
I hope this list has helped you to choose which book to read next.
Due to its length, I've divided this article into 3 parts.
Read part one and three here:
And now I'd like to hear from you:
Have you read any of these books?
Do you have any other great books to suggest that I haven't included in this list?
Let me know by leaving a comment below right now!