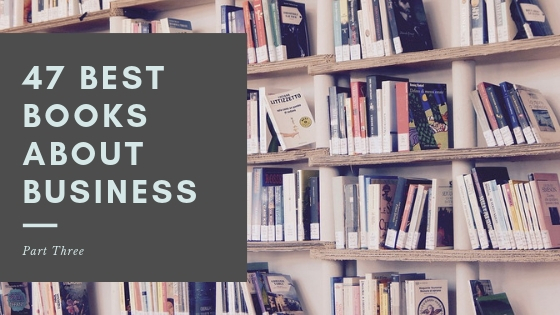 This is the last part of the 3-part series of the massive article "47 Best Books About Business To Read In 2019".
It took me several weeks to write this, so I hope you'll appreciate it.
This article is divided into 3 parts. Read the 1st and 2nd if you missed them!
31) Steve Jobs by Walter Isaacson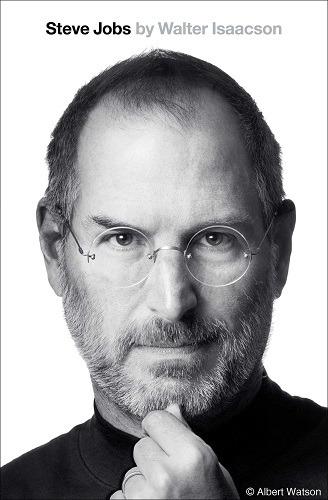 The name of the book itself tells you what this book is about. It's the complete biography of the most famous innovator the world has ever seen. When you heard the name Steve Jobs the first thing that comes to mind is "iPhone" or apple products in general.
Walter Isaacson did a great work by putting together the biography of Steve Jobs in one place. Walter Isaacson is good at writing biographies. He wrote the biographies of Albert Einstein and Benjamin Franklin. These powerful men changed our world, they changed history. Steve Jobs also is a part of history and that's why Walter decided to write his biography.
Steve Jobs didn't have any objections when Walter proposed to write a book about him. Some sources have said that Steve Jobs handpicked Walter to write his book and Jobs insisted that he won't interfere with Walton's work.
The book somehow contains a lot of pages. This is important because Steve Jobs is one of the most important creative people of this century and has gone through a lot in his life. There is the need to provide full details of this man's journey and how he changed the world.
Steve Jobs has cooperated with Walter in every possible way but he said he has no control over what's written in the book.
The book covers Steve Jobs personal and professional life. A lot of research was made before putting this book together. It took almost 2 years to finish researching for this book and a lot of interviews were made with Steve Jobs and other people associated with him like his associates, family, rivals, friends, enemies, and ex-girlfriends.
In this book, no stone is left unturned in order to reveal the real story of Steve Jobs. As an entrepreneur, especially, if you're the type that wants to step a foot into the tech industry, you need to learn from none other than Mr. Jobs.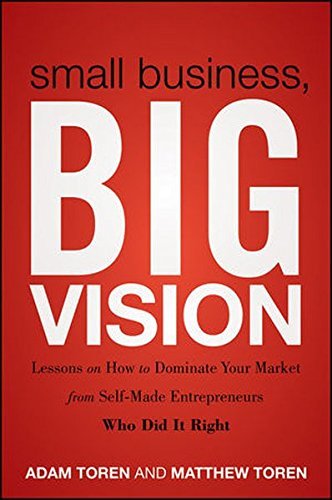 "Small Business, Big Vision" is the next book in this collection of books for entrepreneurs.
Majority of the greatest entrepreneurs started out with nothing and then went ahead to build a small business, and from there they took their business to the next level by working hard every single day.
It doesn't matter how small you start, all that matters is your vision, and if you have a great vision you can reach any level of success that you want. Your vision will keep you right on track even if things don't work out from the beginning. Your vision will keep you moving even in the toughest times.
In this book called "Small Business, Big Vision" by Matthew Toren you'll discover how to set big goals and vision for your business so that one day your business is among the greatest businesses that exist.
This book is full of valuable information for entrepreneurs who're starting their own business. It was written based on thoughts and experiences from the worlds most successful entrepreneurs.
Whether you're a new or an established entrepreneur you'll benefit a lot from reading this book. It teaches you as an entrepreneur how to apply what you've learned. Everything you'll learn in this book is cited with an example that shows you how to implement the strategies mentioned.
Whatever you're launching it all begins with a plan, and "Small Business, Big Vision" will show you how to set up an effective plan, right from creating a simple 1-page plan to building up an advisory board that will help you get better results in your business.
Some of the things covered include:
How to figure out whether you need investors or not. You'll learn how to find these investors that will invest in your idea. Sometimes you just can't start alone, you might need the help of investors in order to build up your business.
You'll learn the benefits and downsides of having employees. The author explains the best way to outsource your work and much more.
How to come up with an effective social media marketing plan that will help you market your product and services.
Matthew Toren explains how to build a profitable information empire and how to become an expert in your industry.
You will learn how to build the right mindset; acquire the proper skills that are needed to build your business.
The world of entrepreneurship is changing very fast. This book will teach how to survive the competition and achieve whatever you want.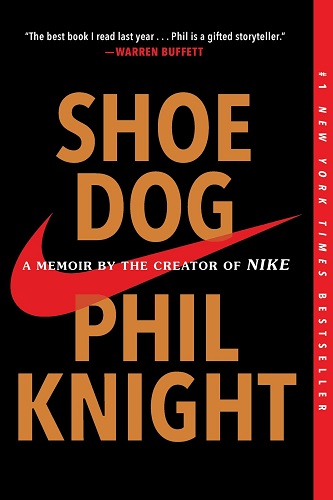 This is another great book from one of the most successful entrepreneurs on this planet, Phil Knight. Shoe Dog is a New York Times bestseller.
If you don't know him he was the founder one of the most noticeable brands in the world – Nike.
In this book, you'll learn about the early days of his company and how things went down for him before the world knew Nike as a brand. Nike is among the worlds most recognizable and profitable brands.
One of the most successful entrepreneurs that recommend this book is Bill Gates. He said the Shoe Dog was among his favorite books that he read in 2016. He called the book "an amazing tale".
The book is an honest reminder of what it takes to launch a successful business. It's a chaotic journey in which you'll make a lot of mistakes and a lot of sacrifices.
Phil Knight shares ideas and strategies that most CEOs aren't willing to try. You'll learn a lot about Phil Knight and how he started his business.
He shows exactly what it takes to start a business from scratch. Things are never good at the beginning, and throughout the process, there is always a challenge, but in that process, you become a better and more productive person.
Phil Knights journey began by borrowing $50 from his father with the aim of importing low-cost but high-quality running shoes from Japan. That was in 1963 when he was selling the shoes from the trunk of his car. In the very first year, he made a gross of $8000; currently, Nike has annual sales of $30 billion.
As an entrepreneur isn't this the type of man you want to learn from?
It doesn't matter whether you want to run a shoe business or not, you'll learn a lot from the journey of Phil Knight on how he builds Nike. He started with only $50 in 1963 and now he's making billions of dollars every single year.
Shoe Dog is a must-read book for entrepreneurs. You'll be motivated to get started even if you have only a few pennies in your pocket.
Just go and read this book and see what it has to offer you!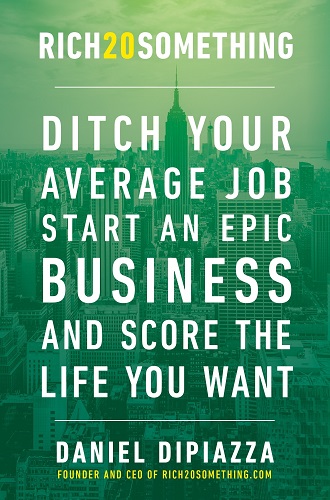 Every entrepreneur that decides to pursue the journey of entrepreneurship believes that he has some potential in him. He doesn't want to waste his life being a slave to the system, he wants to give something unique to the world.
In the book "Rich20Something" you'll learn how to bring out the potential in you and achieve the dreams you want in your life. The book will teach you how to start your own business and then take it to any level you want.
Daniel DiPiazza shares his life experiences in this book. He reveals how he was working at a low paying job in hopes that he'll reach the top. He realized that he doesn't want to waste his life like this, he is meant for something much bigger in life.
By the time he was 28, he launched multiple businesses with zero startup capital and they all turned out to be very profitable. He did this by identifying what he loves, started taking action and the results came quicker than he ever imagined.
As a young entrepreneur, you should definitely read the book. If you're stuck in between jobs that hardly pay off the bills this is the first book you want to pick up if you want to get out of your situation.
The author shows you how to use the set of skills you have and then turn them into a profitable business venture. This book will show you how to hustle and build up your own empire instead of wasting your life on traditional jobs.
The author provides step-by-step techniques that will help the reader to use the set of skills they've got and turn them into a business they're most passionate about.
If you're the type that wants to build an epic career then this is one of the books you should read. You'll learn how to make the most from your life right away.
It's time to say goodbye to low paying jobs and kick-start your own journey.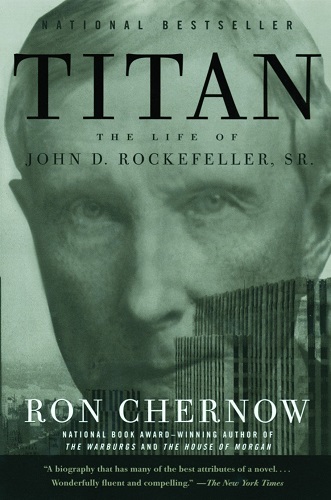 Titan is another interesting book to read as an entrepreneur. The book comes from the award-winning author who has written Alexander Hamilton. If you've read the book you know it's an interesting one.
Here he is again presenting the biography of one of the famous entrepreneurs that made a lot of fortune from the oil industry. The Titan focuses on the biography of John D. Rockefeller. Mr. Rockefeller was a philanthropist who helped a lot of universities and institutions. This man was considered a terror to his competition. No words can fully describe this man because of his accomplishments in business.
He is widely considered the wealthiest American of all time, and the richest person in modern history.
Titan is a good book and a magnificent biography; it's well balanced and elegantly written. This is so far the best book on the biography of Rockefeller. It's among the best American biographies we have with a brilliant riveting.
There are a lot of bad writings about this man, but exploring this book will allow anyone to truly understand the man. Many people thought that Rockefeller was a greedy man, but you can only judge the man after hearing his story. This is a balanced and honest story about Rockefeller. No one is saying the man didn't have a dark side, but by understanding his principles and ideologies you'll realize that a lot of things said about the man aren't true.
As an entrepreneur, you should learn about his business practices and how they can help you improve your own business. You'll learn a lot about the Standard Oil Company which has a negative reputation.
Titan is a good book about business that should be read by every entrepreneur. Despite the negative image Rockefeller has you should still consider reading this book because there are some valuable information that needs to be learned.
It only costs a few bucks out of your pocket to buy this book. Why don't you give it a try and see how it can help you?
As an entrepreneur, you have to read as much as you can so that you're well versed into the world of knowledge. I found this book awesome and that's why I added it into the reading list.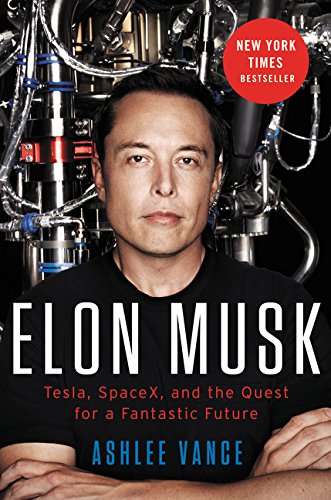 You don't want to miss this book as an entrepreneur!
Elon Musk is one of the most successful entrepreneurs that currently exist on this planet, and Elon is a man with the vision. He revolutionized the way we do things.
The book "Elon Musk: Tesla, SpaceX, and the Quest for a Fantastic Future" is a great book because it's a New York Times bestseller.
Amazon, Audible, NPR and Wall Street Journal called the book as one of the best books of the year. The book sold over 1.5 million copies within a very short period of time.
Elon Musk has struggled a lot by trying to build up two powerful companies, SpaceX and Tesla. These companies are always trembling but with the great vision and experience of Elon Musk, he always takes them to the next level.
Musk is an ambitious entrepreneur who believes that everyone can achieve their dreams, but only if you work really hard for it.
The book explores the life of Elon Musk and how he builds up his two most important companies, SpaceX and Tesla. The man is a workaholic who works even during weekends to take care of his business.
Musk is behind the creation of one of the most popular payment gateways "PayPal". Building PayPal (X.com before selling it) alone is an achievement to Elon Musk, but he decided to go ahead and build larger businesses.
Ashlee Vance tells the complete biography of Elon Musk right from childhood. She walks you through his first innovations – Zip2 and PayPal. Musk was raised in South Africa but made his way to the United States in order to build up the vision he had.
Ashlee did a lot of research and has interviewed Musk on a regular basis to gather all the information she needed, she also consulted most of his close associates during his career. Musk didn't interfere on writing the content of this book, he left Ashlee to add all that she wanted and the book turned out to be a great book, especially for entrepreneurs.
In the book, you'll learn how Elon Musk revolutionizes the solar energy industry, transportation industries, and the space flight. Because of his great achievements, some people try to compare Elon Must with the popular superhero in the Iron Man movie "Tony Stark", others compare him to Steve Jobs. He even got featured in a small cameo role in Iron Man 2.
He has faced a lot of challenges right from his upbringing. He had an abusive father and faced a lot of bullying, but still, he managed to strive. One thing is certain about Elon Musk, he has always been very creative. He sold his 1st video game when he was at the age of twelve.
If you want to see how the great icon was born, raised and how he changed the world, then this is a must-read book for you as an entrepreneur.
If you're going to make a list of top ten entrepreneurs of this generation, surely Elon Musk will make it into the list.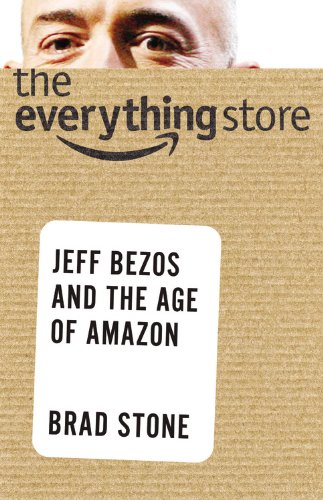 Who doesn't know Amazon.com? Unless you've been living under the rock you probably have heard about it.
Jeff Bezos might not be as popular as his online store, but in this book, you'll learn how this man set up a small website with the purpose of selling books through the mail and then went to become the world-leading retail store.
The great mind behind this business was none other than Jeff Bezos.
"The Everything Store: Jeff Bezos and the Age of Amazon" will walk you through the life of this visionary entrepreneur. Amazon started with selling books but Jeff Bezos knew in heart that he wants Amazon.com to be a universal store where you can find everything.
Bezos continued to work on his ambitions really hard and took Amazon to where it is today. Jeff Bezos is currently the richest man in the world. Every entrepreneur should definitely read this book because it has much to offer.
Jeff Bezos really stand out from the rest of the world; he is a man that's always searching for new markets and opportunities that will make life easier. Jeff Bezos is a private person when compared to other successful entrepreneurs like Mark Zuckerberg and Bill Gates. He is a simple man with a simple life but he has a great vision. He isn't the type that boasts about having wealth.
"The Everything Store: Jeff Bezos and the Age of Amazon" tells the story of the man and the company that revolutionized the way we do shopping. Amazon is a true life changer in the internet world.
The book was endorsed as the best book of the year by a lot of credible sources which include: Forbes, Washington Post, Gizmodo, Bloomberg, The Economist, and The New Republic.
The book doesn't only tell the history of Jeff Bezos and Amazon, it goes beyond that to tell you the future vision of this great venture.
Bezos has already set a project that will take Amazon to the next level – it is a space exploration project called Blue Origin. Billions of dollars have been invested in this project and it's going to change the space industry.
If you're in the business of selling or you're just getting started as an entrepreneur with a new idea, you have to read this book!
It all starts with a vision not tons of money. Once you understand this you can achieve a lot in your lifetime. Whether you buy or sell, this book will change your life for good.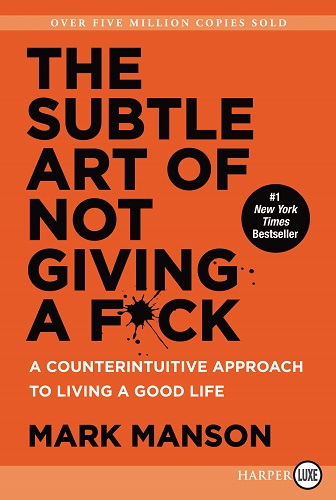 The next book I'm adding to the list is called the "The Subtle Art of Not Giving a F*ck". When you look at the book title itself you know that it will teach you on how to live life on your terms.
This book will help you find out exactly what you want in your life and how to achieve it. The author Mark Manson will guide you on how to work for your goals and achieve more without taking too much time. Manson believes in the idea that you can achieve what you want by not concerning or caring too much about anything.
Once you clear up your mind from trying to feel positive or exceptional and wanting to be happy all the time as well as eliminating the fear of failure, you'll feel better that way. In short, you'll learn how to control your emotions, in other words, you shouldn't be attached to the results.
In a traditional world, you're told that in order to live a better life you need to get more of everything, that's is to make more, own more and buy more, but Mark Manson says to hell with that.
The author isn't encouraging living the easy or comfortable life. Instead, he's telling individuals that want to build a good career to embrace working hard as if though it's a simple work. If you can't put in the hours to work for a sixty-hour work week, do lots of paperwork and long commutes, then you should forget about becoming a CEO.
If you cannot embrace failure to start over again, you cannot take risks, and cannot put insane hours working for your dream then forget about being an entrepreneur.
This journey isn't for the mediocre minds. Your success doesn't depend on what you enjoy doing, but on how you can tolerate suffering and keep moving on.
Manson showcases his life as an example in this book. He has struggled a lot in his life when he tried to be exceptional, he ended up being a drug addict. He realized that his problems aren't different from others. In a short time he did a come back to his life and began his journey as an entrepreneur and he achieved a lot in his journey.
He lives by the principle that improvement comes from thousands of tiny failures you'll face in your life and your magnitude of success will be proportional to the number of times you have failed at something.
You should really read this book if you want to have a strong work ethic and develop a good discipline that will help you achieve whatever you want in your life.
The book "The Subtle Art of Not Giving a F*ck" is truly a life changer. It will help you to develop the right mindset that's needed to conquer your dreams.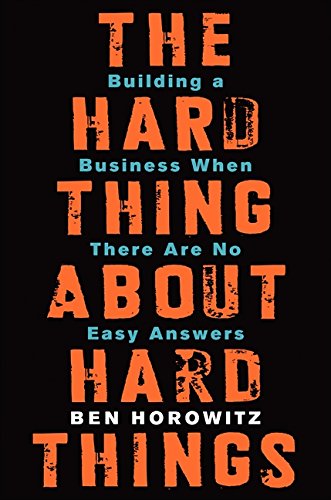 One of the setbacks people experience in doing things is they say "it's hard". What if you can understand the hard thing about things, wouldn't your life become easier?
Ben Horowitz put together this book called "The Hard Thing About Hard Things" to help you build a mindset that doesn't believe in the "it's hard mentality". If you can see simplicity in everything, you'll definitely achieve great things that will certainly change the world.
Ben offers his readers valuable information that will help them build and run a startup effectively. You'll learn how to manage the toughest problems that might arise in your business.
Most people believe that starting a business is a great way to start building their own career. They have the mentality that it's really easy, but when they step into the world of business they realize that things aren't easy.
If it would be that easy then why is it that more than 80% of businesses fail within the very first 3 years? No matter how your business ideas seem to be easy to execute, it's not going to feel that way once you start experiencing the challenges that are involved.
In this book, Ben removes all that blocks and he teaches how to keep moving even in tough times. He shares the lessons he learned from running his own business, right from eliminating negative friends to poaching competitors. He shows you how to build and maintain the CEO mentality and when to cash in.
If your business is about to fall and all your investors are running away, you should consider reading "The Hard Thing About Hard Things". This is the best time when you need an advice from successful people that will make you stronger. During tough times most of your friends and trusted advisers will tell you to give up. Whatever it is that you started "you should never quit" and "you should never listen to a quitter". Before quitting at anything you should remember the reason why you started in the first place, remember your family and how it's going to impact them. You should get all the necessary tools and resources needed in order to rise up your business once again.
As an entrepreneur who is facing bad days it's not easy to keep up despite all the challenges you're facing, but by reading this book you'll understand that the difficulties you're facing are normal.
Grab yourself a copy of "The Hard Thing About Hard Things" and you'll learn a lot about facing your challenges.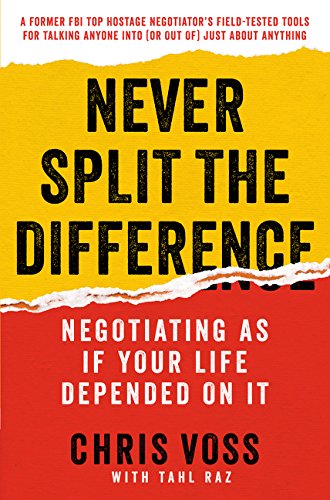 If you're an entrepreneur you'll be involved in a lot of buying and selling in your career and this book is the option for you to learn the art of negotiating.
The author of this book is a former FBI negotiator for international hostages. Imagine someone who can negotiate with the bad guys, what then can he do when it comes to business?
"Never Split the Difference" is a book you don't want to miss. Chris Voss will teach you how to negotiate whether at home or in the boardroom.
After spending some time in his policing career Chris decided to join the FBI to become an international negotiator. Throughout this journey, he has dealt with a lot of tough criminals and has achieved a lot. These criminals include terrorists and bank robbers. He didn't just become a normal hostage negotiator, he is the best at what he does.
"Never Split the Difference" shows you how to master high stake negotiations. You'll learn all the skills you need to persuade your business partners to give you or take whatever you want from them.
The author shares 9 principles that are proven to work in any business negotiations. You can use these strategies and counterintuitive tactics to become a professional when it comes to negotiations in either personal life or business.
Whatever you're into you have to be ready to make negotiations with people, this could be negotiating a salary or pay raise, buying a car, buying a home, renting and many more uncountable situations which you're going to face in your life.
Chris explains that kidnappers too are businessmen who're trying to get the best deal. He has a lot of experience in this field because he spent over two decades in the FBI mastering this art and he took executive negotiation course at Harvard in order to sharpen his skills.
He shares a lot of stories and examples in his FBI career that will help you understand his principles and strategies with ease. He shows you how to understand your opponent's emotions without being rude to the other parties that are involved.
You shouldn't miss this book because it has priceless information and it will make a huge difference in your entrepreneurship journey.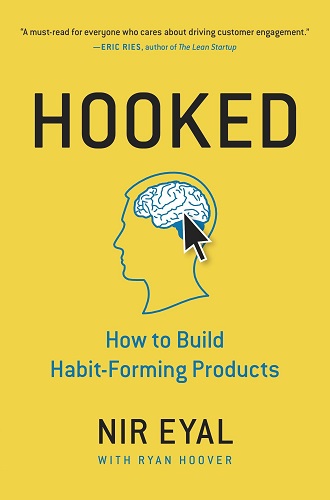 Do you want to learn how companies create great products that people can't put down? Or why some products capture more attention than others?
Every entrepreneur wants to learn about these skills because entrepreneurship is all about innovations and building exceptional products and services to customers.
The book "Hooked: How to Build Habit-Forming Products" by Nir Eyal will show you how to create engaging products for your customers and learn the underlying technologies that hook people to a particular product.
Nir shares a lot of knowledge regarding the hook model. He explains a 4 step process that should be embedded in any product you want to create.
This is a process that's used by all the successful companies out there. These companies use the "hook cycles" to make sure that customers always come back for their product and services again and again. You can achieve this without spending a lot of money on aggressive messaging or advertising.
It took years of research to put together this book. You'll learn from experience gained by successful product launchers.
"Hooked: How to Build Habit-Forming Products" shows entrepreneurs how to build better products that stand out, even with massive competition you can create products that people are rushing to buy.
In this book you'll discover practical insights on how to create habits that will stick for long, the author outlines the various steps and processes you need in order to build products that people love. He shares examples from world famous brands like Apple.
He walks you through how these powerful companies build products that everyone love to have. This isn't just a book, it's a how-to guide for building exceptional and high-quality products that everyone love.
The book is ideal for marketers, managers, designers, new startup founders or just anybody that wants to understand the behavior and physiology of customers. You'll learn how to deal with conscious thoughts of customers, and you'll learn the daily actions that control human actions.
Nir tells his readers how to extend the lifetime value of their customers. This means you'll learn how to make more money from your customers before they switch to your competitor or stop using your products and services.
You'll learn how to make flexible pricing that's convenient for your customers and at the same time which will make maximum profit.
Nir tells you how to influence your customers to promote your products and services to their friends and family for free.
These are opportunities you don't want to miss as an entrepreneur, so grab this book and see what it has to offer to you.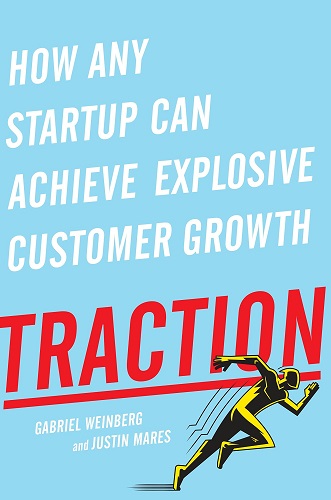 Another great book that needs to be added to the reading collection.
The biggest challenge startups face isn't lack of good product but rather lack of customer growth. Most startups and business fail because of traction.
Inside this book, you'll discover how to pass through this challenge successfully.
"Traction: How Any Startup Can Achieve Explosive Customer Growth" by Gabriel Weinberg and Justin Mares talks about how to build a successful startup that can give you long-term profits. You might have read a lot of books regarding building a successful startup but you'll hardly find one that talks about traction.
Any successful entrepreneur knows that the success of any product doesn't entirely depend on the originality of the product, how good your team is or the money you raise to start the business. It greatly depends on how you can acquire and grow more customers consistently. This is what's known as traction and once you understand how this works you can succeed at almost any business.
This book will take you through 19 channels on building an effective customer base and how you can pick the right customers for your business that will give you the money you want.
A lot of examples are given in this book from interviews with successful founders that are well known such as Jimmy Wales, the founder of Wikipedia, Dharmesh Shah, the founder of Hubspot, and Alexis Ohanian, the founder of Reddit.
You'll learn how to promote your business or services with offline ads and other powerful marketing channels that aren't used by competitors, this makes a lot easier to acquire more customers.
You'll learn how to use targeted media coverage in order to generate new customers. How to use the power of email marketing to grow your business with automation. You'll learn how to keep in touch with your email subscribers and how they'll respect you because you'll be offering a lot of valuable information for free that will help them solve various problems in their life and it's not going to cost you much to do that.
You'll learn how to utilize the search engines to get more traffic for your business. The book teaches you how to improve your search engine rankings in the popular search engines like Google and Bing.
These are just a few of the things that you'll learn in this book.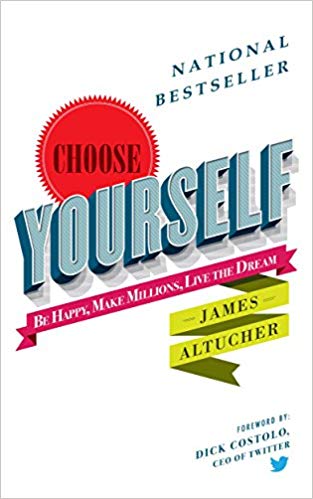 The world is changing at a rapid rate. Many jobs are disappearing and everyday markets are crashing. Many industries are disrupted before our own eyes. Everything that you believed is safe is no longer safe, whether it's security, employment, college, government, or retirement. Many things have just changed and you know that almost everything is crumbling down one way or the other.
The common man is always neglected. Most people won't hire you or give you an opportunity. Since this is how things have turned into it's time to take the important step of your life and that's to choose yourself first.
In this book "Choose Yourself" by James Altucher you'll understand how to build up your own career by yourself and succeed without the need of relying on someone to offer you a job or give capital startup.
You'll find a lot of powerful tools that will help you as an individual to make millions of dollars. You alone with the right tools can change the world.
Many opportunities are born every day and everyone can tap into them and make a massive profit. Even though we're living in a broken system you can still achieve a great success in your life, both health and wealth.
This book is designed to walk you through how to achieve that. There are dozens of case studies and interviews that have been cited in this book.
The author James Altucher is a very successful entrepreneur who understands what it takes to lead a successful business. He shares a lot on how to independently set up your own business without sponsorship from someone.
You'll learn the various practices you need to do every single day in order to achieve greatness in your life.
The book has been appreciated by many people and has earned positive reviews because of the great content that's inside. It's well written with actionable steps that guide anyone who wants to build a fortune in his life.
It doesn't claim to change your life overnight as most gurus do. It will, however, reveal how you can execute your ideas. If you actually implement what the author talks about in the book it will definitely change your life.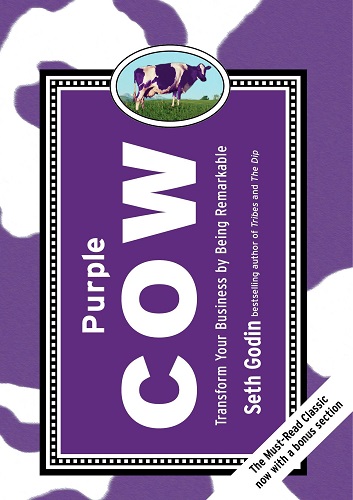 Seth Godin's work has reached millions of people worldwide and has changed a lot of lives with his business ideologies.
The book "Purple Cow: Transform Your Business by Being Remarkable" was first published in 2003 and later expanded in 2009.
Godin believes in the idea to create remarkable products before pushing them into the market. He uses a lot of companies as an example to back up his strategies. He cites great companies like Apple, Starbucks, Krispy Kreme, and JetBlue.
He tells his readers to reconsider what their marketing campaign is saying about their product and services. We're living in a very competitive world; you have to come up with something unique that helps you stand out.
Godin is a true revolutionary when it comes to marketing. He believes the old traditional marketing channels such as TV commercials, and running ads on Wall Street Journal are dead. Such type of message or commercials are outdated and customers are no longer persuaded via these channels.
If you want to take your business to the next level you have to toss out most of the things you know about marketing and do something remarkable for your business.
Godin's marketing is different, he uses sharp and short messages to grab the attention of potential customers. His message is clear: tell them the truth, be outrageous and test the limits.
If you really want to set yourself apart from the crowded competition you shouldn't skip this book. Godin mentions in this book that you have to be remarkable in order to succeed in the current world we're living in.
Godin mentions that the surest way to fail is to be boring. At the end of the book, he mentions some important points that will help you build a product that is different from your competitors.
I believe that with the given examples and case studies you will definitely understand this whole idea of being remarkable and creating remarkable products and services.
"Purple Cow: Transform Your Business by Being Remarkable" is definitely worth reading because of the valuable lessons shared by Godin, so don't wait anymore, go grab it!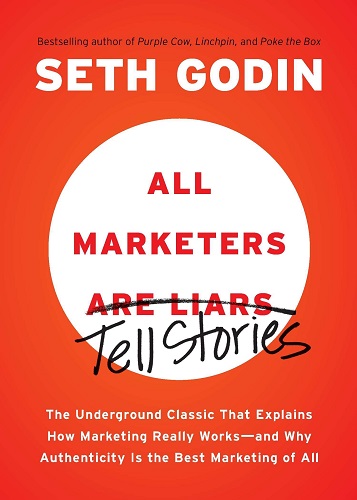 This is also another powerful marketing book from Seth Godin.
"All Marketers are Liars" is an indispensable marketing book from the bestselling author of the books "Tribes" and "Purple Cow", and if you have read some of the books written by Seth Godin you know that the man is a legend.
Godin begins by asking marketers a few questions before they even consider start setting up any marketing campaign.
Every marketer should ask the following questions:
What is your Story?
Will your prospects believe your story?
Are you telling the truth?
If you've studied marketing for a bit then you probably get the idea that the best way to persuade customers is by telling a relevant story. Successful marketers tell a story in their marketing campaigns and if you do it right you're going to profit a lot.
When people believe your story, they will take any action you want them to.
Godin has trained thousands of successful marketers worldwide. When you'll finish reading this book you'll understand that marketing isn't just about showcasing the features and benefits of a product, it's about telling a story that will persuade, whether it's factual or not.
We're living in a world where customers are presented with unlimited choices of products and services. There is the need to stand out from the crowd by telling an excellent story that's acceptable to your prospects. If you tell the right story most people will share the story with their friends or family.
But you have to be careful. You can't just make up any story. Your story has to be authentic or you'll be interpreted as a fraud marketer.
If you're not utilizing stories in your marketing campaigns it's time to embrace them because they're a powerful tool that will take your business higher. Stories are one of the best ways to spread an idea. Storytelling wasn't invented by marketers, but rather they perfected it.
The book will truly change the way you market your products and services and as an entrepreneur, it's something you really want to master because the survival of your business will heavily depend on how you market it to the world.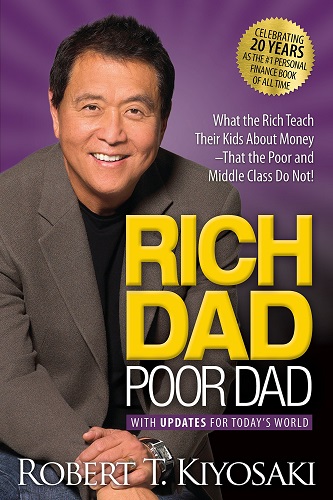 We're about to reach the end of our list. No list would be complete without one of the best selling personal finance books of all time "Rich Dad Poor Dad".
It has been written in dozens of languages all around the globe. This book will transform the way you view business in general. It teaches how to build a business without given excuses.
"Rich Dad Poor Dad" showcases the story of Robert who grew up with two dads. The first dad is his real father and the second dad is the father of his best friend who's the rich dad.
Both of them taught him a lot of lessons about money and investing. Inside this amazing book, Kiyosaki tells the real difference between working for money and having money to work for you.
"Rich Dad Poor Dad" was published in 1997, but after 20 years Kiyosaki added an update to the book. If you want to learn more about investing, global economy and money, in general, this is a must-read book for you.
Inside this book, you'll learn how both the rich and poor manage and spend their money. Kiyosaki explains the lessons he learned from the "Rich Dad" who was very successful. He differentiated the difference between working hard and working smart.
He also explains smart spending which is very important when it comes to maintaining wealth. You can be the hardest worker in the room but if you don't manage your money wisely you'll end up working for the rest of your life. And the poor dad is always reliant on other people when making monetary decisions, especially when it comes to tax issues.
Anyone that wants to learn how to make more money will benefit from Kiyosaki's ideas because these ideas have proven the test of time.
If you're not making any serious money you will realize that you have some of the qualities of the poor dad that are mentioned in this book.
As an entrepreneur, this book will definitely put you in the right direction when it comes to making money. You'll learn how to make more money and how to invest it properly.
It's a pretty good book that can help you to become financially independent and make intelligent future decisions. You'll learn all the basic principles of making money.
Whether you're launching a startup or you're an existing business owner, this book will really help.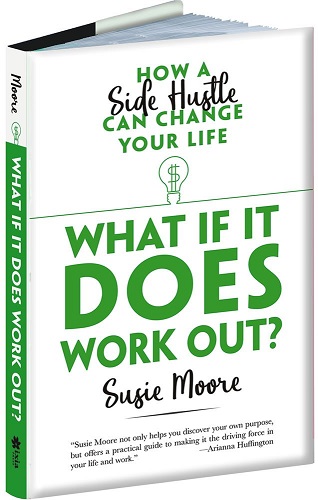 And last but not least on our list is "What If It Does Work Out?" by Susie Moore.
Fear of failure is one of the greatest setbacks people encounter when they're trying to build their own business. They're afraid that "things might not work out for them". This makes them not to try out new things in their life. This book is designed to equip you with all the strength, courage and motivation you need to set up a successful business.
Instead of being afraid of things that might not work out, you should ask yourself "What If It Does Work Out?".
Imagine how beautiful life could be when you succeed in whatever it is that you want to achieve. This will make it easier for you to make life decisions and will also help you pass through tough moments of your life with ease.
It's a wonderful book that helps to inspire and uplift the heart. The book will make you realize that you have a potential in you. It will give you the courage to get up and start working on your dreams.
The book is a perfect option for those who want to build their business from home. Even those that have already launched their business can benefit a lot from the book. Susie shows you how you can use any talent you have and then turn it into a cash sucking machine.
If you have a job you hate and you're scared of leaving it then this book is for you. You'll realize that you have the reasons to leave and start working on your ideas.
You'll learn how to turn your passion into cash and how to make an impact on this world. If you have a hobby and the desire to be successful you can live a fulfilled life.
It doesn't matter if you don't have much experience, Susie will walk you through how you can use whatever it is that you know or you're good at to make a good living and lead a happy life.
As an entrepreneur you shouldn't ignore this book, you'll learn how to discover more within yourself and use that as a fuel to live up to your expectations.
Just go and read this book and you'll be impressed by the writing style and the lessons that are inside the book.
Conclusion
Learning is a continuous process that never ends. Almost any book you choose to read, even if you don't like it, has something useful to be learned.
If you want to be a successful entrepreneur you should never stop reading!
Entrepreneurship isn't a destination, it is a journey that only ends the day you die. Whichever level you are as an entrepreneur, there are people who have something to teach you. Even the most successful and wealthiest entrepreneurs read on a consistent basis. They learn a lot from people who are less successful than them and they appreciate the lessons they've learned.
Knowledge and experience, without a doubt, will take you to higher levels in your entrepreneurship journey.
So my take is: read as many books as you can, if possible allocate a time daily, weekly or monthly for reading books. You should read at least one book every single month. The most successful entrepreneurs read at least one book every one or two weeks.
Don't give up! You're closer to achieving and living your dream life as long as you read and apply what you've learned.
I hope that I've helped you find at least one new book to read in 2019 with my extensive list.
Books with real-life success stories inspire me. If you've never read a book in your life, I strongly suggest you do that!
Read part one and two of the article here:
And now I'd like to hear from you:
Have you read any of these books?
Are there any other great books I haven't added to this list?
Let me know by leaving a comment below right now!