- Advertisement -
As an internet marketer, you're always looking for unique ways to promote your products and services and MegaPu.sh is one of such services that allows marketers to utilize the power of push notifications to reach more targeted audiences.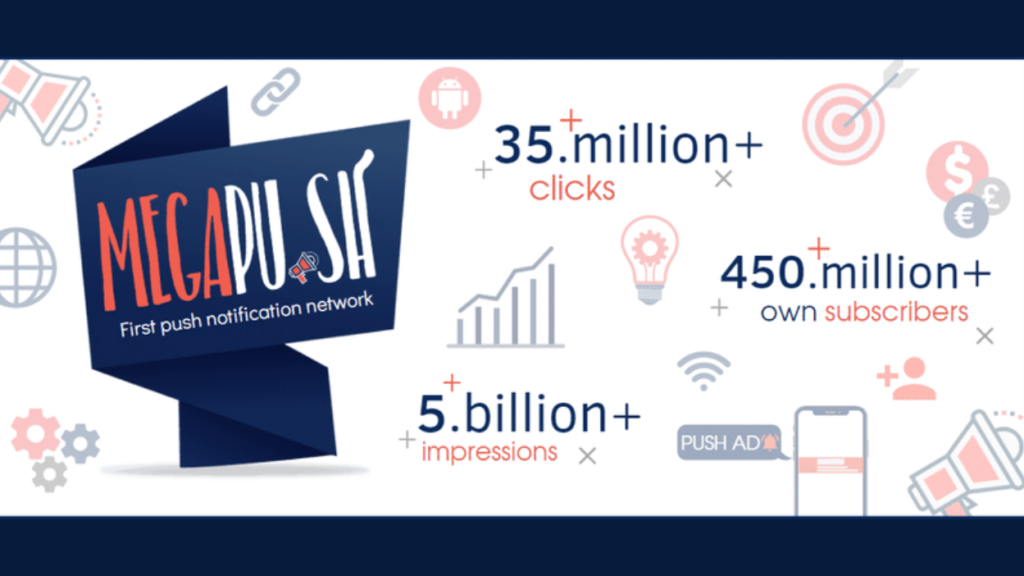 MegaPu.sh will help you get more traffic and connect with a wider audience in an effective way.
If you want to succeed in your affiliate marketing journey, you have to stay up to date with the latest tendencies that are coming every year. Push notifications were dead 5 years ago, but after such a long time they're now back to provide better services than ever before.
Back then most people hated push notifications and it ended up disappearing because it's similar to intrusive mobile app notifications and most marketers were abusing the system to send notifications frequently to their site visitors and this is very annoying.
Push notifications have been on the rise since 2017 with new rules and even giant companies like Google are now using push notifications, WordPress also has come with a new set of rules that makes the service better with the help of SSL.
What Are Push Notifications?
You might be wondering what these push notifications are! These are notifications that pop up on the home screen of your desktop or mobile device.
In most cases, it's a small window with just a headline of a blog post or some advert message, and when clicked will direct the user to the designated landing page.
Publishers and webmasters can send these notifications whenever they want and users can view the notifications without the need to switch windows or any other application they're working on.
You can display anything when it comes to push notifications. You can send notifications of news, blog posts, flash sales and any other message you want to display to users.
Push notification is an asset every marketer should utilize, but the problem is that most users end up annoying their subscribers with irrelevant messages. 
You need to learn how to display your message in an organized manner, ensure they're not sent multiple times to the same user and if not, you'll end up losing your audience since they'll unsubscribe when you're disturbing them with the same message frequently.
Push notifications can provide better clicks than emails if done right because whenever your site visitor subscribe to your push notifications, they'll see notifications instantly no matter what they're working on with their device. 
Unlike emails, they have to sign in and might decide not to open your message especially if don't have a captivating headline.
Let's dive in to see what MegaPush has in place for internet marketers and whether it's worth joining or not.
MegaPush Ad Network Review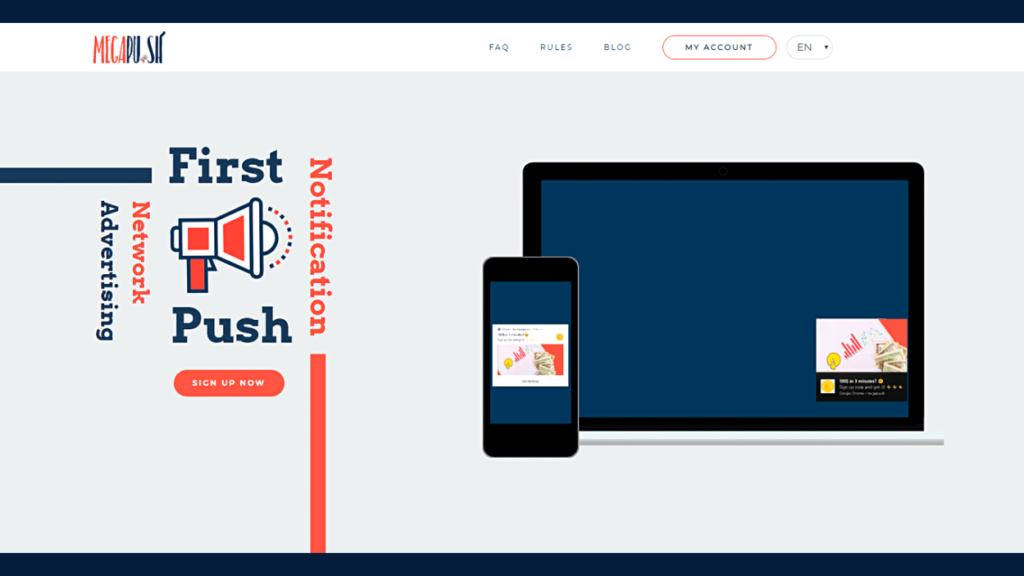 Almost any webmaster can benefit from push notifications. You can even install the system on your website but you have to make sure you have subscribers or I can say you must have enough traffic coming to your website.
But how about utilizing a mega-network that already has the audience ready to view your ads or website content!
That's what MegaPu.sh push does, sending push notifications to your target audience.
Currently, MegaPu.sh is the leading push notification advertising network for internet marketers. They can deliver push notifications on both mobile and desktop devices and they allow you to target demographics of your choice, which means more conversions for your offers.
Megapush Traffic – Is It Of High Quality?
It's definitely one of the best traffic you can get because they allow you to target the audience that suits your needs.
MegaPush is the largest push-notifications ad network. The prices are very competitive, and since they're the largest in the industry, they can offer the best prices, which results in a great ROI. 
Advantages of working with MegaPush:
High-quality traffic.

High conversion rate.

CPC based Worldwide traffic.

Minimum bid starting from $0.001.

User-friendly interface.

Inner tracking system.

Customer support 24/7.

3% referral program.
As the largest push notifications ad network, MegaPush sells traffic from more than 100 partners. More than half of them are only available at MegaPush and are not sold anywhere else.
MegaPush sells almost ALL of the world's push traffic in ONE place.
By using their services you're assured only the specified category of audiences can view your message.
In short, I can tell you that it's one of the best-targeted traffic sources trending worldwide.
Working with MegaPush
Setting up your campaign is easy and straight forward; anyone can guide themselves to set up their marketing campaigns without any hassle.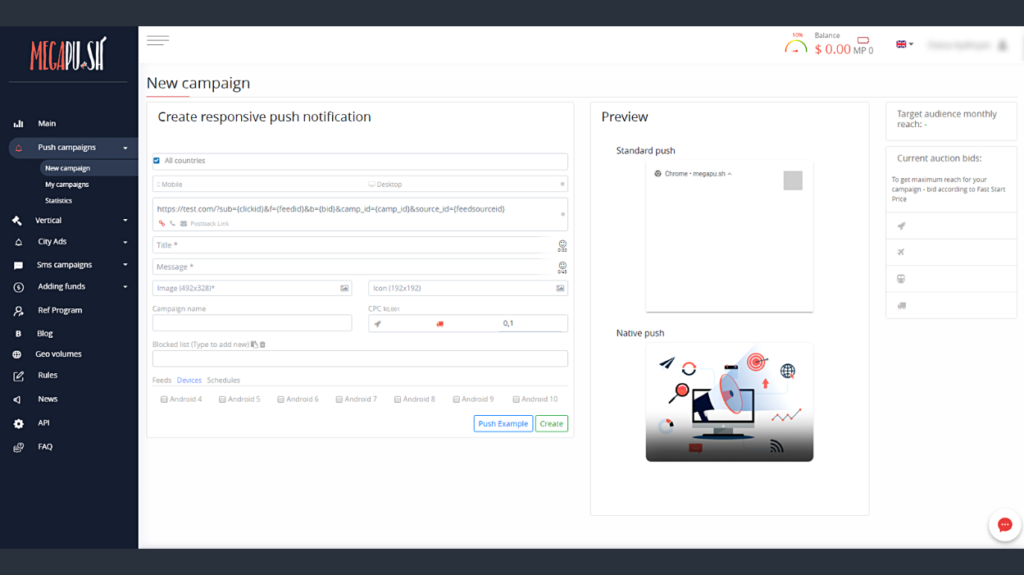 You can get started by adding basic information about your campaign, you then add your target URL, upload the image you want to use and finally choose the country you want to target. It's as simple as that.
When you're done adding your info, you can hit the signup button.
After that, the advertiser will be taken to a page where you have to acknowledge their rules and regulations, and your campaign will be submitted for review.
They'll have to approve your campaigns in order to ensure you're not abusing their system and you're not advertising illegitimate or scam business, but the good news is that it won't take days before they reply back to you.
You'll receive a response from them within 30 minutes to a few hours. If you need to adjust your ad campaigns you'll be notified and if all is good, you're ready to start running your campaigns right away.
You'll be charged based on cost per click (CPC), and the minimum CPC is $0.001. 
You can see how cheap the service is. Of course, you need to set a reasonable bid and at the same time should be able to overtake your competitors who're targeting the same audience as you.
Features of MegaPush
If you're still stuck on promoting your affiliate offers you need to give MegaPush a try, not because I said so, but because of the powerful features they integrate with their services.
Let's take a look at MegaPush features.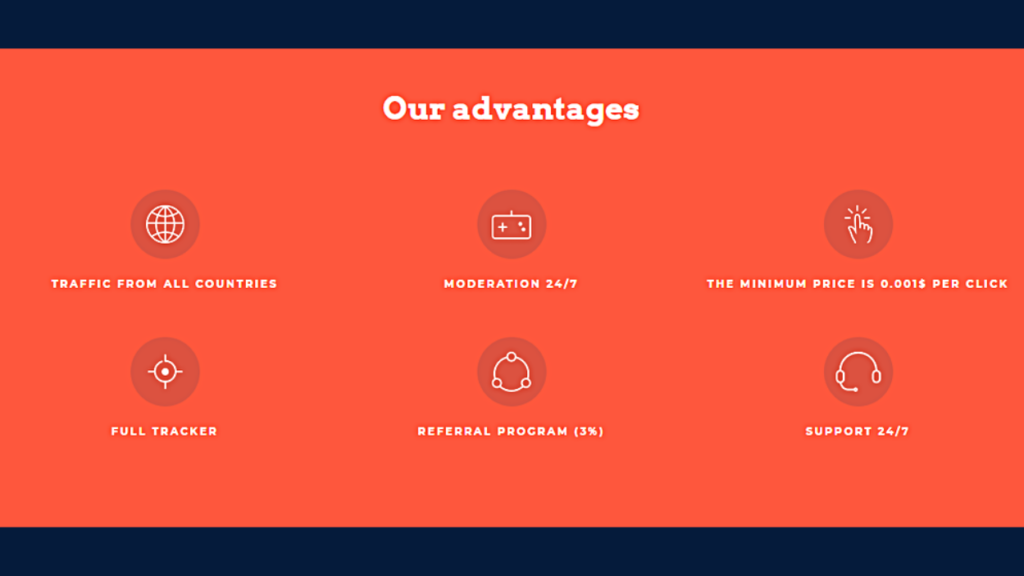 Well designed pop-ups with the best click-through rate
If you're an internet marketer or affiliate marketer you definitely know that nothing beats pop-ups when it comes to increasing conversions on any web page.
MegaPush has unique pop-ups that can grab visitors' attention to take a look at what is been shown to them, and it doesn't matter if they're working on a different window or app. The pop-up slide shows up at the right position so that they don't miss your message.
I'll tell you that MegaPush notifications are difficult to ignore by users.
Reach a wider audience
With MegaPush your message is guaranteed to reach a large audience. They'll ensure they draw attention to your messages using the latest technology they have. You can target a large audience quickly and effectively provided you've set up your campaigns right.
Simple to use
Most of the paid traffic sources out there have a cluttered dashboard, making it difficult for users to understand how to set up their campaigns smoothly.
MegaPush is seamlessly easy. Any webmaster can get started right away even without any technical experience, with the simple guide provided you can set up your campaigns within a few minutes.
Friendly to advertisers
With MegaPush you don't need any expensive tracking tools to set up your campaigns, unlike other paid traffic networks. You have invested in tools that will help you monitor your campaigns successfully.
This means you'll save a lot of money when using MegaPush. The interface is user-friendly to marketers as it allows them to set up campaigns with ease.
Excellent customer support
Another great feature of MegaPush is that you get a response fast when you submit a query. Setting up a campaign requires approval but it's done within some hours. Most of the time the support responds immediately after being contacted. 
Step By Step Guide On How To Create Your Campaigns On MegaPush.
After setting up your account, on the left side, you'll notice Push. Click on that and select "new campaign", then you'll be presented with the options below:
Country; Choose the country you want your push notifications to be shown, this means all your traffic will come from the selected country.
Device; you can select between desktop or mobile. The desktop is for computer users and mobile for Smartphones, tablets and other mobile devices.
Link; this is the link to your landing page, and that's where you want visitors to land after clicking on the push notification.
Title; this is the title of your message or offer, you need to make it very attractive and persuading, you have only 30 characters in this field, so use your words wisely.
Description; the message box also isn't long, you can add only 45 characters, here you'll also add basic information on whatever it is you're promoting.
You can also add emojis in the message body; they'll help you grab more attention.
You should test your messages with and without emojis to see which one performs better. Even your messages need to be tweaked after some time to see if you can get better results.
Icon; this is usually your business logo, it will appear small, and upload size is 192×192, it's a square image.
Image; you'll upload an image size of 492×328 using aspect of 1:1,5. Your image will play a major role in your click-through rate, as you already know people notice images more than text. Your image is one of the important elements that will grab the user's attention, so create different images and test them in order to find the best one that gives you better CTR.
After adding these details you can preview your campaigns, you can see how it will be displayed and if you need to make adjustments you can go back and change your details.
Create a campaign name; after adding all your details you then create a name for your campaign
Cost per click; now you'll add how much you're willing to pay for the clicks.
Which ad formats are available in MegaPush?
City Ads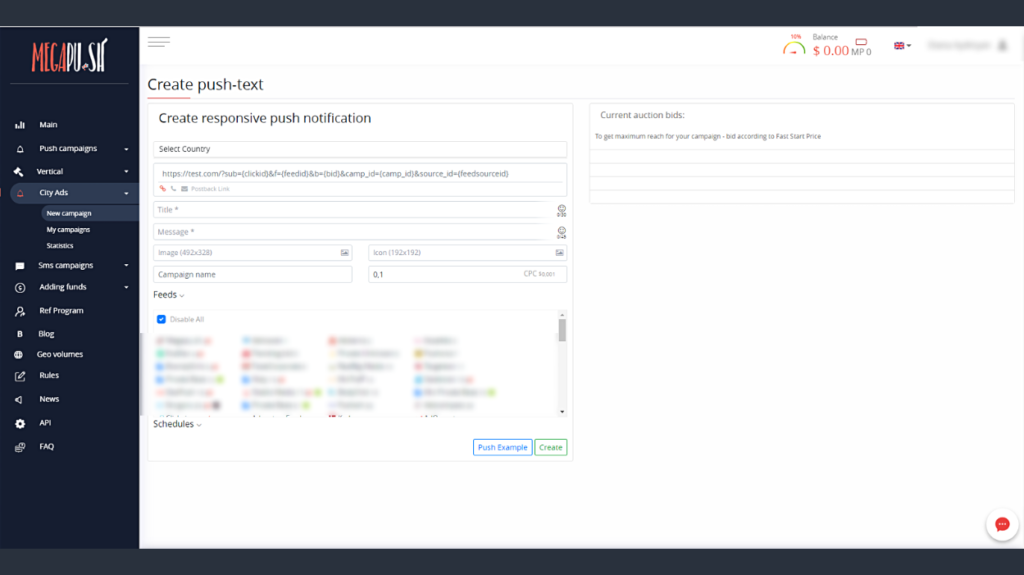 Using City Ads, users can create and run campaigns for different cities in different countries. These are great for A/B testing different landing pages/ad text.
The process of creating a City Ads ad campaign is almost the same as a regular one. You just need to select countries and cities from the list, that you wish to target.
SMS campaign
It is possible to send SMS notifications through the MegaPush platform.
Creating a campaign will take less than a minute. All you need to do is to fill in the fields "text", "sender", and "phone numbers list" (numbers to which user want to send messages).
You can use phone numbers from different countries and different operators. The system automatically calculates the sending cost.
What can be advertised?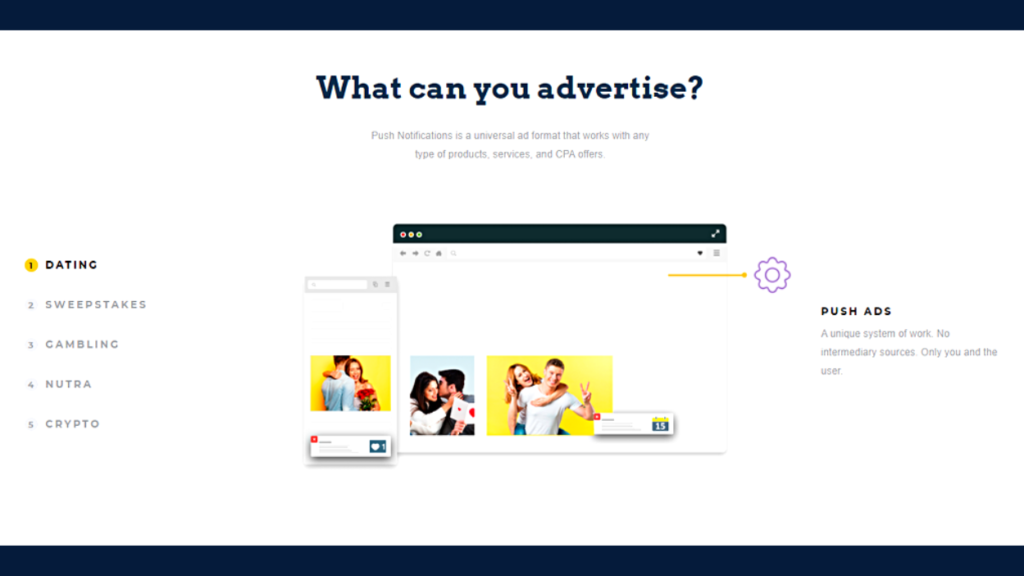 The following categories are allowed to be advertised on MegaPush:
Dating
Sweepstakes
Gambling
Nutra
Crypto
Menu Tabs
Here's an explanation of what can you find in the main menu: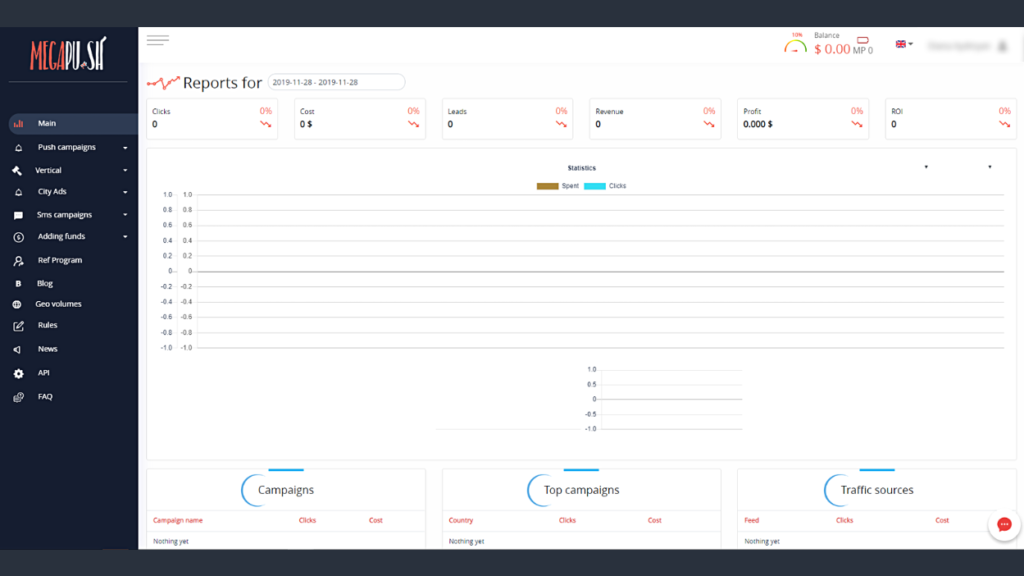 Main: here you can find the main information about your campaigns: campaign report with the appropriate filters and sorting tools.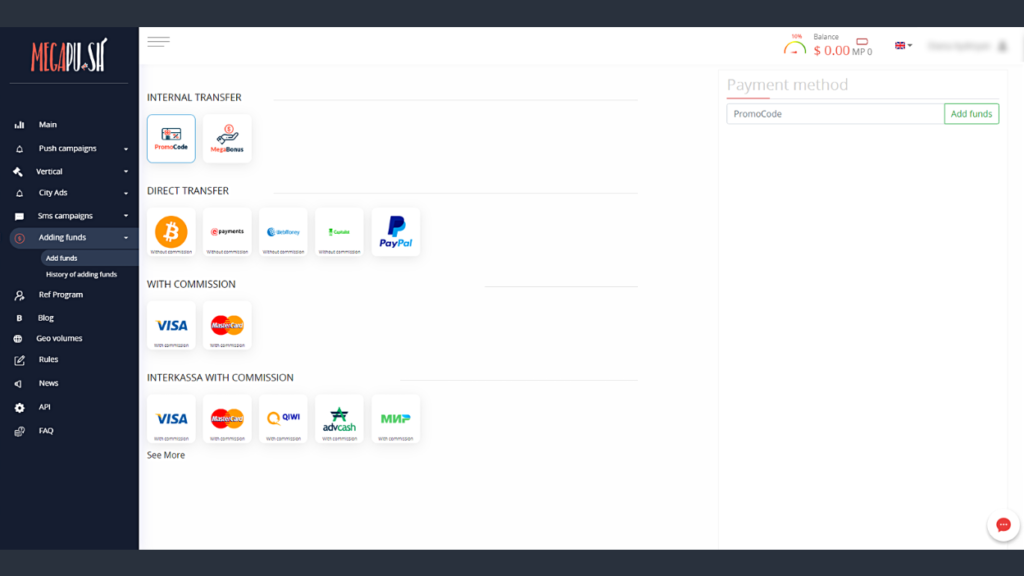 Adding funds: All of the most popular transaction options are available, such as Visa, Master Card, PayPal, WebMoney, Capitalist, etc.
Ref Program: all information about the referral program can be found here.
Blog: a great source for case studies of other users.
Geo volumes: here you can see the volume of traffic in different countries.
Rules: this is a must-read section. All the rules of using this ad network are presented, in case of violation of which the users' accounts may be blocked.
News: Latest news and updates of the network.
FAQ: section with answers to frequently asked questions.
MegaPush Setting Up Your Bids
The cost of your bids will depend on the number of advertisers targeting your geographic region.
The higher the competition the higher will be the cost of your bids.
You can set bids for each campaign separately or you can do mass bid for all your campaign.
This feature though is hardly noticed by users, but it's very helpful when you're dealing with lots of campaigns, it's a time saver as you can mass change the bids for all your campaigns at once.
The Pros Of Using MegaPush
It has a simple user interface. Everyone can use the interface without the need for any prior experience.

MegaPush provides higher conversions to marketers and that's because their pop-ups are well designed to attract attention.

Global reach; you can reach a wide audience using their system. They offer millions of clicks every year.

Very cheap; you can set your bids for as low as one cent.

Excellent customer support; you receive a response within minutes or hours and there is customer support 24/7.

They have referral program that offers 3% of revenue generated.
Cons of MegaPush
It's a new ad network and hence most people are not familiar with it.

Though as mentioned the interface is simple to use. There are few tutorials available for beginners, but still, anyone can manage to set up campaigns with the options given to you.

Your account will be banned if they find out you're using proxies and sending fake traffic to receive money, which means you have to be real.
How Can MegaPush Benefit you?
We've shared all the benefits but maybe you're still wondering how to use the service for growing your business! Well, here here's how to utilize this great service;
Special offers
If you want to promote special offers on your website you can simply use this service, special deals attract attention the most since you're providing value no one is offering.
Update
If you want to provide an update on news or sport, you can send the updated content with MegaPush.
Send downloads
If you want to offer special reports to visitors, using push notifications is the best way to go and you can rely on MegaPush for that.
MegaPush – Is It Worth It?
There are lots of good reasons to consider MegaPush in setting up your internet marketing campaigns. You just need to give them a try to see if they can help you generate more traffic to your online business.
Don't give up after failing at setting up a few campaigns, test and tweak your message, also use different images to find the one that works best for your offers.
So overall I can say that you should give them a try and you won't regret investing your money.
- Advertisement -