- Advertisement -
Instagram Analytics
Instagram used to be a nightmare for anyone who wanted to analyze their engagement and improve their marketing reach. Instagram analytics tools were patchy and expensive, or they would simply vanish after a few months.
But things have come a long way, and thanks to Instagram sorting out their API problems, a new generation of Instagram tools has arrived.
The thing is, you've still got some of the old problems. You find an integral analytics tool online that seems to do everything you want, then use it for a few months. Then they whack the price up making it unaffordable, or it simply stops being developed.
Powerful can also mean expensive. What's the point in paying for what you don't need? You need what you need to improve your Instagram reach, not everything under the sun.
So let's take a look at a few of the more well-known Instagram analytics tools out there, from the simple to the comprehensive, to uncover the features and platforms that are genuinely going to help you, or not.
5 Instagram Analytics Tools worth checking out
Sprout Social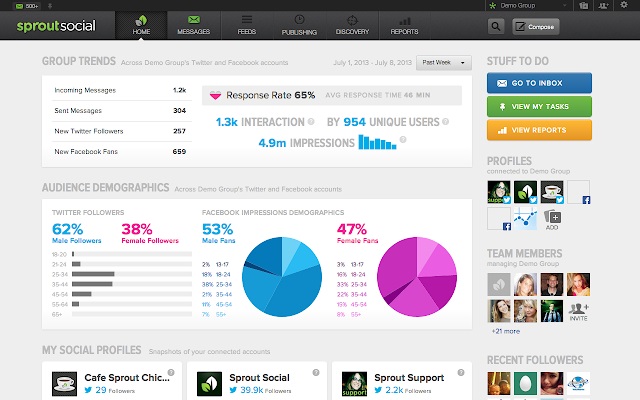 Biggest is not always best. If you're in the market for a reliable, powerful instant analytics tool, then you will be reading about Sprout Social everywhere.
It boasts a comprehensive social media dashboard, with a ton of fantastic features. Its powerful, flexible and current. Its key features are:
Deep insight and analytics.
Actionable single social media response stream.
Social listening analysis and action.
Good range of tools and reports.
Future growth predictions.
Look, Sprout Social is always mentioned because it's a big brand. It's also well-marketed by some old experts in the marketing game. But biggest is not always best, and the platform suffers from bloat that you don't need.
Sprout Social embraces all social media platforms, which makes it a far bigger tool than those looking for a pure Instagram analytics suite.
So although it's powerful, it's also complete overkill for anyone wanting to just focus on Instagram, and it's also expensive.
So if you're a brand that needs full social media analysis, then grab the trial, but if you are purely interested in a Instagram analysis and action tool, then Sprout Social is overkill.
EvoIG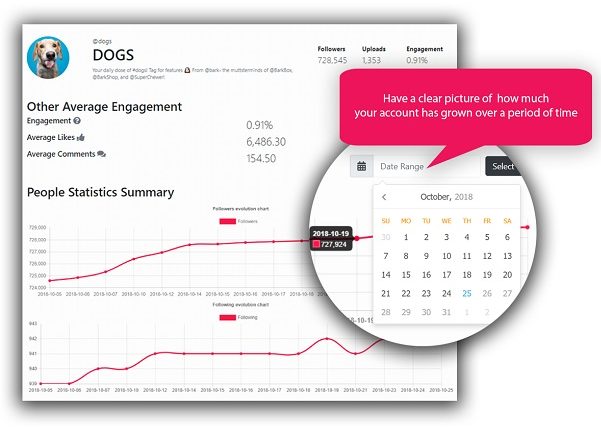 EvoIG is a lightweight, but powerful, online Instagram analytics suite. You get an awful lot in your account, and not only does it cover the basics in depth, but it's also fast, lightweight and intuitive.
The main features of EvoIG include:
No limit on the number of accounts you can monitor.
Fast and well-presented PDF reporting.
Comprehensive insight and analytics.
Detailed growth statistics.
Surprisingly accurate future growth predictions.
Competitor comparison tool.
API ready.
No matter what you are analyzing online, social media tools generally have limitations that means you have to use more than one to achieve everything you want.
That's not the case with EvoIG. It's one of the few Instagram analytics and marketing tools out there that is genuinely a "one-stop shop" for everything you need to improve your reach.
EvoIG is used by more than 4000 brands globally, has a free 30 day trial, plus the ability to project power for future predictions using tailored AI, and is definitely one to check out.
Iconosquare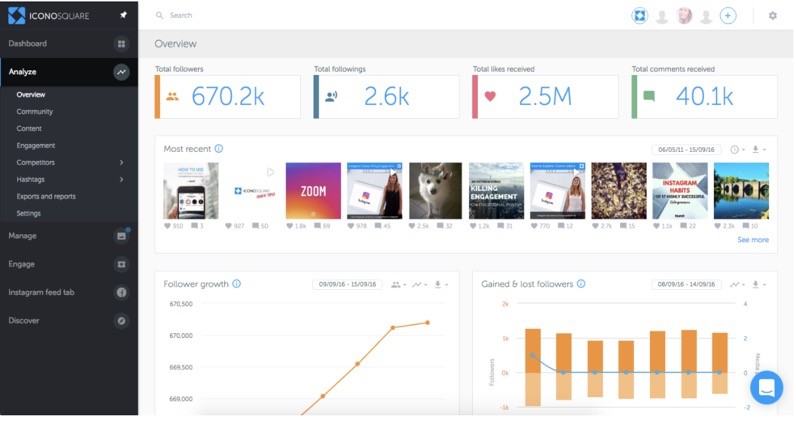 These guys make two different platforms that can help you with your Instagram analytics and marketing.
They make a full social media engagement platform, Iconosquare Pro, but it might be overkill if you're just interested in improving your Instagram reach.
Iconosquare Pro also starts at $30 a month, which is not cheap. But the good news is that they also make a simplified platform allowing you to do an Instagram audit, which has the following features:
Account activity.
Audience engagement.
Practical and actionable tips.
So as a report generating tool, that intelligently analyses your submitted account, it's brilliant. The data is superb, and it has a wealth of actionable tips in it.
But this is the thing, that's it.
It's not a full marketing tool suite. You cannot generate reports, benefit from intelligent AI analysis and projections, and you certainly can't use it to monitor and develop your campaigns.
As a free starting point it's great, give you an idea of where you are. But that's exactly what you can do with the full marketing suites out there, like EvoIG.
It's really just trying to hook you into paying $30 a month for the full product, so other than the curiosity, as a starting point, it's really not the solution if you are looking for ongoing, detailed Instagram analysis.
Crowd Babble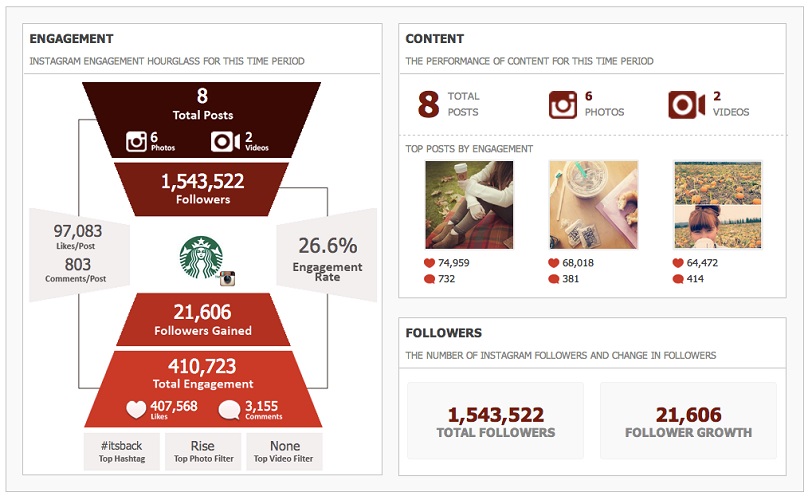 This Instagram analytics suite is a good example of successful marketing.
You put together a great looking website, give it a cool name, make loads of claims, and then rake in the cash.
Crowd Babble does everything you will need. It generates reports, analyses, and comes up with intelligent suggestions for improving your Instagram marketing campaigns.
But that successful marketing comes at a price.
The basic package is currently $49. That's an incredible amount for what is a pretty standard suite of tools that are available in pretty much any of the top suites out there, for a lower price.
If you're looking for a complete set of Instagram statistics, pulled from Instagram through their API and own analytics data, that you can view on Instagram anyway, but with pretty pictures and suggestions added, then buy it.
But if you're looking for more than coolness, then at $49 a month, Crowd Babble is going to be an incredibly inefficient use of your marketing budget.
SoTrender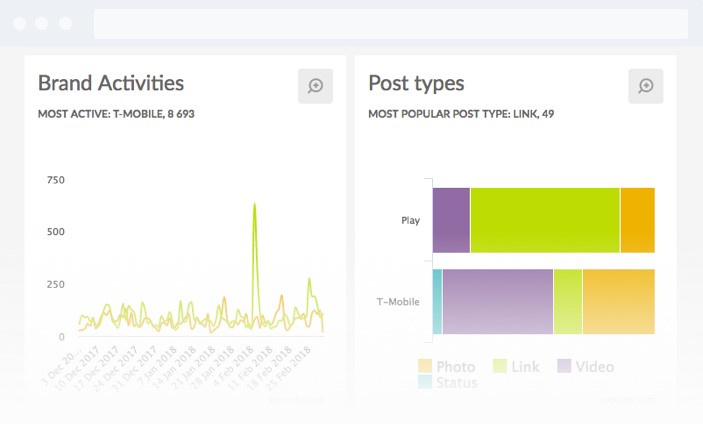 Another Instagram platform a cool name and website. However, just like Sprout Social it's going to be overkill for most individuals and businesses, unless you're willing to invest significant effort and money in getting the most out of it.
It doesn't just cover Instagram, it's a social media analysis platform. Which is brilliant, but you have to wade through a lot of features that aren't relevant to Instagram marketing.
So sure, SoTrender is a corporate level, powerful, analytics suite. But it's a beast to wrestle with everything under the hood, and get it working for you.
One cool feature is that you get action tips based on your past successes. So, if you do something that you have monitored, and your reach increases, it can suggest similar tricks you can employ.
But, when prices to access this platform start at $50 a month, and it's clear goal is attracting larger corporate clients, I'm just not convinced that what it delivers is worth an investment that could reach $1000 a year.
Conclusion
If you're a serious online marketer, Social and Instagram analytics tools are a must if you're serious about your business.
Whether you need a complete social media analysis platform like SoTrender or a smaller tool just for Instagram like EvoIG, this article should make your decision easier.
If you liked this article then read other Product Reviews written by me.
And now I'd like to hear from you:
Do you have any questions about the tools? Or maybe you have a tool that wasn't included in the list?
Either way, let me know by leaving a comment below right now!
- Advertisement -