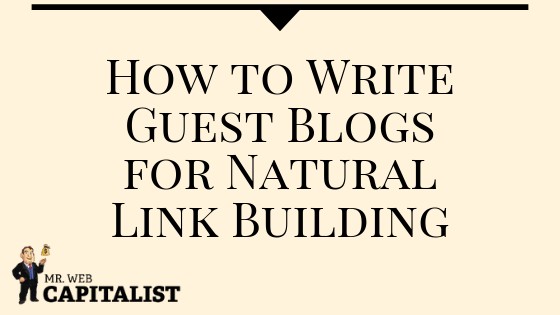 Guest blogging is still massively huge in the SEO landscape. Many of the large sites you visit today have guest blogging strategies in-place to boost their rankings, brand awareness, and overall traffic. When researching how to acquire guest blog placements and write for another blog, it can be quite scary.
But diversifying your backlink profile shouldn't be a chore or strenuous task. You do not need to be best friends with thousands of blog owners or write as well as William Shakespeare. What you need to kick off a guest blog campaign is a strong outreach strategy. Keeping your links looking natural should be the priority of your content and outreach method.
It's All In The Outreach
Rank Marketing and other SEO agencies in London and marketing experts still use guest post links, despite them being quite common and in some cases saturated. Content creators such as Neil Patel and Leo Wildrich used guest blogging to kick off their businesses, which worked tremendously well.
The Link Building Strategy
Deicide on which factors you want a site to fulfill – This means that if your site is in the health niche, you only want to secure guest blog links on other health sites. Other factors that you may look for in a site are its age, domain rating, page rating, and site traffic. By filtering sites down you will only be outreaching to sites that can provide a powerful link and a place for you to showcase your content.
Engage with the site before you pitch your article – It is vital that you develop some type of relationship with a site before pitching it your content. This may mean emailing the owners and say your appreciation for their content or sharing it on social media. Site owners will appreciate this and are more likely to answer your email pitch and post your blog content.
Research the site you are pitching to – Before you pitch your content to a site, research the style of content that site posts. This will make it more likely to have your pitch accepted as it will be following on from the other posts on their site. Research specific viewpoints and interests their readers may have.
Benefits Of Guest Blogging
Increased authority – Guest blogging improves your brand awareness, along with your sites SEO if you receive a do-follow link.
Increased traffic – Traffic from guest blogging can come in two ways. The first way is direct referral traffic that comes from someone clicking onto your link from content on 3rd party website. This traffic will be received immediately as the guest post is published and readers engage with the content. The second way that traffic on your site may increase as a result of guest blogging is from search engine rank increase. If the link that you receive is do-follow, then it's likely that your rankings in the SERPS will increase, this in-turn should raise your traffic. Whilst it can take a few weeks for this to occur, your traffic is likely to increase eventually. This increase in traffic may convert into higher ad revenue, sales or leads.
Social media brand mentions – Your brand being mentioned in a large publication will result in social shares. These social shares will increase your social media following and your platform will grow exponentially with the help of social media. You want your brand to appear in as many places online as possible, especially places relevant to your niche. Social media is no exception to the matter.
Builds reputation – Reputation and credibility are two factors that all businesses must have to ensure long-term success. Most profitable niches online are vastly oversaturated with spammy websites and shady businesses. By having your site mentioned on an authority outlet, your credibility will increase and people will look at your brand as a landmark. You can create this credibility by posting guest blog posts on authority sites. Despite these type of links being difficult to acquire, they are worth the extra work as they can transform your business's presence online. Four out of five people believe that businesses are more trustworthy when they create their own content. So only put your brand's name on the content that aligns with your own brand's image and ethos.
Quality feedback – The potential leads that come from having your link featured on another site via guest blogging will not only increase your traffic but provide beneficial information on how your site can be improved. Whether it be your sites user experience or the content that you write. The comment section in the guest blog post is likely to talk about your brand if mentioned in the content, be sure to take the criticism as constructive.
Improved rankings – By having other sites point to your own, your backlink profile will be diversified which makes it less susceptible to some algorithm changes. By having your site featured on another, the readership of the site you are featured on will be exposed to your site. This influx of new readers will also have a positive impact on traffic and leads.
Just because you are writing content for another site doesn't mean that it isn't serving a purpose. Authority, traffic, brand awareness and other factors mentioned above are hard to obtain if you are not doing guest blogging. If you do not have the time to carry out your own outreach, then you may be wise to research link building services in your area or niche.
The best way to look at guest blogging is like advertising on a football shirt. Despite you not playing, people will still see your branding.