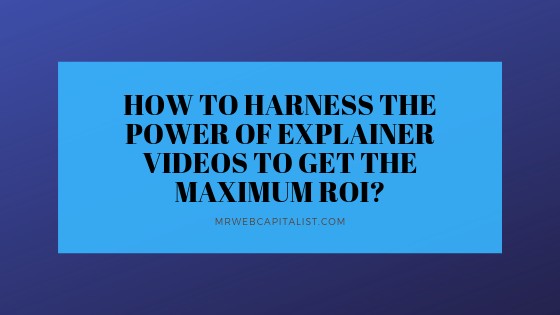 Videos occupy most of the internet traffic in today's digital era. As per the report of Cisco, over 80% of the internet traffic will be video by 2021 (Source). Furthermore, videos perform far better than regular text-based content. Below is one of the thought-provoking facts about videos and their forms.
Image Source: IEEE
One of the questions that arise in many business owners is about the selection of the type of video to publish. Going for a movie-type video can be expensive and time-consuming for many companies, and it may not even offer the desired return to them.
An explainer video is a type of video that is not only within the budget of many companies but is also highly effective. It is for sure that you will be satisfied with your video marketing efforts if you can expertly craft your explainer videos.
Many entrepreneurs know that explainer videos are useful, but often lack knowledge of how they can use it to the full effect. Here in this article, I will also reveal ways that will allow you to fully exploit the potential of explainer videos that will help you extract the maximum return from your investment.
Smart Ways to Use Explainer Videos
The study has shown that a great video can increase the chance of purchase by a whopping 64%. With that said, only publishing a video for the sake of publishing will do no good for your company's performance.
You must be strategic on how you use videos, and after completing this section, you will have some great ideas on how you can use explainer videos to utilize the power of explainer videos fully.
Explainer videos for awareness work great
An explainer video is a great tool to attract the attention of people and make your potential customers understand complex concepts more straightforwardly. By making people aware of your product/service, you are slowly warming up your cold audience.
Although the people who watch the videos will not make a purchase right away, you can always retarget them for getting a better engagement next time.
Image Source: Promolab
To get the best out of your explainer videos to increase brand awareness, you should insert a strong hook to give a reason for a stranger to watch the video. Then, you can add entertainment in the middle of the video for retaining their attention. Finally, demonstrate what your company stands for to make people eager to do business with you.
You can build a relationship with your audience via explainer videos
Only making people aware of your brand and product is not enough to convince them to purchase a product/service, especially if you are selling a high-ticket product.
An explainer video is a great way to build trust with your potential customers by sharing some great content with them regularly. You can periodically reach out to your audience that is familiar with your brand via retargeting technique or by collecting the email addresses of your potential customers.
Image Source: Zarelsie
You can use webinar, how-to videos, and other similar types of content with your audience, which will eventually grow your following. According to the study, around 84% of the consumers expect a brand to publish useful content consistently.
Pitching the product and nurturing them
Even after having a decent relationship with your audience, you still may not be able to make them make a purchase, as there are plenty of alternatives and because of their objections. In a nurturing phase, you should slowly clear doubts of potential customers and give them some convincing reasons to buy your product.
One of the ways you can continually reach out to them is by giving them something of value for free like an e-book (must be valuable and unique), report, short email course, and so on in exchange for their contact information.
Some of the objections of the people in your niche are common, and you can find out about them by visiting the FAQ section of your competitors. Also, conducting a survey would help you in finding more objections. You should also show them some reviews and testimonials of your existing customers if available to make them trust your brand.
Explainer videos work great for closing the deal as well
After doing all the hard work in the previous phases, you should have by now converted your cold leads to hot prospects. In this phase, you should use explainer videos for diving deep into your product/service by giving them specific details of the offer that you are promoting to them.
Make product demos or a step-by-step tutorial on how to use the product and how it can solve their specific problems. Also, mention some features that make your product stand out amid your competitors.
Use explainer videos to turn your customers into repeat customers
By making someone buy your product once does not ensure the sustainability of your business. It is crucial to have numerous repeat buyers that are willing not only to buy your product again but also to spread word of mouth.
To retain your customers, you can create personalized thank-you video, training videos, or make a particular group for the people who have purchased your product.
Where can you integrate your explainer videos?
Now that you are aware of how you can use explainer videos in various phases of purchase to get the maximum return on investment, it is about time that you should also get some knowledge on where to use explainer videos.
Here are some of the spots that are great for explainer videos:
Home Page
Home Page is a great spot to integrate your explainer videos, as it will make them stick to your site and decrease the bounce rate. When you position your video on the main page of the site, you immediately grab the visitors' attention and give them information about what the site stands for along with what they are going to get from the site.
Image Source: Virginia Navigator
Landing Pages
The people are more likely to give away their information or make a purchase if they understand your offer. You can make your visitors stay for a longer time on your landing page by integrating a video on it, and you will also significantly increase your conversion rate.
Image Source: Neil Patel
Emails
The purpose of sending out emails is not only to get into the inbox of your list and make them read it. You want them to visit your offer page and take an action that you want them to take in most of the cases.
The study predicts that by putting an email in your emails can increase your click-through rate by three times and the return on investment by 40%.
The people want to watch videos than to read a chunk of text in emails. By integrating an explainer video in an email, you are not only explaining the things in a better way, but also making an understanding task easier for the readers.
Social Media
Just recently, Facebook decided to introduce IGTV to its portfolio of products with an increasing demand for videos. By using explainer videos, you will make a more significant impact on your viewers, decrease the cost of advertisement, and increase the chance of virality.
One report found that social media videos tend to get 1200% more shares than regular text-based content.
Sales Page
If your prospects are on your sales page, it is almost sure that they are thinking of purchasing a product/service. By using explainer videos on this page, you can get into more in-depth and specific details, which can convince them to make a decision.
Blog
The world of blogging has changed a lot since its inception. The usual text blog worked well in the past, but modern readers expect more from a blog. They want more images and videos in the blog. You can make your blog more digestible by inserting an explainer video, and it will also improve your search engine rankings.
My Final Thoughts
Some of you who are reading this article might say to yourself that you are better off hiring a video production company for handling production task. But, keep in mind that no one knows about your business, better than you do.
By having knowledge of video marketing and explainer videos in general, you can work together with the video production company and communicate your needs in a better manner. It is a win-win situation for both the service provider and your company if you know the mechanism of an explainer video.
Every point that I have mentioned in this article is brief, but it is enough for you to get started. You can always dig deep into each topic when you needed. I hope my article has broadened your mind on how you can utilize an explainer video for your marketing purpose. Are there some more ways that I have missed out in this article? If yes, feel free to share it with our audience.
Author Bio – Chehak Wadhwa is a Creative Head at webdew and has an intensive 10+ Years of Experience in Designing & Animation. She has produced 500+ Videos with her team including some of the well-known brands in the market like UBER, Microsoft, T-Mobile, Calendar etc.